WHITE PLAINS, N.Y. — Megan McDonald's 2003 murder remains unsolved, but police are confident they are now closer than ever to an arrest and conviction.
Megan McDonald was born to Dennis and Elizabeth McDonald on May 2, 1982. When Megan was about seven months old, the family moved to Middletown, where Megan spent her childhood. Megan has an older sister, Karen Whalen, and two younger half-brothers on their father's side. She graduated from Burke Catholic High School in Goshen in 2000 and attended SUNY Orange Middletown.
Megan's father, Dennis McDonald, a former NYPD homicide detective, died unexpectedly at age 47 in 2002.
In early March 2003, Megan, 20, signed a lease for an apartment on Karen Drive in the Town of Wallkill and worked as a waitress at the now-defunct American Café in the Galleria Mall. 
Her family has described her as "warm, loving, friendly," with many friends. She also met several pals through the now-defunct American Cafe and at college.
Everything was going well for Megan, and she was excited to be living independently and making her own decisions. 
On Thursday, March 13, 2002, Megan worked 10 a.m. to 3 p.m. at American Cafe and was scheduled to work the following day at noon. After leaving the cafe, Megan withdrew cash from an HSBC bank in Middletown at 3:10 p.m.
What she did after the bank is unclear. But at 7 p.m., she drove to a birthday party at Greenway Terrace, where she had a short conversation with two people who invited her inside, but Megan declined. They returned to the party and told other guests that Megan planned to hang out with other friends in Middletown.
Between 7:30 p.m. and 12 a.m., Megan watched the NBC show "Friends" with her best friend. She told her friend that she was going home at midnight because she had to be at work at noon the following day. It was the last time her friend saw Megan alive.
But Megan, for unknown reasons, did not drive home. At 12:15 a.m. on March 14, 2003, she returned to the birthday party at Greenway Terrace. Again, she did not enter the party.
"It was observed by two other friends who were exiting that party, who — who saw Megan and saw her driving her vehicle," Det. Brad Natalizio told Dateline in March 2022. He is the current investigator and has worked on the case for nearly five years. "They had a short conversation with Megan and — at which point Megan insinuated that she was going to be meeting up with somebody."
The friends watched Megan back out and drive down Cindy Lane around 12:30 a.m.
Megan's employer became concerned when she never showed up for her noon shift on March 14, 2003. They began calling her cell phone and leaving voicemail messages, but she never returned them. 
Then, Megan's mother could not reach her either, and the family knew something was wrong. 
At 1 p.m. on March 15, 2003, a man who owned property in the area of 229 Bowser Road found the body of a white female near a dumpster in a muddy field and called the state police, who identified the body as Megan's through her driver's license.  
A narrow dirt path off Bowser Road leads to a small dirt cul-de-sac in the middle of the field where the body was located. The area was popular among teenagers looking for a remote place to party without getting caught by the police. 
Megan had been brutally bludgeoned, and investigators believe she was killed at that location. There were tire tracks at the crime scene, but Megan's car was not there.
According to Dateline, "While at the crime scene, the state police conducted an inquiry to see if Megan owned any vehicles and learned she owned a white 1991 Mercury Sable."
Once investigators identified the car and released the information to the media, a man and his nephew at the Kensington Manor complex reported they had found Megan's car parked oddly, as if the driver left in a hurry. They contacted the state police, who learned the vehicle had been there since around 8 a.m. on March 14th.
State police followed up on over 800 leads through the years and conducted numerous interviews. They had investigated and ruled out an ex-boyfriend of Megan's.
In March 2022, detectives announced they "conducted a re-canvas of Kensington Manor" and "re-interviewed an individual who was interviewed early on and provided some interesting information," Det. Natalizio said.
At 12:30 a.m., on March 14, 2003, the witness observed a dark-colored hatchback, possibly a Honda Civic, following closely behind Megan's Mercury Sable, a distinct car with a black stripe down the side. The hatchback had such a loud sound system that it caused the witness to look out her window.
Kensington Manor road loops around the complex and connects to Freezer Road. 
Megan and the mystery car made a complete loop, and the witness observed the exact vehicle behind Megan's with the radio system blaring. 
Detectives believe that the person following Megan in the hatchback-style car got into Megan's backseat, and they drove to the desolate location down Bowser Road, where Megan was killed.
The 2003 investigators collected over 700 items of evidence in the case and sent a majority of them for DNA analysis. Additionally, Cybergenetics re-examined the DNA.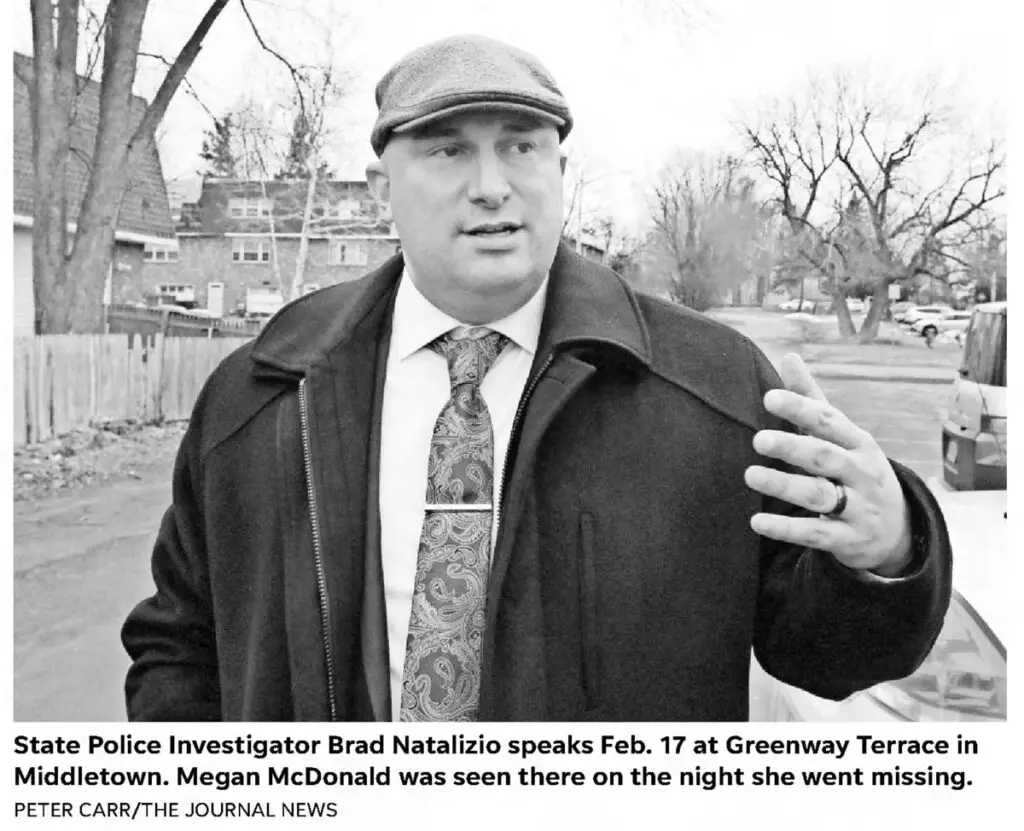 In 2018, the FBI's Behavioral Analysis Unit, made famous in CBS's "Criminal Minds," created a profile of the murder suspect, and investigators subsequently identified the suspect as Megan's boyfriend at the time of her murder.
Investigators said once they identified this man as the prime suspect, the entire investigation shifted, and "things fell into place," The Journal News reported in March 2022. Part of that included placing the suspect in Megan's backseat on the night of her murder.
Detectives believe her murder was "intimate partner violence — individual had a motive, there was an extreme level of rage," Det. Natalizio said.
The killer was "intimidating, manipulative, and powerful…powerful enough to keep his circle of friends from talking." He had a God-like complex and believed Megan could not do better than him. Detectives believe his friends are no longer as fearful as in 2003, and thus the reason for the recent public appeals for information.
"Although investigators have DNA evidence placing him in the backseat of Megan's car and on another unidentified key piece of evidence, they do not have enough to convict him of murder and need a witness to corroborate what they believe happened that night," writes Jenn Baxter.
In March 2022, investigators made another public appeal for information and refused to publicly release the suspect's name until they received valuable leads.
So what else do we know about the suspect?
He and Megan had been dating, but for how long is unclear. However, it has been reported that he was violent and hated Megan hanging out with anyone else, although he dated other women while with Megan. And he drove a black Honda Civic hatchback and was not alone on the night of her killing. 
Authorities announced a second person in the case is dead. That person was a friend of Megan's. Police say he was the front-seat passenger in her car on the night of her killing. Megan picked up the passenger at the Greenway Terrace party at midnight and was followed to Kensington Manor by the suspect, who got into Megan's back seat. Megan then drove to Bowser Road and parked the car.
Investigators say Megan became fed up with the suspect and ended the relationship at Bowser Road. But that pissed off the narcissistic boyfriend. He grabbed a blunt object and struck Megan's head numerous times, killing her. Afterward, the men dumped Megan's body in the field, and one of them drove Megan's car to Kensington Manor.
Police say circumstantial, forensic, and physical evidence puts Megan in the driver's seat, the friend in the front passenger seat, and the suspect in the back.
However, they refused to name the friend but said the man was traumatized over the murder and threatened to remain silent by the killer, which is why he never contacted investigators.
Detectives stressed that this man was a second victim that night and not an accomplice. The trauma over witnessing such a horrible crime likely contributed to the man's death years ago, police said. It is unclear how the man died.
Police also have said they are not interested in arresting any of the suspect's friends; they only want to capture and convict the suspect.
Since 2019, three electronic billboards featuring Megan have been along State Route 17. Lamar Advertising has provided the billboards free of charge.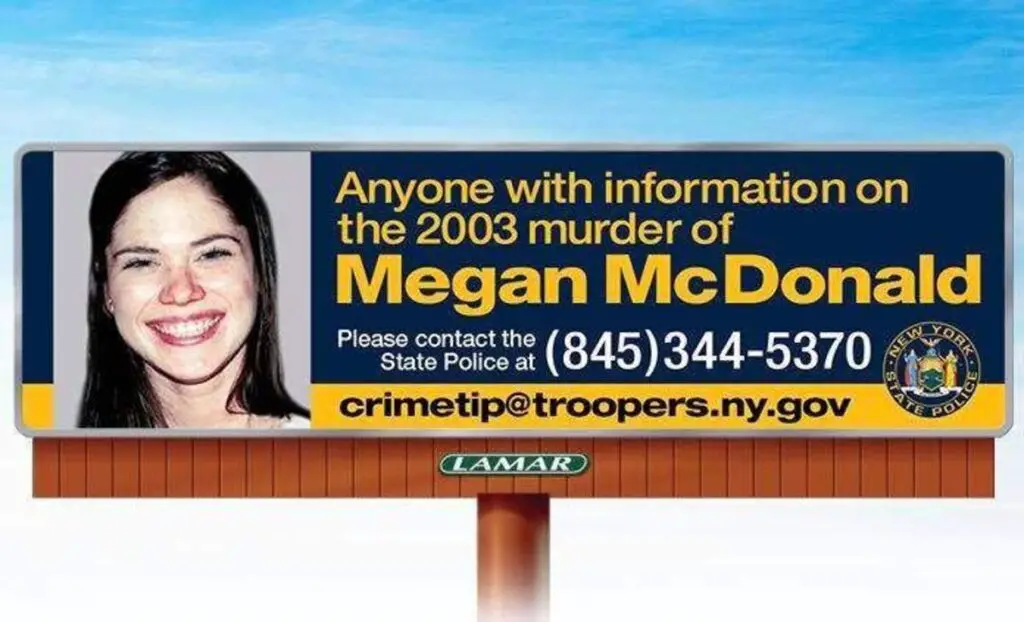 If you have information about Megan's case, contact the New York State Police investigators at 845-344-5300. You can also submit a tip at 845-344-5370 or email crimetip@troopers.ny.gov.
The McDonald family has a Facebook page and a website for Megan.
True Crime Diva's Thoughts
I don't have much to say here because it's obvious the police know who killed her. But I decided to write about Megan's murder because I believe they will arrest her boyfriend in the near future.
What irritates me is that his friends are still quiet. I understand that in 2003 they were afraid of him, but it's been almost 20 years. Get over it. 
I'm trying to figure out this asshole. The suspect knew a lot of people, was an intimidating jerk, and most were afraid of him. I think he had a criminal background before the murder, maybe drugs or whatnot. Investigators stated Megan's murder was not connected to drugs, but the suspect might have been. 
This man killed his girlfriend without thinking twice. What are the chances he has not killed since 2003? I mean, so far, he got away with one murder. 
The man was violent. It sounds like he had one helluva reputation, mostly bad shit. What on earth did she see in him? Talk about complete opposites.
I don't understand how police do not have enough evidence of murder to make an arrest. Investigators have DNA placing him inside her vehicle taken from the crime scene, AND they know about the passenger, who is now dead. He didn't go to authorities; they received the info from a third party, which is not evidence, I get it. But if they receive information from others about the suspect confessing or whatnot, isn't that the same thing? How is that evidence? What more are they waiting on?
Nevertheless, I hope investigators soon arrest that vile human garbage.