HARTFORD, Conn. – Constance "Connie" Smith was simply a little girl who wanted to go home. As hard as she tried, she could not make that happen.
Peter Franklin Smith and Helen Jensen married at Jensen's Greenwich home on Oct. 23, 1937. The marriage produced two children, Nels Jensen Smith, born in 1939, and Connie on July 11, 1942.
Smith was the son of former Wyoming governor Nels H. Smith, who served from 1939 to 1943, and Marie Christiansen Smith. The elder Smiths owned Ranch A in Sundance, Wyo. In 1942, they bought it from Moses Annenberg's son after the elder Annenberg passed away. 
Connie's parents divorced in 1949 but lived on neighboring ranches in Sundance. Smith, a prosperous rancher, married Oydis Horton in 1950, and she had two daughters, Ellen and Dorothy.
During the summer of 1952, Connie and her mother traveled to Greenwich to visit Helen Smith's parents, Carl and Ester Jensen, and her sister, Ruth Jensen McWilliams. Helen Smith thought it would be best for her daughter to attend a summer camp to keep her from being bored and have some fun. So, she enrolled Connie in a summer camp program through the YMCA of Westchester County, N.Y.
Camp Sloane is located in the foothills of the Berkshire Mountains at 124 Indian Mountain Road, Lakeville. The camp's website states, "Since 1928, campers have lived in our canvas-walled platform tents, with tent villages split up by grade and gender."
When Connie had been at Camp Sloane for a couple of weeks, her mother and grandparents drove from Greenwich to celebrate Connie's 10th birthday on July 11, 1952. Her family never saw her again.
Four days later, on July 15, 1952, Connie broke her glasses and bruised her hip in a fall at the camp. She could not see very well without her glasses; she had to put books up close to read. Connie visited the camp dispensary to get an ice pack for her hip.
On July 16, 1952, Connie was in an altercation with a group of female campers and received a bloody nose. It's unclear what the argument was over or the girls' identities. 
Connie told her tent mates she planned to skip breakfast and walk back to the dispensary to drop off the ice pack. However, she left the ice pack in her tent and never visited the dispensary. Instead, Connie walked away from Camp Sloane to Indian Mountain Road and disappeared.
Camp counselors called the police hours later in the afternoon upon discovering Connie was missing and her ice pack was on her tent bed. Authorities searched the woods and questioned residents in the camp area.
Camp Sloane's caretaker, August Epp, saw Connie picking flowers alongside Indian Mountain Road about a half-mile from camp. He thought the girl was a camp counselor. Connie looked older than her age, around 12 or 13, stood 5 feet tall, and weighed nearly 85 pounds.
At 8 a.m., Mr. and Mrs. Hubbs Horstman, who lived on Millerton Road, saw Connie, followed by two sisters of the Horstman's neighbor, Frederick Cadman, 15 minutes later. Connie asked the sisters for directions to Lakeville.
Connie stopped at the home of Alice Walsh at Indian Mountains Road and Rt. 112 at 8:30 a.m., and asked her for directions, too. Walsh told Connie the best route to Lakeville. Connie cried as she walked down the driveway. Walsh continued watching the girl walk up the hill on Indian Mountain Road toward Lakeville.
A couple who ran a Lakeville upholstery shop saw Connie near Belgo Road, about two miles from camp and just outside of Lakeville, headed toward town. 
At 8:45 a.m., Mrs. Frank Barnett of Belgo saw Connie on the north side of Rt. 44. This was the last known sighting of Connie before she vanished into thin air.
There were a few unconfirmed sightings of the girl later in the day and three days after she vanished. One occurred along Lime Rock Road near Lakeville. 
Police initially suspected Connie's mother and the possibility that she had hidden Connie to force a more extended visitation than the divorce allowed. Helen Smith was to have Connie for the summer. Police investigated her but gave up for unknown reasons. 
A 1952 article in The Hartford Court notes that a state police plane, an air-sea rescue craft from Westover Field, Mass., and three planes of the Connecticut branch of the Civil Air Patrol combed the 20-mile square area covering portions of Connecticut, Massachusetts, and New York. The team found nothing.
Meanwhile, Smith flew to Hartford to participate in the search for his missing daughter. He chartered a plane at Great Barring, Mass. airport and flew over the search area but found no sign of Connie and suspended the air search.
Smith believed Connie might have attempted to hitch a ride to Wyoming because she loved the West and was homesick.
Investigators checked out a band of gypsies camped in Amenia, N.Y., after receiving a telephone tip on July 20, 1952. An Amenia woman saw a girl fitting Connie's physical description and clothing with the gypsies camped on the outskirts of town.
Immediately, authorities went to the area, but the gypsies and their van, which had Colorado license plates, had already left. Police never found the van or the gypsies. 
Police then investigated a tip that Connie was seen in Cooperstown, N.Y. but could not verify it. 
Mrs. Alfred Nicholls, of Northville, Conn., told police she saw a girl matching Connie's description and clothing in Cooperstown. When Nicholls returned home and read the newspaper, she saw a picture of the missing girl and believed Connie was the one she had seen. 
Smith believed this could mean that his daughter was on her way to Chicago, where some of their relatives lived. He went to Chicago, but Connie never arrived. 
Police carried photos and descriptions of the sun-tanned missing girl, asking people if they had seen her, but it was fruitless. According to The Courant, the descriptions included "animal creations of her vivid imagination, including a pet rattlesnake and a white mare named Toni that could twirl a baton."
Then, in September 1952, police received a tip that Connie was in Texas; however, an Indigenous girl, Kim, was mistaken for the missing girl. Kim ran away to Texas to train horses and obtained work as a maid. She was from an Iroquois tribe on the St. Regis River between Canada and New York. She was 18 and looked 18, weighing around 110 pounds or more, nowhere near the size of Connie.
State police renewed the search for Connie in November 1952 and said 10,000 copies of a revised police missing person bulletin had been printed containing Connie's information. They circulated the publications to every police station in the U.S., the FBI, dental and optical journals, and all school superintendents and game wardens in Connecticut.
Connie's mother offered a $3,000 reward if Connie was found by Jan. 1, 1954. No one had claimed the reward by the expiration date.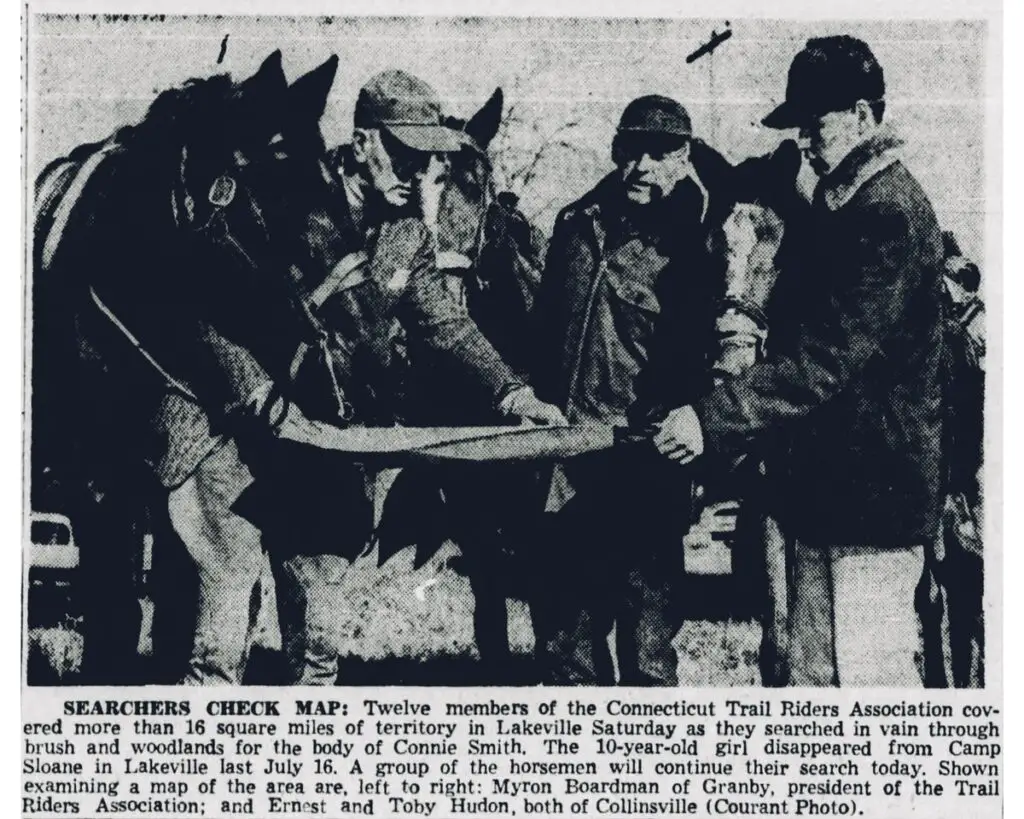 In the late fall of 1952, men on horseback failed to find Connie or clues to her whereabouts. The group was comprised of members of the Connecticut Trail Riders Association, working under the direction of Myron Boardman of Simsbury. The group combed through areas surrounding Mt. Riga and Mt. Washington (Mass.) north of Route 44 and Red Mountain to the south.
The search began on Saturday, Nov. 29, 1952, and took six hours. Only nine riders participated in another six-hour search the following Sunday but found no sign of Connie.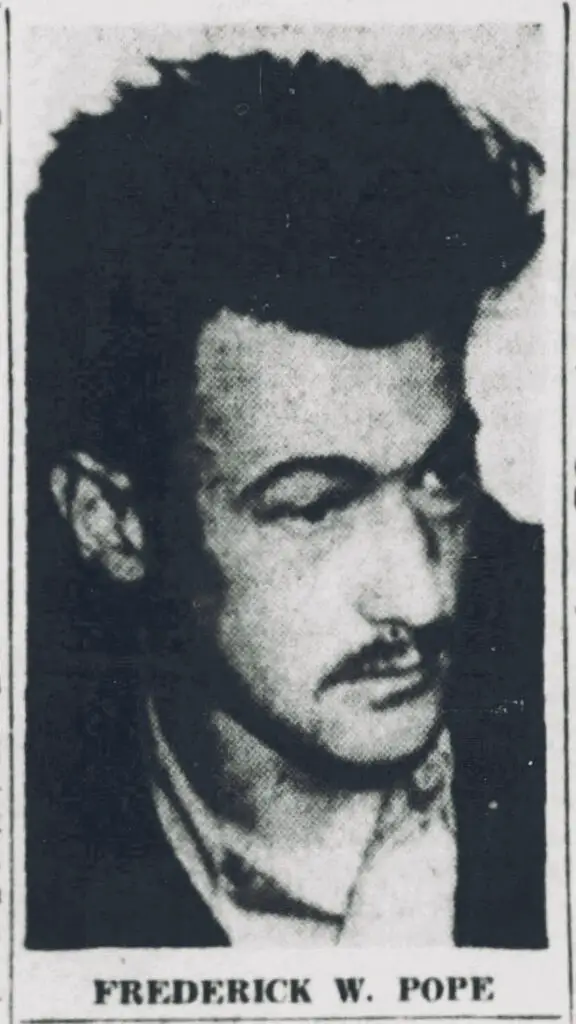 In April 1953, a traveling jewelry salesman named Frederick Pope claimed his companion, Jack Walker, killed Connie in Arizona after they picked her up on Route 44 and promised to take her to Wyoming. Pope later admitted it was a hoax. 
Skeletal remains were later found in Arizona of a teenage female estimated to be around 16, the same age Connie would have been. However, Connie's dentist and two Denver physiological experts were unable to determine whether they belonged to Connie. 
Connie's brother, Nels J. Smith, told The Register Citizen in 2018 (for a detailed article on the teeth, click the link):
"Mother had died before someone in the Connecticut State Police caught the similarities in Connie's dental chart and that of Little Miss X," Nels Smith said. "Of the five points of identification on the Little Miss X dental chart, one was a filling that could have been done after Connie disappeared on July 16, 1952."
Smith added of Connie's dental chart: "The remaining four points (of dental identification and not necessarily just fillings) were identical to Connie's dental chart. Three fillings were of the same technique and material used by Dr. Floyd Ward (the Smith family dentist at the time), who examined the Little Miss X skull and jaw." He recalled, "He said three of the four fillings were identical to his work. He speculated they could be his work and materials."
Two Yuma deer hunters found the remains outside the Grand Canyon National park on Halloween 1958, and police named the victim "Little Miss X." Some people in Arizona believed those remains were Connie. However, the girl remains unidentified today.
---
With a missing child comes a lot of craziness, with all kinds of people offering information, such as psychics. But have you ever heard of a psychic horse?
Lady, a 27-year-old psychic horse, reportedly predicted Connie would be found in L.A. Of course, the horse failed to find her, but Connie's parents were willing to try anything to find their daughter.
In early August 1954, a photograph appeared in the New York Journal-American newspaper of a girl who resembled Connie with a group of "bathers" on a beach. However, the next day, Mae Sedgwick, of 4331 Park Ave., N.Y., identified the girl as her daughter Virginia. 
George J. Davies, a local sex offender in the 50s, initially denied involvement in Connie's disappearance but later admitted killing her and burying her body in a shallow grave along a stream in Litchfield County. Davies was awaiting execution after confessing to killing two other girls. He took police to the location where he allegedly buried Connie. Police spent two days excavating the area with no sign of Connie's remains. However, just as he was about to be executed, he conceded that he did not kill Connie.
Before Davies' recanted his confession, a deliveryman for the Waterbury Republican newspaper, with the last name Smith (no relation to Connie), was driving along county roads with his wife one day. He told her he believed Davies could not have killed Connie because he was working at the time, Hartford Courant reported.
The deliveryman commented on Connie and her clothing, which his wife found strange. After their divorce, she notified the police and said that her ex-husband claimed nothing would be left of Connie's remains where they were buried in the woods. He also said that Connie had tried calling her father before she disappeared. However, Smith never received a call from her. The ex-wife said his route took him by Camp Sloane around the time of Connie's disappearance.
Police questioned the man, and he took and passed a polygraph test. Investigators learned that the couple had a domestic dispute before the wife called the police. Hartford Courant, which reported on Connie's disappearance in 2000, stated the man, then 79, denied killing Connie.
A mystery man called the police in 1955, saying "he needed to get something off his chest," writes Rachel Gottlieb in the Hartford Courant. Around 1 a.m., a man identifying himself as William Dugan placed a collect call to the Connecticut State Police from Canada. He said he had worked for a Hartford circus for 13 years and agreed to meet state troopers the following day in Canada. But the state police were busy with flood damage, likely caused by Hurricane Connie (weird, right?), and asked Canadian authorities to meet with the man instead and report back. The Canadian police never called, and the Connecticut State Police dropped the matter, Gottlieb reported. 
Dugan's wife called the state police back and said he was a soldier stationed in Japan, not Canada.
In February 1988, a retired state trooper who took the strange phone call read a news story about Pennsylvania charging William Redmond with the murder of an eight-year-old girl in 1951. Redmond was a former carnival worker. 
Police reopened the investigation into Connie's disappearance but could not place Redmond in Connecticut when Connie vanished. However, he took and passed a polygraph test. Redmond died in 1992. He is considered a possible suspect in the disappearance of Beverly Potts, who disappeared about a year before Connie. Beverly was also 10 and lived in Ohio.
In February 1989, a Dearborn, Michigan woman named Connie Bartlett Mallor, 44, with no memories before age 10, thought she might be Connie. Her husband was watching a television program by the Fox Broadcasting Co. about Connie and thought his wife looked like the long-missing girl. "Blood tests on samples from Mallor and Peter Smith showed that the two could not be genetically related," the Courant reported.
---
Connie's parents did everything they could to find their missing daughter. Sadly, Helen Smith died in December 1961 from a heart attack at 47. 
Connie's father later bought Ranch A, turning it into a dude ranch and executive conference center, a few months after Connie disappeared. He sold the farm in 1963.
Smith searched for his daughter for decades. He died at his winter home in Mexico in 2012 at age 97. Nels J. Smith was by his side and took over the search for Connie. However, he is now in his 80s, so it is unclear if he will continue. According to investigators, Connie's case is still open. Her brother submitted his DNA for comparison purposes; if authorities find a body or can compare it to "Little Miss X." Investigators from 1958 buried the girl in an unknown location in Citizens Cemetery. As of 2018, current detectives believe they know where the grave is, but nothing further has been mentioned.
True Crime Diva's Thoughts
I could not find any photos of Connie's parents.
I think the altercation with the group of girls and homesickness caused Connie to leave Camp Sloane. What was the fight over? How old were the girls? Why did it take camp personnel so long to discover Connie missing?
When I was Connie's age, my parents sent me to a summer camp for a week. I was so homesick and hated every minute, but I never thought about leaving and walking home. The camp was about a half hour away, and I knew the area, but I stayed. So, I really want to know what Connie was thinking that day. She must have been very sad and desperate to be with her mother or return to Wyoming.
It's heartbreaking knowing that she stopped to ask directions twice, and not one person drove her to Lakeville or offered Connie the use of a telephone. For that matter, why didn't Connie ask for a phone?
It makes no sense to me that not one person helped her when she asked for directions – 1952 or not. I'd question these people if we didn't have the sightings after Connie left their homes.
But what also does not make sense is the timeline of the sightings.
At 8 a.m., the Horstmans, who lived on Millerton Road, saw Connie walking. At 8:15 a.m., Connie asked their neighbor's sisters for directions.
So why did it take her 15 minutes to reach the Cadman place?
At 8:30, Connie asked Walsh for directions, too. Walsh lived close to the Horstmans, about a half mile and a 10-minute walk. She would have walked by Walsh's home before the Horstmans. Why did she backtrack? Did she not understand the directions given by the sisters?
Also, at 8:30 a.m., the couple said they saw Connie near Belgo Road. There's no way unless she could fly. It would have taken her around 20 minutes to walk from Walsh's home to Belgo Road at Route 44.
The timeline weirdness could be caused by the newspaper reporting.
---
Connie was trying to get to Lakeville, but what were her plans afterward? Call her mother to pick her up? It's only about 80 miles from Lakeville to Greenwich, where Helen Smith was staying. So, that's possible.
There were no sightings of Connie beyond the unconfirmed ones. I think someone picked her up in Lakeville. She's likely dead and was killed shortly after her disappearance because there were never more sightings of her.
But she could still be alive without the memory of her former life. Maybe someone decided to raise her. She would be 81 now. She was so young when she disappeared and still naive. It would have been easy to influence her in any way to her kidnapper's advantage.
---
The beach photo is interesting. The girl looks like Connie, but you can also see the differences. Connie would have been 12 at that time. What do you think?