WASHINGTON — Alexandra "Sasha" Bruce was born into immense power and wealth. She was the daughter of American ambassador David K.E. Bruce and society hostess and writer Evangeline Bruce.
Bruce came from a long line of powerful political men. His family arrived in America before the Revolution. Born in 1898, he Left Princeton during World War I and won an election to Maryland's state legislature in 1924. He was a one-time ambassador to France, West Germany, and Britain. He was also chief of mission in China.
Bruce married Andrew Mellon's only daughter, Ailsa Mellon, in 1926. They had one child together, Audrey Sheila Bruce, who later died in 1967. Bruce and his wife ultimately divorced.
He met Evangeline Bell in London during World War II. They both worked in the Office of Strategic Services, a precursor to the Central Intelligence Agency. The couple married in 1945 and had three children together — Alexandra "Sasha" Bruce, born in 1946, followed by David Surtees Bruce in 1948, and Nicholas Cabell Bruce in 1951.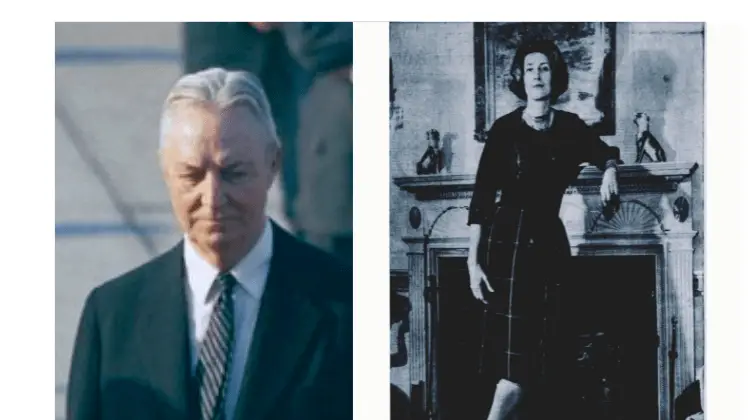 When Sasha turned 15, her parents sent her to boarding school. She graduated magna cum laude from Radcliffe College in 1969. 
People described Sasha as beautiful, intelligent, friendly and unpretentious, sensitive, and rebellious, but not comfortable in her own skin and a poor judge of men. She was fluent in both French and German.
After college graduation, Sasha joined her parents in London and opened an art gallery. She met a Greek art dealer who used the German name, Anton Von Kassel.
Von Kassel became Sasha's business advisor, but he was a snake in sheep's clothing and often posed as a member of German nobility. He persuaded Sasha that a man like himself should not manage money; therefore, she paid for everything.
The relationship was rocky, and Sasha had threatened suicide numerous times as the relationship deteriorated. They were together for four years until Von Kassel left her for another woman.
After the breakup, Sasha learned he was not a nobleman but the son of a Salonika hairdresser. He bought the title in the late 60s from a broke German.  
Through Von Kassel, Sasha met another Greek man named Marios Michaelides (pronounced mick-uh-ladies), a slim shady, if you will. He was a thin man with dark hair and a dark mustache, and a personality to match. 
Nobody knew much about Michaelides. Sasha fibbed and told people she had met him at a wedding in Greece in the early 70s.
Michaelides was still married to his first wife, whom he had met in Athens in 1971. They married in Knoxville, Tennessee, a year later, and had a daughter together. Sasha knew about his wife and often referred to her in letters to Michaelides. 
In May 1974, Sasha left London and moved into the Bruce family estate, Staunton Hill, in Virginia.
Staunton Hill 
Located at 1100 Magnolia Lane, Brookneal, Virginia, Staunton Hill is a magnificent castellated stucco mansion with an Italian marble portico and nearly 16,000 sq. feet on 273-plus acres. The home has 11 bedrooms, 10 full baths, and one-half bathroom. (View more pics here.)
Constructed in 1848, Staunton Hill was in the Bruce family for well over a century. Sasha and her two brothers owned the estate.
By the time Sasha arrived at Staunton Hill, she was running out of cash. She had enough money to pay import duty on a few dresses she brought back from London but sold the rest at auction.
Sasha was a very active woman who moved like the wind. She raised chickens, sold them at a local auction, renovated the estate's cottages behind the castle-like mansion, and cataloged rare and valuable books in the Bruce library.
In late 1974, Michaelides started to visit her on occasion at Staunton Hill after Sasha purchased prepaid plane tickets for him. 
Sasha's friends rarely saw her afterward, but Michaelides was resentful and unfriendly towards them when they did.  During his visits, Sasha made it clear to staff not to bother her.
Sasha began to change by the spring of 1975. Michaelides had complete control over her, and friends had once seen her with a black eye. She also started using drugs at some point.
Sasha appeared cheerful and optimistic when he was not around but suppressed in his presence. She gave up her chickens because Michaelides had told her it was "undignified."
On Mother's Day 1975, Sasha attempted suicide by swallowing some pills. 
Like Von Kassel, Michaelides seemed hellbent on spending Sasha's fortune and had invested her money in his name. In July, Sasha bought him a chocolate brown Jaguar coupe. On July 25, Michaelides' first wife divorced him in Haiti, citing incompatibility. According to a 1978 article in The Evening Sun, "Five days later, Sasha rewrote her will, leaving Michaelides' everything if she was married to him when she died."
That summer, Michaelides and Sasha received an offer of $60,000 for 32 rare books at Christie's Auction in London; the books were not sold until Nov. 6. 
Several local gun collectors reported that Sasha and Miichalides offered them antique Bruce family firearms.
Despite everything, Sasha married Michaelides in a civil ceremony on Aug. 8, 1978. She wanted a big wedding on Oct. 14, at her parent's opulent Georgetown townhouse, and had bought a wedding gown. 
After the rehearsal dinner the night before the wedding, Michaelides and Sasha fled in the middle of the night and drove back to Staunton Hill without explanation.
Less than a month later, and only three months after getting married, Sasha Bruce was dead.
Events of November 7, 1975
Sasha, 29, was expecting a visit from her godmother and cousin on Nov. 7, 1975, after their stay with Sasha's parents in Georgetown. She rose early and baked a cake for dinner. She had servants polish the family silver and bring out the good wine. 
Elizabeth Hamlett, who had been the Bruce family cook for six decades, drove into town for groceries and a hair appointment.
"Buss" Baker, the Bruce's hired hand, also ran errands. That left only Marios and Sasha in the main house.
Meg Tibbs was a caretaker at Staunton Hill and also a part-time local newspaper reporter. She had slept late due to a baby up all night. Around noon, Michaelides came by and asked if she had seen Sasha.
"I said something smart like, 'What'd she do, leave you?'" Tibbs later told The Evening Sun.
Four hours later, "Marios came bursting through the doors yelling something like, 'Oh my God, she's killed herself! She's dying! Do something! Call the doctors!'"
Tibbs called the rescue squad. Along with servants and other estate tenants, she followed Michaelides to an area near the swimming pool. There, under a tree, lay Sasha, dying. Blood had spilled out onto the leaves and grass. Sasha was still breathing but clinging to life.
Paramedic Wylie Martin arrived and administered oxygen. He wiped away a small stream of blood dripping from Sasha's right temple. He then applied a four-by-four inch cotton compress, even though he was confident Sasha was not going to survive.
When the paramedics lifted Sasha onto the gurney, they noticed a .22-caliber pistol hidden beneath her.
Sasha's guests arrived shortly before the ambulance, and they went to Lynchburg Hospital, where paramedics rushed Sasha. For whatever reason, Michaelides refused to stay at the hospital with his wife.
Sasha had suffered a single gunshot wound to the right temporal lobe, near the ear. She never regained consciousness, so she was not able to tell the police what had happened. She died 36 hours later with her father by her side.
Bruce and his wife buried their daughter the same day she died to avoid considerable publicity that was sure to follow. Her death was ruled a suicide, so there was no autopsy or inquest. People respected the Bruce family and never said anything about the speedy burial, believing the family had suffered enough.
There was speculation that Sasha had recently learned that Michaelides' wife was carrying his second child, and Sasha took her own life as a result. But there were problems with Sasha's death. 
Michaelides owned the gun that fired the fatal shot. Police never found a spent cartridge at the shooting site.  He refused to stay at the hospital where his wife lay dying.
When hospital staff undressed Sasha, they noticed horrific bruises covering her body, yet no one in authority pushed for a possible foul play investigation.
Michaelides had admitted to the police that he "slapped her around" on several occasions. 
Phone records showed numerous calls made from Staunton Hill to Knoxville, where Michaelides' wife and daughter resided, in the days before Sasha's death. 
Sasha's father died in December 1977. At first, he accepted the suicide ruling, but he believed his son-in-law had killed her as time wore on. Bruce was fed up with the county prosecutor's lack of interest in reopening his daughter's case and hired private detective Downey Rice to investigate her death. Rice had been an FBI agent during the J. Edgar Hoover years and fought in WWII.
Bruce also hired Royston Jester III, a former prosecutor from Lynchburg. Jester and Rice eventually had enough evidence to present to the police, and shortly after, authorities reopened the Sasha Bruce case.
Jester was sworn in as a special prosecutor in Charlotte County in July 1978 and presented evidence to a grand jury. On that same day, the county's grand jury issued its first two indictments against Michaelides. It ultimately returned four indictments against him: murder, bigamy, embezzlement, theft of thousands of dollars worth of art, antiques, and silver from Staunton Hill. 
The bigamy charge resulted from Michaelides' being legally married to his first wife after his marriage to Sasha. The embezzlement charge stemmed from their most significant joint venture: the $60,000 offering of rare books sold the day before Sasha's death.
Unfortunately, Michaelides fled to Greece on April 23, 1978, where a treaty between Greece and the U.S. prevented him from being extradited to face charges. However, Greek officials could have charged him, yet they never did, and he remained a free man.
Michaelides claimed they were blackmailing him "because I have evidence about a multimillion-dollar tax evasion," he told The Evening Sun in 1978. He admitted to accepting $100,000 from each of Sasha's brothers soon after her death.
Michaelides' first wife joined him in Greece, and both refused to discuss the case with reporters. The rumor that she was pregnant at the time of Sasha's death was true. She gave birth to the couple's second daughter eight months after their bogus divorce in 1975, and they named the baby — wait for it — Mary ALEXANDRA.
Michaelides' whereabouts today are unknown.
Bruce Family Tragedies
The Bruce family was no stranger to tragedy.
In 1924, Sasha's maternal grandfather, Edward J Bell, second secretary to the U.S. Embassy in Peking, was found dead of a broken neck at the base of the steps of the ministry. His death was ruled accidental, but some people believed her grandmother was responsible. One report said he had a heart attack.
Then, on January 17, 1967, Bruce's only child from his first marriage, Audrey, 33, disappeared with her husband Stephen Currier, 36, in the Bermuda Triangle. Searchers found no trace of their twin-engine plane, last known to be on a short and routine flight from San Juan to St. Thomas.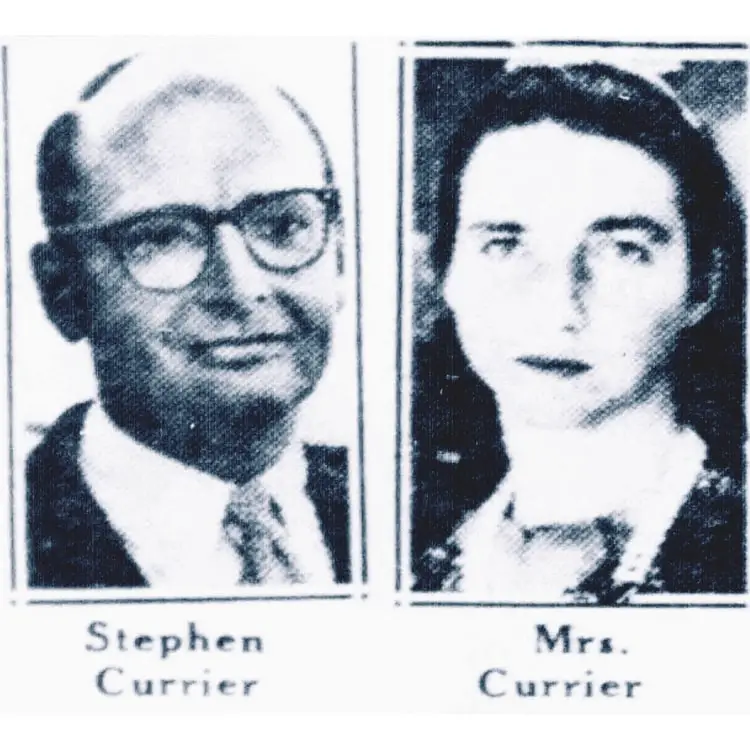 The last known communication was at 7 p.m. when the plane left San Juan. The flight to St. Thomas should only have taken 45 minutes, but the aircraft failed to arrive by 8 p.m. Pilot John D. Watson, 52, did not file a flight plan before takeoff, and the search was not launched until 1 a.m. as a result.
The couple was worth around $700 million; most of their wealth belonged to Audrey. 
Aftermath
People have often compared Sasha's tragic story to that of Edie Sedgwick, Andy Warhol's muse. Both were young, beautiful women with influential backgrounds who died way too soon.
Author Joan Mellen spent three years researching Sasha's life and death for her book, Privilege: The Enigma of Sasha Bruce (affiliate link), published in 1985. She had interviewed Marios Michaelides over 10 days in a Greece hotel. After the book's release, Mellen said she felt there was enough evidence to indict him, but if Sasha had shot herself, he drove her to do it.
Evangeline Bruce wanted to do something to honor her late daughter's memory. In 1985, she started a foundation for teen runaways and young mothers called the Sasha Bruce House, which is still active today. According to its website, the foundation "helps most youth reunite with their families and works to return all young people to stable and safe environments."
Evangeline passed away in 1995. Reports varied on her age at the time of death; some say she was 77, others reported 81.
True Crime Diva's Thoughts
I chose to write about Sasha because I felt her story was interesting yet tragic, and I wanted to share it with you. 
I do not believe for a second that she took her own life, especially after reading that Michaelides' wife gave birth to a second daughter with the middle name "Alexandra." 
Where was the spent cartridge? How did the gun get beneath her if she had shot herself? 
Why didn't hospital staff push for an investigation after discovering bruises on her entire body? 
I believe Michaelides and his wife conspired to kill Sasha to get her out of the picture and possibly inherit her fortune. After all, she changed her will five days after their bogus divorce to leave everything to him. However, they were still legally married, so he did not receive anything after her death.
Michaelides had a history of abusing Sasha; he was very controlling and manipulative and took advantage of her failing mental health. 
Sasha was expecting company that day, so there is no way, in my opinion, she would have killed herself. She had even baked a cake for crying out loud. Who plans a get-together and then commits suicide?
While she had been suicidal in the past, nothing was leading up to that on this particular day.