Russell Turcotte, 19, was considered a free spirit. He marched to the beat of his own drum and did not allow fear to hold him back; if he wanted to do something, he did it.
In early July 2002, Russell and a friend attended the Rainbow Family Gathering in Michigan. The friend left early, but Russell decided to stay.
When the annual event was over, Russell hitched a ride with friends he met at the gathering and stayed with them in Fargo, North Dakota, on July 12, 2002. The next day, he and his new friends went their separate ways, and Russell started hitchhiking back to Montana.
After Russell arrived in Grand Forks, N.D., he stopped at Simonson Travel Center, a truck stop at U.S. Highway 2 and Interstate 29. There, he called his mother in Wolf Point, Montana, at 11 p.m. and asked for $75 to get home faster by bus or train to attend a wedding. His mother promised to wire him $100 the following day to Grand Forks.
Russell vanished after speaking with his mother and never picked up the money. 
His mother, Linda Hansen, called the Grand Forks police department on July 14, 2002, to report her son missing. The officer who took the call laughed when she mentioned her son's age and told her to wait a few more days. The officer also told her to report a missing person through her local law enforcement agency.
Months went by with no sign of Russell and no help from the police. Stephen J. Lee of the Associated Press wrote that Russell's "vagabond lifestyle, being often on the road, hitchhiking, made it more difficult for law enforcement and the public to be certain that he was missing and not just traveling." However, Russell was heading home to a wedding and regularly communicated with his family.
The Turcotte family drove to Grand Forks and plastered flyers with Russell's photo at gas stations and truck stops along the way.
After seeing a flyer, a young clerk at a Grand Forks gas station called the family. Russell had purchased a water bottle at the establishment sometime before calling his mother.
Hansen traced the number of the truck stop, where employees told her that Russell had asked for directions to a rescue mission, likely the Northlands Rescue Mission, 420 Division St. in Grand Forks.
The friend who traveled to Michigan with Russell said the missing man had met a girl from Brainerd, Minnesota, at the gathering. Her name was Leah, but the family could not track her down.
Authorities did not search for Russell until October 2002, three months after he vanished, and it was a rather lame attempt with unsurprisingly no results.
On Nov. 5, 2002, farmer Trent Haberstroh found Russell's remains a half-mile north of U.S. Highway 2. The spot was near a gravel road in the wide tree belt, about 11 miles northwest of Devil's Lake and about 100 miles northwest of the truck stop.
The day before, two of Haberstroh's cows had fallen out of his trailer on Highway 2. He found the skeletal remains as he chased his cows down. Haberstroh farmed and raised cattle near the Canadian border, so it was by sheer luck that he lost a couple of cows and stumbled upon the bones.
"It was so covered with grass, it had been there for a long time," Haberstroh told the AP in 2012. "The grass was wilting at that time, and the leaves were off all the trees and had fallen on the body."
Haberstroh farmed and raised cattle near the Canadian border; it was by sheer luck that he had been in the area when he found the remains. 
State Highway Patrol troopers were the first on the scene. The Grand Forks police, the Ramsey County Sheriff's Department, and the state Bureau of Criminal Investigation became involved.
But their involvement was a joke, as was their investigation that lasted a minute.
The police refused to disclose Russell's autopsy results to his family. The only thing Russell's family had learned was that his cause of death was blunt force trauma. The Ramsey County coroner did say that Russell's body could have been there since late July or early August.
Hansen said in 2012 that at one point, detectives looked at someone from Cando who was in prison for another crime. She was under the impression that her son's killer was local to the Devil Lakes area. Cando is about 35 miles northwest of Devil Lakes.
But that's as far as the investigation went, and it soon became dormant. The local media did not seem interested in covering Russel's case, apart from an article here and there. To draw attention to Russell's murder, his family erected billboards containing his picture and information about the case in April and October 2003.
Then, another crime occurred in Grand Forks that made Russell's family wonder if Russell's ethnicity had something to do with the lack of interest from the authorities and the media.
On Nov. 22, 2003, 22-year-old Dru Sjodin was leaving work in Grand Forks and talking to her boyfriend on her cellphone. As she walked to her car, her boyfriend heard her say, "Okay, okay" or "Oh my God." Her remains were found in April 2004; she had been beaten, raped, and murdered. Police arrested Alfonso Rodriguez Jr, a sex offender, on Dec. 1, 2003. He later received the death penalty, but a judge overturned it in September 2021.
The amount of media coverage and the search and investigation over Sjodin's disappearance was massive; Russell's paled in comparison.
Russell's father, Bill Turcotte, criticized the police for not properly investigating his son's murder because he was Native American. Both Turcotte and his son were members of the Turtle Mountain Band of Chippewas in North Dakota. Hansen belonged to the Fort Peck Assiniboine & Sioux Tribes in Poplar, Montana.
It's not a stretch to say that police were more focused on finding Sjodin because of her ethnicity and looks. Police say it was because of the "circumstances."
"She was young, female and attractive, and she was shopping at a mall we all use. This could happen to any of us," said Grand Forks Police Chief John Packett in 2012.
With that reasoning, Russell was young, male, and attractive and was at a truck stop many people use. 🤦‍♀️ His murder could also happen to any of us.
Even after finding Russell's remains and his death ruled a homicide, North Dakota investigators did not take his case seriously. 
The Turcotte family has said they were happy that Sjodin's case received the attention it deserved, but they only wished Russell's had too.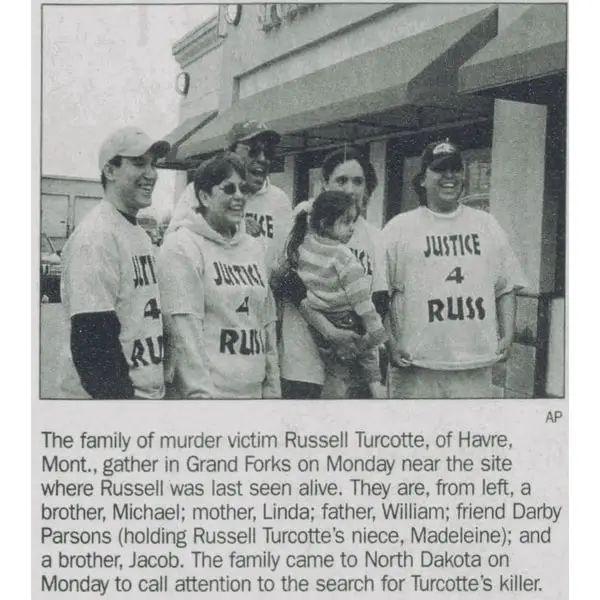 After the arrest of sex offender and killer Joseph Edward Duncan III in 2005, the FBI began looking at links between him and Russell's murder. Duncan kidnapped Dylan Groene, 9, and his sister, Shasta Groene, 8, after brutally killing their mother, her boyfriend, and their older brother in May 2005. Nearly two months later, police rescued Shasta after a waitress at a Utah Denny's restaurant recognized her while Duncan and Shasta visited the restaurant. Duncan had repeatedly molested both children and killed Dylan shortly before the rescue.
Duncan was found guilty and sentenced to prison. Police also charged him with the murder of Anthony Martinez, 10, sexually assaulted and murdered in 1997. Duncan confessed to the murder of Sammiejoe White, 11, and her sister Carmen Cubias, 9. The girls vanished from Seattle in 1996, and their remains were found in February 1998. 
Investigators were skeptical of Duncan's involvement in Russell's murder because he was much older than Duncan's victims. However, his father told the AP in November 2006, "Russell was very young in appearance, and he was very vulnerable. He was traveling alone and was looking for help, so maybe he reached out for the first person who offered him a hand and it was the wrong person."
Turcotte further said that "FBI agents told him there was evidence placing Duncan at Simonson's truck stop in Grand Forks within hours of the time Russell was last seen."
Other than a couple of articles on Duncan's possible involvement, no further information has been provided since 2006. Duncan died in March 2021. 
Police have re-examined Russel's case over the years, but it remains unsolved.
True Crime Diva's Thoughts
Hitchhiking has always been dangerous. I never understood why people do it. Common sense should tell you it's not a good idea. So many people have been kidnapped and killed while hitchhiking.
Russell was only 19 years old, younger than Sjodin, and came from a good family. Why didn't the police give a shit?
I remember Sjodin's disappearance well. Every national media outlet covered her case for weeks. It was crazy.
Investigators should have done more especially after Russell's NUDE remains were found 100 MILES away from where he had last been. Why didn't they release his autopsy results to the family?
The Ramsey County coroner said Russell's remains might have been there since late July or early August 2002. WHAT? He vanished in the MIDDLE of July. So, if that is true, where was he during this time frame?
Now, Russell had traveled from Michigan to Fargo with friends he met at the gathering in Michigan. So, knowing he had a wedding to get to, why didn't he call his mother from Fargo?
Fargo is only about an hour and 15 minutes south of Grand Forks. Did these "friends" give him a ride to Grand Forks? Did any of them come forward after Russell vanished? They probably had not even heard of it because the media didn't cover his case. The first article I found from North Dakota was the Bismarck Tribune, July 29, 2002, titled, "Missing man somewhere in N.D."
The killer had to be at the truck stop when Russell made the phone call. I think Duncan makes a good suspect, but he liked his victims 10 years younger. It could also have been a truck driver or someone local.
Russell had asked for directions to the rescue mission, about 3.5 miles southeast of the truck stop. I think he planned to seek shelter for the night and then pick up the wired money the following day. But someone kidnapped him instead. Maybe the killer offered him a ride or shelter or both. 
I think the motive in the killing was sexual. Russell had no money on him, or very little, and he likely did not carry anything expensive with him.