Leanne Beth Goodall, 20, was a beautiful art student who worked part-time as a waitress at Ambassador Nightclub, known locally as "The Bass," in Newcastle, New South Wales, Australia, in 1978.
Pictures of Leanne show a vibrant, happy, full-of-life young woman. Her mother, Beth Leen, described her daughter as a bird. Leen told the Sydney Morning Herald in 2001, "She came and went like a bird, she loved people, but she always kept in touch."
Leanne was the first daughter born to Leen after having four boys. Leen had another daughter after Leanne named Pamela.
On Boxing Day, Dec. 26, 1978, Leanne kissed her mother goodbye for the last time. Four days later, she disappeared, never to be seen again.
Leanne and her mother visited relatives in Sydney over the Christmas holiday, and she planned to ring in the New Year with friends in the city. However, Leanne changed her plans last minute without telling her mother.
Instead, Leanne went to stay with her brother Warren in Muswellbrook in the Hunter Valley, about two hours north of Sydney. On Saturday, Dec. 30, 1978, Warren took her to the Muswellbrook train station and saw her board a Newcastle-bound train at 1 p.m. She told him she intended to spend the night at their mother's home in Belmont and then travel to Sydney to celebrate the New Year and stay a few weeks, the Sydney Morning Herald reported in 1998. Belmont is a suburb of Newcastle.
A former high school classmate of Leanne's later told the police that she saw Leann that evening outside the Star Hotel carrying a large bag. It is the last confirmed sighting of Leanne.  
Two weeks passed before Leen realized her daughter was missing because she thought Leanne was with friends in Sydney. Warren visited Leen one day and asked about his sister's stay. Leen told him Leanne never made it to her home. Concerned, Leen called her daughter's friends in Sydney, but they said she never arrived. Leen then went to Newcastle Police Station to report her daughter missing, which proved to be a wasted trip.
The police did not take Leanne's disappearance seriously and told Leen, "She'll come back." She never did.
A few months later, Robyn Hickie, 18, of Belmont North, disappeared after traveling to the Belmont Hotel to meet a friend. She was last seen opposite her Pacific Highway home at dusk on Saturday, April 7, 1979.
Amanda Robinson, 14, vanished shortly after midnight on Saturday, April 21, 1979, two weeks after Hickie disappeared. Robinson was last seen on Lake Road in Swansea, returning home from a school dance in Gatehead. A 1998 news article said it was George Street and that she was only three doors down from her home when she disappeared.
On Oct. 12, 1979, 16-year-old Amanda Zolis of Hamilton disappeared while walking to a Christian coffee shop in Newcastle. According to Doe Network, Zolis called her father at 10:15 PM from New South Wales, saying that she planned to travel to Queensland but needed clothes. She never arrived at her home in Hamilton and has not been seen since.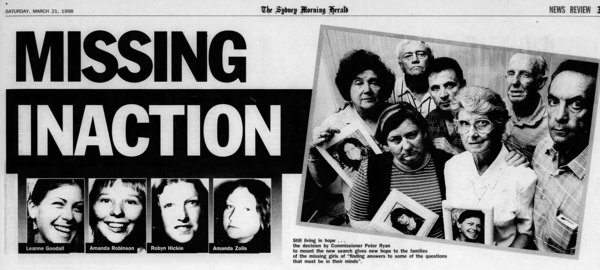 Another disappearance worth mentioning occurred close to the Star Hotel, where Leanne's former classmate saw her on Dec. 30, 1978. Debbie Pritchard, 24, disappeared after leaving the now-defunct Palais Royale on Hunter Street in Newcastle at 1:30 a.m. on March 7, 1982, about a five-minute walk from the Star Hotel. Pritchard's remains were found ten years later.
In 2001, the police linked Pritchard's killing to serial rapist Maurice Joseph Marsland, stabbed to death in prison in 1996. Marsland and Pritchard had shared a cab before she disappeared. Her case is similar to the others, particularly Leanne's, but it is unknown if police suspected him in those cases.
All of the women disappeared from the Newcastle area at night while traveling alone. The victims ranged from 14 – 24 years old and had brown hair. Hickie and Robinson disappeared from the Belmont/Swansea area. Even though Leanne was last seen at the Star Hotel in Newcastle, she planned to go to Belmont. Police believe she might have disappeared while making the journey.
The families of the missing women have criticized the police.
"It was a disgrace how we were treated," said Jim Hickie, father of Robyn Hickie, in March 1998. 
For whatever reason, the investigations of the missing women were "shut down" and had "died" within a year of the women going missing, according to former State Coroner John Abernethy. Furthermore, detectives from Sydney sent to investigate Robinson's disappearance were dismissed after two weeks.
According to the Sydney Morning Herald, "Leads were not followed up, statements were never taken and detectives were taken off the cases."
In 1995, serial killer Ivan Milat was convicted of seven murders in Australia's Belanglo State Forest between 1989 and 1993 that became known as the "Backpacker Murders." His victims, two couples and three females, were backpacking and hitchhiking along Hume Highway. Their bodies were found later, and evidence suggested they suffered horrible deaths at the hands of Milat.
Detectives investigating Milat's crimes noticed similarities in the missing women cases.
A 1998 task force called Fenwick finally began investigating the disappearances of Goodall, Hickie, and Robinson because they believed the three cases were connected. Milat "angrily denied" killing Goodall, Hickie, and Robinson at a 2001 inquest at Toronto Local Court, even though he was in the area when they vanished. Milat worked on road crews throughout the Newcastle area in the 70s and 80s. Police did not have enough evidence to charge him, and he died in prison in 2019 at age 74.
Milat's involvement does seem unlikely, given the fact that his seven known victims were primarily tourists who had been backpacking and hitchhiking in an area nearly 180 miles from Newcastle. However, officials suspect him of other disappearances going as far back as the early 70s. In 2003, police linked him to two nurses missing since 1980.
Leanne, Hickie, and Robinson had hitchhiked as a means of transportation, a common thing for people to do in the 1970s.
"As far as her hitchhiking, which upset me, I was never happy about that," Leen said about her daughter.
Leanne's sister, Pamela Mitchell, told the court at an inquest held in June 2001 that she and Leanne often hitchhiked.
"It's not a very nice thing to say, but we thought it was a cool thing to do," Mitchell said.
Mitchell then told the court that Leanne regularly hitched a ride from Wyong to Seal Rocks. The Herald reported that "on at least three occasions, she made the trip with another girl and each time Mitchell gave them a ride halfway to the Hexham Bridge." 
There is no evidence to support the theory the missing women were hitchhiking when they vanished.
In April 2019, Lake Macquarie detectives established Strike Force Arapaima to re-examine Gordana Koteveski's abduction and suspected murder, along with Hickie and Robinson, 9News reported in an August 2020 story. Gordana Kotevski, 16, was abducted from Charlestown in 1994 while walking to her aunt's home after Christmas shopping.
Investigators still believe Milat might have been responsible for the murders of Hickie and Robinson. They did not reopen Leanne's case and offered no explanation.
In August 2021, police offered two $1M rewards for information on Hickie and Robinson and unsuccessfully searched Lake Macquarie for their remains.
Leanne, Hickie, Robinson, and Zolis have never been found. Their families became friends through the shared pain of losing their daughters and never knowing what happened to them.
Beth Leen died in 2012 at age 85, followed by her husband Daniel Leen two years later.
To learn more about Ivan Milat and his crimes, you can listen to Casefile's extensive coverage of the barbaric serial killer.
True Crime Diva's Thoughts
While I think Milat makes a good suspect in the disappearances of Leanne, Hickie, and Robinson, I'm a bit skeptical.
Just because he was in the area at the time does not mean he abducted the women, and he denied killing them. He does not strike me as a person who would not have taken pleasure in admitting to a few more murders.
Milat's MO was to go after hitchhikers. We know at least Hickie and Robinson probably weren't hitchhiking at the time. Both were close to their homes when they disappeared. Leanne might have been hitchhiking to her mom's house in Belmont. It still doesn't mean Milat took her.
Zolis's disappearance could be tied to Milat because she had plans to hitchhike to Queensland from Newcastle. However, she was going to grab clothes at home first but never showed. She was heading to a coffee shop in the Civic area of Newcastle, which is about a 5-minute walk from Hamilton. I think she was abducted while walking. However, one article said she made it to Queensland, but I could not verify that with other sources, so I left it out.
I'm just not convinced Milat killed Leanne, Hickie, or Robinson, but who knows. Milat's female victims were between 19 and 22 and had brown hair. So, maybe he did kill Leanne and the others. However, I do know one thing. He makes a good fall guy.
I'm also not convinced Leanne's case is connected to the others, except maybe Pritchard's.
Suppose Marsland was responsible for Pritchard's murder. In that case, it stands to reason he could be responsible for Leanne's because the Palais Royale was a quick walk from the Star Hotel. Both women were in their 20s and last seen at places that served alcohol.
Also worth mentioning: Two friends, Joy Hodgins, 18, and Anne Margaret Tominac, 17, vanished in July 1978 from the Ambassador Nightclub where Leanne worked, according to Les Kennedy, a reporter for The Sydney Morning Herald. Kennedy wrote "The Last Dance" about disappearances associated with the club. He mentions that Pritchard was well known at the club. At the time of the writing, police believed the four disappearances (Hodgins, Tominac, Leanne, and Pritchard) were connected to The Bass. I could not find any more info on Hodgins and Tominac, so I don't know if they were found dead or alive, or people forgot about them. They are not listed on Australia Missing Persons Register or Doe Network. Weird.
I want to know why Leanne went to the Star Hotel. Did she have plans to meet someone at the hotel for a drink or decide to stay the night at the Star Hotel?
She hopped on the Newcastle-bound train at 1 p.m. The train ride would have taken approximately 1.5 hours. So, she would have arrived in Newcastle around 2:30. What did she do from 2:30 until she arrived at the Star Hotel? Where did she go? Why didn't she immediately go to her mother's home in Belmont? Why weren't there more sightings of her in Newcastle?
I wonder what made Leanne decide to travel from Sydney to her brother's home with plans to go back to Sydney? It made more sense for her to stay in Sydney.
Maybe she met a mystery man, and that's who she planned to meet at the Star Hotel. I feel there is a reason she did not stay in Sydney, one she chose not to share with her family.
Zolis's disappearance is not always reported as being connected to the others. I'm not sure why, but it almost has to be because she disappeared from the same area just months after Hickie and Robinson. She was around the same age, alone when she vanished and had brown hair.
Honestly, I think the police don't have any idea about what happened to any of the missing women and are just trying to save their asses from screwing up decades ago.