FAYETTEVILLE, N.C. — Robby Ann Floyd, 32, resided on Winter Park Drive. She had been married three times and had four children – Sarena Glenn, 12, four-year-old twins Brent and Brenttany Hughes, and a son, Brandon Floyd, who she shared with her third husband, Jason Allen Floyd.
Floyd was last seen sometime in December 1996 by her neighbor. The woman said that Floyd was loading boxes into her blue van and seemed in a hurry. Floyd's younger sister, Jennifer Jane Hughes, 17, Serena, and the twins were also present.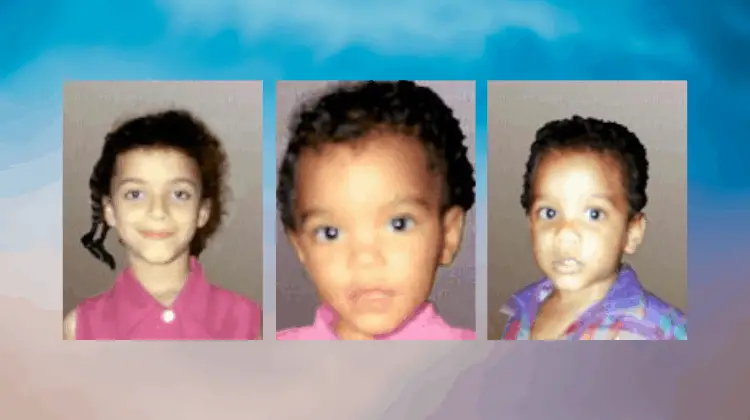 Floyd said she was headed to Alabama to care for her sick father. Along with Floyd, Hughes, and the kids was another woman who Floyd claimed was her mother. However, Floyd's mother later said she had not seen her daughter for several years.
The woman with Floyd has never been identified.
Jason Floyd, who went by the nickname, Shane, claimed that Floyd went to Sylacauga, Alabama, to visit her father. She called him from a motel near her father's residence and said she would call back in a few days. He never heard from her again.
Shane Floyd and Brandon remained at the Winter Park Drive home until February 1997. He is not considered a suspect in the disappearances.
WRAL.com reported there were confirmed sightings of Hughes, including one at Walmart on Ramsey Street in Fayetteville. It is unclear when this sighting took place.
Authorities said Floyd could use different aliases, such as Pressley or Glenn's last name. She has a tattoo on one of her ankles.
Investigators said the family of five might be in hiding but acknowledged that might not be the case.
"We've checked activity on their social security numbers and there's no activity," said Lt. Jimmy Black of the Cumberland County Sheriff's Office. "No schools have called for their records. It's as if they don't exist anymore." 
According to Fayetteville authorities, the case is closed.
Sarena Glenn's father, Jerry Glenn, told WRAL.com that he still hoped to see his daughter again but acknowledged it was not likely.
"My gut feeling tells me something's not right," said Glenn. "Just for five people coming up missing doesn't sound good from the start."
True Crime Diva's Thoughts
As I was writing on this, a thought popped into my head. What if the unidentified woman was part of the underground network that helps abused women escape their violent spouses?
The fact that there was this third adult with the family that nobody knows, coupled with Robby appearing to hurry to leave, makes me think that is a possibility.
So, was Shane Floyd abusive to Robby? Why do investigators no longer consider him a suspect?
That theory doesn't explain why Jennifer went with her unless he had threatened to harm her. Or why Robby didn't take Brandon. And it doesn't explain the sighting of Jennifer at Walmart. If you were on the run, why would you risk being seen? Why would you be in Fayetteville?
I don't think they are hiding because I can't imagine Robby would have left her 4th child behind, but take the other three. I think it's possible that Jason was involved, or the family met with foul play on their way to Alabama.
Sources: The Charley Project, WRAL.com