PITTSBURGH — Beth Lynn Barr was born on December 20, 1977, to Charles and Donna Barr. She has an older brother, James. The Barr family resided on Princeton Boulevard in Wilkinsburg, Pennsylvania, a borough seven miles east of downtown Pittsburgh.
It was Thanksgiving Eve, November 23, 1977. Johnston Elementary School, the intersection of Franklin Avenue and Ardmore Boulevard in Wilkinsburg, Pennsylvania, dismissed one hour early for the holiday break. 
Around 2:15 pm, Beth Lynn Barr, 6, began the 10-minute walk to her home on Princeton Boulevard. Usually, one of her friends walked with her, but the girl's mother had picked the friend up from school on this day.
Beth headed southeast on Ardmore Boulevard, turned left on Marlboro Avenue, then immediately right on Traymore Avenue. She almost made it home, but Beth Barr vanished into thin air.
Beth's father, Charles Barr, was a police officer with the Wilkinsburg Police Department, and the department sprang into action when Beth did not come home from school.
An elderly neighbor reported seeing a man carrying a small girl similar to Beth's description into a dull blue sedan with red-and-white license plates.
That evening, police officers canvassed the neighborhoods surrounding Johnston Elementary School and knocked on neighbors' doors. When they knocked on the door of a 24-year-old woman, she had something interesting to tell them.
At 8:30 am that morning, the woman was waiting for a city bus at a stop near Ardmore Boulevard when a man driving a blue sedan "pulled his car off the street, partially into an alley and onto the paved area of an auto repair garage – right next to her." (Dudiak, 2011) 
The woman faced the car's passenger door. The man uttered a remark she did not like, and the woman threatened to call the police. No cell phones existed in 1977, so she would have had to walk somewhere to use a phone.
The man then made a U-turn on Ardmore Boulevard and headed toward the Penn Lincoln Parkway East. She said she did not call the police afterward as she had threatened but took note of the red-and-white Ohio license plates.
The woman described the man as in his 40s, 5'10" to 6'0″ tall, medium build with medium brown, curly hair, wearing a gray suit and possibly a tie, and square, blue-tinted sunglasses. The woman's description of the man and his car matched that of the elderly neighbor who saw the man carry Beth into the vehicle.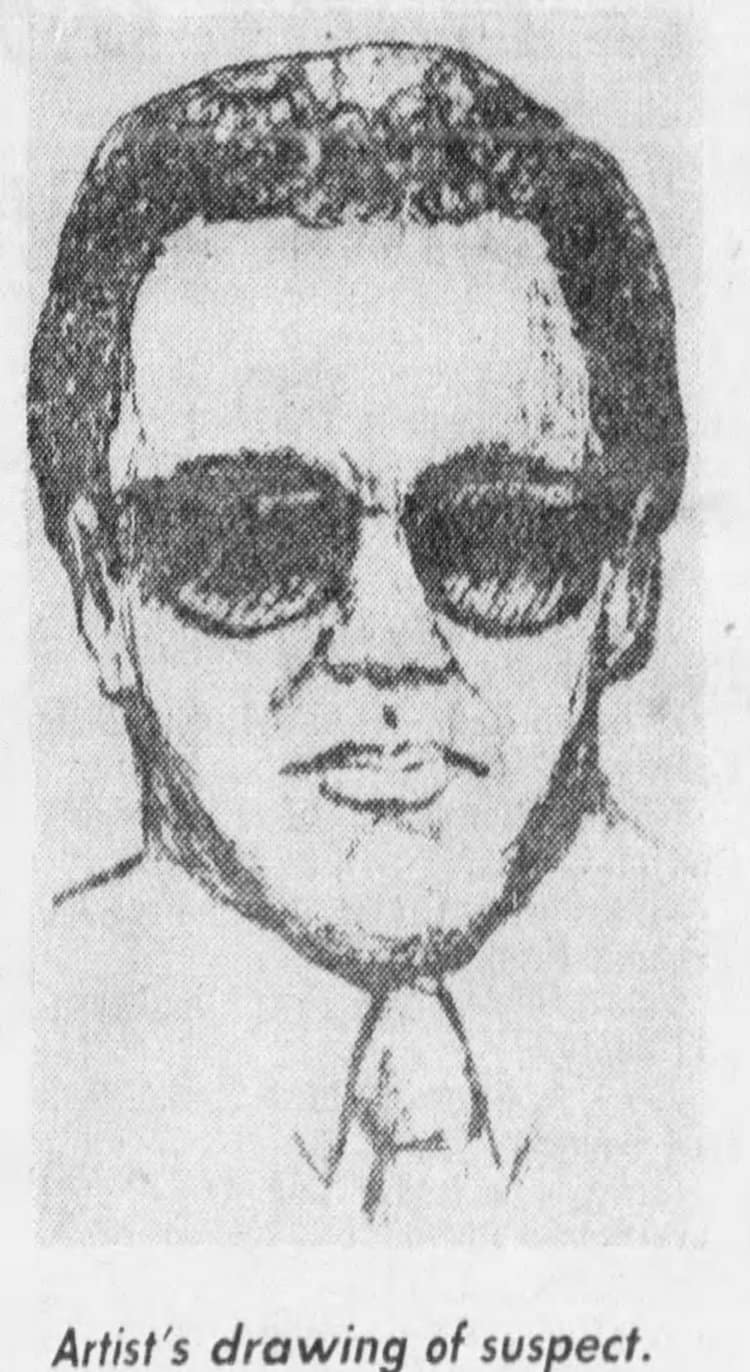 Investigators found the car at Conley's Motor Inn on Business Route 22 in Wilkins Township, approximately five miles from Wilkinsburg. The vehicle was registered to a car rental agency based in the motel. But employees at the agency said the car had not been rented on the days surrounding Beth's abduction. Detectives ran the car's plates, but that turned up nothing. Police combed the woods near the motel but found nothing. 
In the early morning hours of December 10, 1977, Wilkinsburg Police arrested Wilbur P. Hawthorne III and charged him with Beth's murder. The police dropped the charges after Hawthorne's alibi checked out; he had been in Johnstown on the day Beth vanished. Some reports say that he took and passed a polygraph test.
Hawthorne's arrest happened after witnesses' identified him from police photos as the man seen driving the dull blue sedan. Believing that Beth might still be alive, authorities rushed to make the arrest.
In August 1977, police charged Hawthorne with criminal solicitation to commit sodomy with a teenage girl, but the charges were later dropped. He also had been tried and acquitted of aggravated assault and assault and battery in 1973. 
In March 1979, Joseph Leonard of Monroeville was walking his dog in a wooded area off Johnston Road near Restland Memorial Cemetery's duck pond when he found partially exposed skeletal remains.
Police knew right away that it was Beth Barr because she was still wearing the clothes she had on the day she vanished. Police had not searched that area in their hunt for Beth.
Assistant Chief Deputy Coroner Anthony Pankowski determined she had been stabbed multiple times in the chest. The skeleton's condition was consistent with Beth being dead since the day she went missing. Due to decomposition, he never determined if Beth was sexually assaulted. 
Pankowski identified Beth through dental records.
In May 1980, the Pittsburgh Press reported that the police believed Beth Barr's abduction and murder was committed by the same man who had attacked up to ten other children in the area. The suspect in Beth's case matched that of the attacker in the other cases.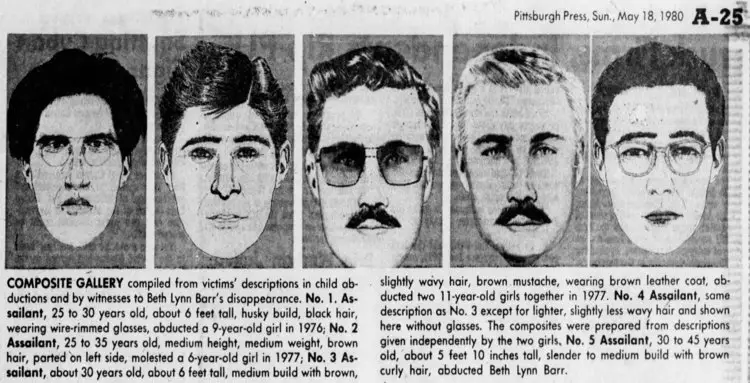 The previous attacks occurred on children between the ages of 6 and 12, and two of the victims were boys. The crimes seemed to stop after Beth's abduction.
The abductor usually spoke to the children in an accusatory manner, and then he would lead them away to a waiting vehicle. According to the Pittsburgh Press, Beth's abductor was seen talking to her as if she were in trouble for something. Another witness said Beth showed no fear when the man picked her up and carried her to his car.
Allegheny County Sheriff's Office took over the investigation after Beth Barr's body was found. The attacks on the other children transpired in Wilkinsburg and other towns in Allegheny County. Detectives had received almost 60 tips they were pursuing within a week of the Pittsburgh Press May 1980 article. 
I could not find any more information on this part of the investigation.
Despite a years-long investigation, Beth Barr's murder remains unsolved 43 years later. Police believe her killer is likely deceased.
Zandy Dudiak was a young journalist working for the Wilkinsburg Gazette at the time of Beth's abduction. She created a website in 2014 devoted to Beth's case and credits herself with being the only journalist who has followed the case since 1977.
Zandy recently spoke with Rick Earle of WPXI-TV.
"The kids that grew up in the neighborhood, went to school with her still carry this. I hear from them from time to time, neighbors, people who thought they saw something, people who thought they knew something. They've carried it just like I have."
Any crucial tips she receives she forwards to investigators. You can find additional information regarding Beth Barr's case on Zandy's website. 
True Crime Diva's Thoughts
One thing I did not mention in the article was a possible suspect that emerged in January 2015 because the information can be found on Zandy's website. She interviewed a woman about a local pastor who knew Beth. But that is Zandy's info, so I'll let you read it here – "Suffer the Little Children."
Personally, I think it might have been the "sinister minister." If you read Zandy's post, you also saw his photograph, which resembles the composite sketch, although the man is older in the picture. Still, I can see it.
I do believe that Beth may have known her killer due to the witness accounts mentioned above. She seemed comfortable with him.
If this is true, I wonder if her abductor had attacked the other children and if so, was it the pastor? It makes you wonder.
If Beth's killer was not involved in the other attacks, he likely killed again. There is also the possibility that he was jailed or died afterward.
I wrote on the murder of Stephanie Ann Boller, who was abducted in Beaver Falls, PA, in January 1977 and found dead just three weeks before Beth's abduction on November 3, 1977. Beaver Falls is roughly 80 miles from Wilkinsburg. I don't think they are connected. Stephanie died from blunt force trauma to the head, whereas Beth was stabbed. I thought Stephanie's murder was worth mentioning here.
I chose to write about Beth because I am only five months older than her. I had turned seven in May 1977, and I cannot imagine the fear she went through before her death.
Source
Dudiak, Zandy. "Kidnap-Murder Case Still 'Not a Lost Cause' 34 Years Later." Patch.com. November 21, 2011. Accessed November 25, 2020. https://patch.com/pennsylvania/northhills/kidnap-murder-case-still-not-a-lost-cause-34-years-lac5b003d8cb