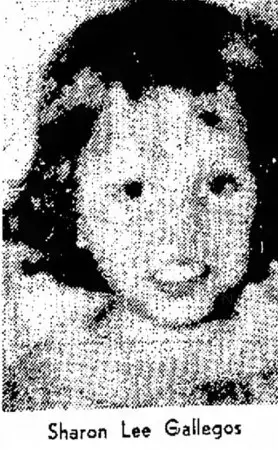 In July 1960, a couple abducted four-year-old Sharon Lee Gallegos behind her New Mexico home where she had been playing with friends. She has not been seen since.
About the Case
At approximately 2:55 p.m. on July 21, 1960 Sharon Lee Gallegos, 4, was playing with friends in the backyard of her family home located at 512 Virginia Avenue in Alamogordo, New Mexico, about 120 miles southwest of Roswell,  when she was abducted by a man and woman in a green car.
The woman, described as thirty-something, short, heavy-set with dirty blonde hair, exited the car and asked Sharon if she would like to go with her. She offered to buy Sharon clothes and candy, but Sharon refused. The woman grabbed the young girl by the arm and dragged her into a dark green 1951 or 1952 Dodge or Plymouth car.  A man was in the driver's seat. Witnesses described him as a thin and fair man. He sped south and west onto Fifth Street after the kidnapping.
At the time of the abduction, Lupe's sister, Beatrice was visiting. She heard the commotion and ran to the door only to see the car speed away. However, she had poor eye sight and could not give any details on the couple or the car.
Mary Lou Badial, 16, was visiting the Gallegos family and said she had seen the couple parked earlier in the alley. The woman in the car just stared at the Gallegos house even after Mary Lou stood in the kitchen doorway.
Sharon's friend, Dolores Badial, 11, told police this same woman approached Sharon earlier that day. Sharon expressed fear as they were walking home when she spotted the green car. Sharon asked Dolores to pick her up and carry her home.
According to the Doe Network, the couple stalked Sharon for the last week before the abduction. After church the previous Sunday they were seen with two youngsters in their car, a small girl and a freckle-faced boy. The woman asked about Sharon's mother, saying she wanted to offer her a job.
Police never found any trace of Sharon or her kidnappers after her abduction. There were no sightings of the young girl either.
On July 31, 1960, the body of a female child around the ages of 6 or 7 years old was found in Yavapai County, Arizona, about 560 miles northwest of Alamogordo. The girl had been dead one to two weeks and she had a full set of baby teeth. Some believe she could be Sharon. The girl is known as Little Miss Nobody.
Sharon Lee Gallegos would be 62 years old if alive today.
Lupe Gallegos, Sharon's mother, passed away at the age of 87 in 2011.
True Crime Diva's Thoughts
Two children were seen in the green car with the couple prior to the abduction. The children were not in the car when Sharon was taken.  Where were the children? Who were they? Were they children of the couple? Or had the couple taken them, too? Did they kidnap Sharon to raise as their own?
The man and woman were not worried at all about someone recognizing them. They kidnapped Sharon in broad daylight right behind her home and had been seen prior to the abduction. That takes balls or desperation. I am guessing the couple did not reside in Alamogordo.
I read something about a theory that the man was actually a woman dressed as a man to confuse any witnesses. However, I don't think the police believed this, and I don't either.
The Jane Doe found in Arizona is believed to be around 6 or 7 but that was just an estimation. The clothes found on the body did not match what Sharon had been wearing, but someone could have changed her clothes. The body was found 10 days after Sharon's abduction, and it is estimated that the girl died 1-2 weeks before being found, which puts the death in the right time frame to Sharon's abduction. Unfortunately, I don't think Sharon's DNA is available, but Little Miss Nobody's is.
Little Miss Nobody's brown hair had been dyed auburn or reddish brown. This is something a kidnapper would do, no doubt. Her nails were painted bright red and she was wearing men's flip flops cut down to fit her shoe size. If this girl isn't Sharon Lee Gallegos, then who is she?
Copyright secured by Digiprove © 2017
(Visited 613 times, 1 visits today)