Rachel Cyriacks, 30, was last seen on Nov. 13, 2013, at her temporary workplace, Performance Pet Products in Mitchell, about 40 miles northwest of her home in Woonsocket. Some sources say Nov. 11, but that is an error initially made by the Sheriff's Office and later corrected.
Cyriaks mother, Mary Schabot, grew worried when she did not call on Nov. 14, Schabot's birthday.
Cyriaks has not been found despite air and ground searches and multiple law enforcement agencies involved, and there is very little evidence of what happened to her. Police believe she is dead.
In January 2014, her silver 1995 Chevrolet pickup was found with severe damage to the undercarriage.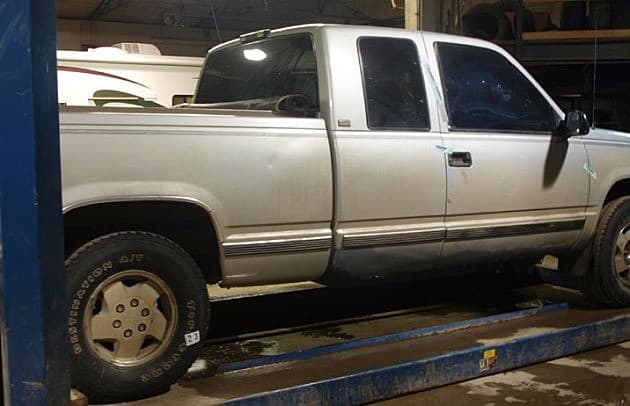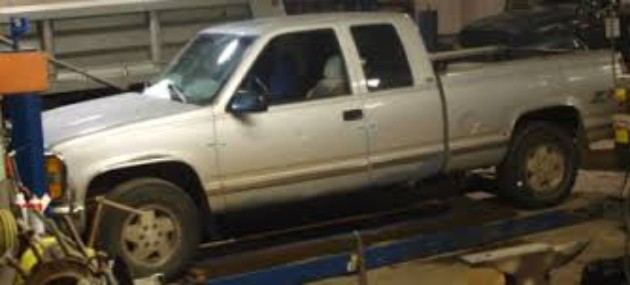 In April 2014, someone or some people vandalized Cyriaks's home. The vandals broke a window, table, and light fixture inside the house. The perps spray-painted "@#$% you Pigs Riverside for Life" in black on the front of her home. Some reports say "Riverside forever" along with an expletive.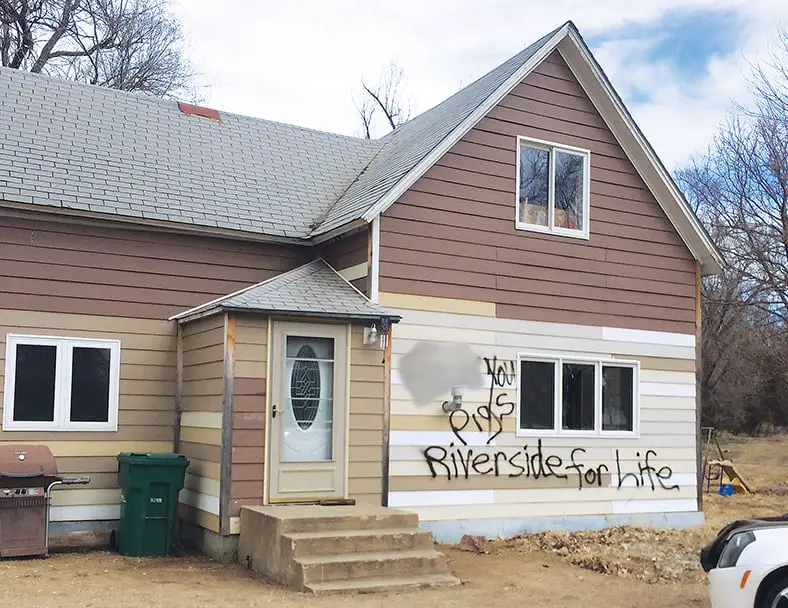 Almost a year later, police released information about a quilt of Cyriaks that went missing the same time she did. Sanborn County Sheriff Tom Fridley said she treasured the pink, tan, white checkered quilt.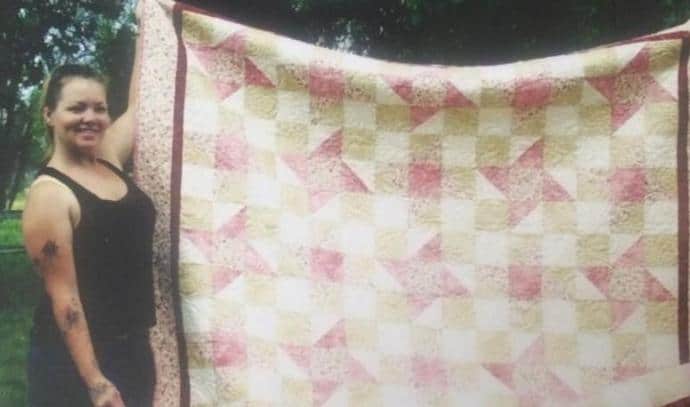 In 2016, law enforcement used ground-penetrating radar to search a small plot of land near an irrigation ditch in Beadle County. It is unclear why the search occurred, but the police found nothing.
Cyriacks frequented the Huron, Sioux Falls, and Mitchell areas. She was close to her family and did not have any reason to leave independently.
"There's so many things. I love her. I miss her. I want her back. I just want to hug her. I think if she did come back I'd never let her go," Schabot said.
According to one source, Cyriaks's three children were in the care of her family because of a substance abuse problem she was dealing with before her disappearance.
Her sister runs a Facebook page to help find her.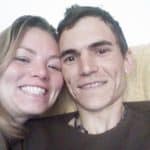 Cyriaks was married to Brad Cyriacks at the time of her disappearance, but they were separated and getting a divorce. She had filed a restraining order against him after he allegedly abused her. The judge dropped it when she did not appear in court to extend the petition.
The couple had a rocky relationship. According to Schabot, they were in love one minute, and the next, they'd hate each other.
"Brad knows something and because it's the day he got out of jail. He told me she would go missing someday and I said well, I'll always remember that," Schabot said.
"Rachel's husband Brad Cyriacks is what I would consider a prime suspect in this investigation. He has, to this day, has really done nothing to clear his name. The things he does continues to point the finger at him at being responsible for this," South Dakota Department of Criminal Investigations agent Tyler Neuharth said to KSFY in 2018.
Brad Cyriaks lives in Rapid City, SD, according to his Facebook page.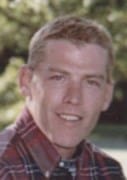 Not long before she went missing, Cyriacks had briefly dated a man named Chris Larson, 13 years her senior. He seemed to care for her genuinely.
Larson had a history of drug use and mental illness and committed suicide on March 23, 2016, at 45. He left two young daughters behind.
Before his death, he had supervised visits with his children due to abuse allegations he denied on Facebook and drug use.
Occasionally on the social media site, Larson posted about Cyriaks. One post, in particular, was interesting.
On Dec. 10, 2014, he posted, "Why do I always get to play the guy with the dead girlfriend?" Then in the comment section of this post, he commented, "Maybe she was on the missing Malaysian Flight?"
In 2012, Larson's girlfriend and mother to his daughters, Janelle Hart, passed away at 43.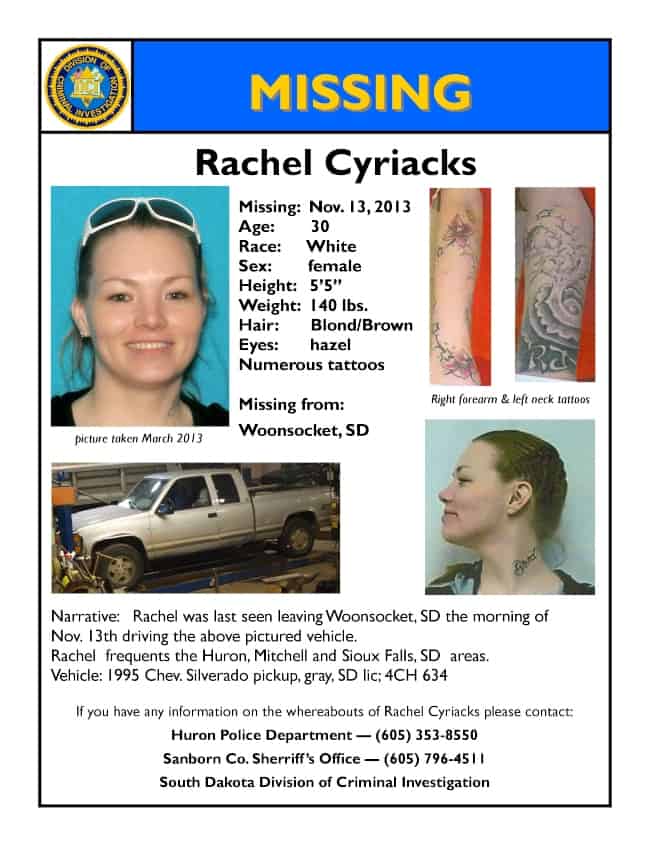 True Crime Diva's Thoughts
One of Rachel's friends asked me a few months ago to consider writing on Rachel's disappearance. It took me longer to write it than I originally intended, but better late than never!
My bet is on Brad because of the domestic violence history. It also sounds like he's not very cooperative with law enforcement, which is never a good sign.
I would also bet someone helped Brad kill Rachel, or at the very least, dispose of her body. I find it hard to believe this man could pull of the perfect murder alone.
I think Brad is the one who vandalized the home in an attempt to throw the police off. If you really wanted to vandalize a home, would you only break 3 things and spray paint useless words on the front of the home? I doubt it. Maybe the spray paint, but you would probably vandalize the entire home, am I right?
There is also the possibility, albeit slim, it had nothing to do with Rachel. Just some young punks screwing around.
Whoever abducted her did it without any sightings of it. So that tells me she may have willingly gone with her killer which means she knew him.
I do not think Chris Larson had anything to do with Rachel's disappearance. His suicide was the end result of mental illness and the possibility of another 2-year-probation which meant he could not see his girls without supervision, from what I understand (I may be wrong, though, so don't quote me on that or kill the messenger).
Did Brad know about Chris? Because if he did, I highly doubt he took it very well, and that could be the motive. Or he was simply obsessed with Rachel, and the whole if-I-can't-have-you-nobody-will scenario is likely.
What's interesting here is there were no sightings of Rachel, as far as I can tell, after she left Performance Pet in Mitchell. When there are zero sightings, it sometimes means the victim was taken somewhere and killed shortly after the abduction.
One source quoted Rachel's father as saying the last sighting of her was in Huron on her mother's birthday, which was the 14th (most sources say the 13th). Huron is interesting for two reasons: 1) Rachel frequented the town and had lived there at one time, and 2) in the comment section of a post on his FB page, Brad posted, "Actually I could have left for Huron about an hour ago but I said f*** that place too many bad memories." Hmm, what are those bad memories? 🤔
The missing flyer above says she was last seen leaving Woonsocket. Most media sources say she was last seen at her job, so I have no idea where she was actually last seen. 🤷🏻‍♀️
I think it's pretty obvious the killer used her beloved quilt to dispose of her body. I'm guessing the killer burned it somewhere, and the police will never recover it.
It is possible someone else kidnapped and murdered Rachel. She did have a substance abuse problem, maybe she owed dealers money? I don't believe this theory, personally, but it can't be ruled out, can it?
Rachel was a beautiful woman with so much more life to live. Yes, she had struggles, but don't we all?
Sources
"Authorities Seek Woonsocket Woman." Argus Leader. January 2, 2014.
"Copter Used in Hunt for Missing Woman." Argus Leader. March 15, 2014.
Feldmann, Michael. "New Leads Give Investigators Hope Five Years Later in Search for Rachel Cyriacks." Dakota News Now. November 13, 2018. https://www.dakotanewsnow.com/content/news/New-leads-give-investigators-hope-five-years-later-in-search-for-Rachel-Cyriacks-500326111.html
"Help From Hunters Sought for Missing Woonsocket Woman." Argus Leader. October 18, 2014.
"Investigators seek quilt that may provide clues in case of missing woman." KSFY.com. March 24, 2015.
"Missing Woman's Home Vandalized." Argus Leader. April 10, 2014.
Nelson, Katie. "Search for Woman Still on After 5 Years." Argus Leader. November 14, 2018.
"Quilt Could Help Find Missing Woman." Argus Leader. March 25, 2015.
"Woman Missing Two Years." Argus Leader. September 26, 2015.