This post may contain affiliate links. Please read our disclaimer for more information.
22-year-old Pamela Lynn Neal left her workplace in Englewood, Colorado
during her lunch break on March 31, 1983. She disappeared and has not been seen since.
About the Case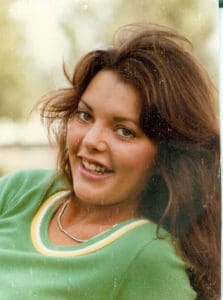 Pamela Lynn Neal was born on  July 18, 1960 and graduated from Cherry Creek High School in 1978. After high school, she attended Western State College at Gunnison before heading to Alaska
for a year, where she photographed the wilderness. After Alaska, she went to Maine with her parents and returned to Colorado a short time later where she landed a bank teller job with Key Savings and Loan, 3501 South Broadway in Englewood.
On March 31, 1983, Pamela left work on a lunch break at 1:30 p.m and walked two blocks east to another bank to cash a check. She took out several hundred dollars and stuffed the wad of Money
into her coat pocket. Afterwards, she stopped at a Safeway grocery store where she bought a lottery ticket, a pack of Winston cigarettes, and a delicatessen lunch.
Pamela walked to her third-floor apartment at 9 Hamden Avenue, which was across the street from Key Savings and Loan, to eat her lunch before heading back to work. She did not own a car. When Pamela did not return to work, her co-worker and roommate Darlene Heintz, called the apartment at 2:30 p.m. When there was no answer, Darlene walked to the apartment. Darlene later told police that she saw Pamela walking towards their apartment. Pamela was also seen by one other witness.
When Darlene arrived, the entrance door was ajar. Darlene called her boss who then called police.
Police arrived at the apartment and also found the entrance door ajar. When they walked in, Pamela's lunch – a piece of friend chicken and a macaroni and cheese side dish – sitting in an unopened bag on the coffee table.
Pamela's shoes were under the coffee table and her keys were on the floor. She usually tossed the keys onto a chair.
The lottery ticket she purchased at Safeway was still inside her wallet in her purse, which was next to the coffee table. Pamela had not scratched off the lottery ticket, and the unopened pack of Winston's and another half a pack, were left behind.
There were no signs of a struggle; however all signs pointed toward an abduction. Neighbors did not see or hear anything unusual, and a thorough search of her apartment turned up no evidence into her disappearance.
Despite a massive search and investigation into Pamela's abduction, she was never found. However, her case is listed as a homicide, not a missing person's case.
Pamela Lynne Neal was described at the time of her disappearance as 5'4″ tall, weighing 105 lbs, with brown hair and brown eyes.
Theories
A couple theories emerged into Pamela's disappearance.
The main one is that someone followed Pamela into her apartment, kidnapped her, and then forced the young woman down two flights of stairs.
The other theory is that Pamela ran down to get her mail and someone grabbed her there.
Englewood Attacks
Nine months after Pamela's disappearance, 17-year-old Melissa Lou Chase was found beaten to death under a bridge in Englewood on December 8, 1983. Her live-in boyfriend was the one who found her body. He was never named in news reports. The last time Melissa had been seen alive was around 5:30 p.m. the night before, after she finished her shift at Phillips 66 service station at Union Avenue and Broadway.
Three years before Pamela disappeared, 21-year-old Helene Pruszynski was found murdered on January 18, 1980. She was nude below the waist, and her hands were bound behind her back. She had been raped repeatedly and stabbed nine times in her back.
Pruszynski had established a pattern in which she would leave work at the radio station at 16th and Broadway in Denver and catch a bus at around 6:10 p.m. at Broadway and 14th Avenue. She would ride south until she got off at South Broadway and Union Avenue (Mitchell).
Like Helene, Melissa was found nude below the waist, although there was no evidence of sexual assault. Melissa had also disappeared the night before her body was found.
Two weeks before Helene was murdered, another young girl had been sexually assaulted after getting off a bus on South Broadway .
In March 1968, Constance Marie Paris, 18, had also been attacked, sexually assaulted and strangled. She went missing after getting off a bus at South Broadway and Girard Avenue. Her body was found days later in southwest Denver.
The main suspect in Helene's case is Kenyon Battles Tolerton. He is currently incarcerated for the 1993 rape and murder of a 14-year-old. He was considered a person of interest in Pamela's case until investigators discovered he had been in prison for another crime at the time of her disappearance.
If you have any information in this case, please call the Englewood Police Department at (303) 762-2460.
Sources:
Mitchell, Kirk. "Englewood Bank Teller Vanishes On Lunch Break". The Denver Post 2014. Web. 3 June 2017.
Mitchell, Kirk. "Englewood KHOW Radio Intern Kidnapped". The Denver Post 2014. Web. 3 June 2017.
Mitchell, Kirk. "Englewood girl beaten to death, dumped partially nude under bridge". The Denver Post 2013. Web. 3 June 2017.
True Crime Diva's Thoughts
The first thing that stood out for me in Pamela's case was the wad of bills Pamela stuffed into her coat pocket. If someone at the bank saw her do this, he could have followed her home with the intent to rob her but ended up taking her to either rape or kill her or both. There was no mention of this money after she disappeared which tells me it disappeared with her.
The person could have been known to Pamela and knew her daily routine. He would know when she left to go to lunch and would also know that she went home to eat it.
Pamela's lunch, keys, and shoes were there so we know she made it inside her apartment. The abductor most likely let himself in or knocked on the door and forced his way in. No signs of a struggle but her family stated she would not have resisted.
There was also no evidence found inside Pamela's apartment so the crime most likely did not happen there. Her abductor must have taken her elsewhere immediately.
From what I understand, Hamden Avenue was and is a very busy street, so I am amazed that someone was able to kidnap her without anyone noticing. I'm thinking she willingly went with him, hoping that might help in her safety. I'm sure he had a weapon and that alone would probably keep her compliant.
There are many similarities between Pamela and Helene's case. Both girls were in their early 20s with brown hair and both disappeared at or near their homes. They were around the same height and weight, too. However, Helene disappeared at night and Pamela in broad daylight. Police also think Tolerton killed Helene, but there is a chance he did not, and that another sexual predator was roaming the streets of Englewood in the 1980s.
While I think it's a little possible that Melissa's case is also related, I am under the impression that her boyfriend was a person of interest. It really makes the most sense in her case. However Melissa worked at a gas station at the same intersection Helene would have stepped off the bus from to go home – Union Avenue and South Broadway. This intersection is only about two and a half miles from Pamela's apartment.
Is it possible that Melissa's boyfriend killed her, Pamela and Helene? Maybe Melissa found out about Pamela and Helene so he killed her. There was no sexual assault on Melissa. She was beaten viciously – kicked in the head – and that sounds more domestic and/or personal to me. Maybe she threatened to go to the police.
Tolerton does seem like a good suspect in Helene's case but he was imprisoned at the time of Pamela's disappearance. Those two cases are too similar to rule out a connection, in my opinion.
What do you think happened to Pamela Lynn Neal?
Similar Posts:
Copyright secured by Digiprove © 2017
(Visited 1,432 times, 1 visits today)