HONOLULU — Jubilee Lum, 21, knew the city's seedy streets well. At 13, she started hanging out with the wrong crowd in Chinatown. 
Jubilee came from a large family with three sisters and two brothers. She was the second-oldest child. Friends and family members called Jubilee "Maile," pronounced Miley as in Miley Cyrus.
Around the age of 16, Jubilee gave birth to a baby girl. It is unclear if she kept the baby or gave her up for adoption.
One thing led to another, and Jubilee turned to drugs and prostitution.
She had known Ambrocio Lazaro for 10 years when they became engaged. He disliked Jubilee's lifestyle and had frequently retrieved her from Chinatown. He urged her to spend more time with her family, hoping Jubilee would give up street life and they could have a normal life together. Unfortunately, she never did.
Lazaro was hospitalized in August 1999 for heart trouble. When the hospital dismissed him, he looked for Jubilee but could not find her.
At 12:30 p.m. on Aug. 24, 1999, employees at a floral shop found Jubilee's nude body wrapped in plastic bags in a trash bin in the back of Beretania Florist in the 1200 block of South Beretania Street.  
The body was intact. There were no apparent signs of violence and no gunshot wounds. A medical examiner concluded she had died from asphyxiation or suffocation and police began a homicide investigation.
Witnesses had seen a white or light-colored Ford Econoline van picking up Jubilee in the Chinatown area the night before. The van was manufactured between 1987 and 1990. It had swing-out side doors with windows on the passenger side, similar to the van in the pictures below.
According to her mother, Jubilee was four months pregnant, but Casper did not know the identity of the baby's father.
Investigators suspected Jubilee's murder might have been connected to another death that occurred weeks before.
Michelle Anne Bensinger, a 24-year-old sex worker, was found dead on Aug. 10 in a field off Kaukonahua road near Thomson Corner (intersection of Farrington Highway and Kaukonauhua Road) in Waialua. Police said her body had been there for at least two weeks. 
Police classified Bensinger's case as a "suspicious unattended death," then later "probably homicide." There was no exact cause of death due to decomposition.
The similarities between the two cases were hard for investigators to ignore. Both were sex workers; they were about the same age and involved in drugs.
Bensinger had more than a dozen prior criminal convictions in Hawaii that included prostitution and trespassing. Star-Bulletin reported in 1999 that Jubilee did not have an adult arrest record. However, another news source stated she had three arrests for prostitution.
In September 1999, the Honolulu Star-Bulletin reported that Rod "Shadow" King, then serving time at a California prison for promoting prostitution at Fort DeRussy, had known Bensinger for four years as a friend and "business associate." He met Jubilee seven months earlier.
King said Bensinger ran an escort service named Petite Pleasures, where Jubilee answered phone calls.
King also said he had received a letter from Bensinger postmarked July 23, 1999. She claimed she was part of a love triangle, and some people were coming after her. She did not elaborate but said the ordeal was agonizing. Bensinger never mentioned any names associated with the triangle.
Police acknowledged several similarities between the cases but never announced a connection and seemed to brush aside King's statement.
Possible Connection to Serial Attacks
In September 2000, the FBI briefly looked into possible links between a series of attacks and murders that had recently occurred and Jubilee and Bensinger's cases.  
April 7, 2000: Lisa Bissell, 38, was found dead along a canefield near Polihale.
May 22, 2000: a 52-year-old woman survived a brutal attack at a Kekaha beach home where she worked alone.
Aug. 30, 2000: Daren Singer, 43, was found dead at her campsite at Pakala Beach. 
All three women were beaten, raped, and stabbed. 
Shortly after, Kauai police arrested a convicted rapist on a parole violation. Investigators believed he was the perpetrator of the attacks. He had been on parole since January 1999 for a 1982 rape on Oahu that involved a savage beating.
The state parole board revoked his parole and sent him back to prison for several years due to violating parole. The crimes stopped afterward.
A missing woman might also be connected to the attacks, police said. Melanie Rae Summer, 49, disappeared in October 1999. Her car became stuck off a dirt road in Kokeʻe State Park on Oct. 13. She sought help from a nearby resident who referred her to a neighbor. Summer and the neighbor tried to get the car out but failed, and Summer spent the night at the neighbor's home. Witnesses last saw her about 1 p.m. the next day, standing by her automobile. Police appealed for the public's help, but she remains missing.
Police never caught the killer; therefore, Bissell and Singer's murders remain unsolved.
O'ahu's Homicide Rate in 1999 
O'ahu's homicide rate doubled in 1999. Thirty-six people were killed, including Jubilee and Bensinger. In 1998, there were 17. According to police records, the slayings were the second-highest annual tally for the 1990s, the Honolulu Star-Bulletin reported.
Nine homicides occurred in August alone compared with 20 all of 1998. 
Most of the victims were involved in high-risk occupations or lifestyle choices, the police reported. Authorities solved about 60% of the cases in 1999. Some are still unsolved today, including Jubilee's murder.
Honolulu police revisited Jubilee's case in 2006 and sought new leads. They revealed that "witnesses saw a purple and turquoise truck pulling in and out of the area where Jubilee's body was found," according to HawaiiNewsNow.com.  
Her family denied knowledge of Jubilee's profession and drug use and said she was trying to get her life back on track at the time of her death. She had enrolled in GED classes that January. 
According to his obituary in the Star-Bulletin, Jubilee's parents, Melva* Casper (later Matunding) and Richard Lum, remained together until Lum died in 2014. He was 69.
Anyone with information about Jubilee Lum's case can contact CrimeStoppers at (808) 955-8300.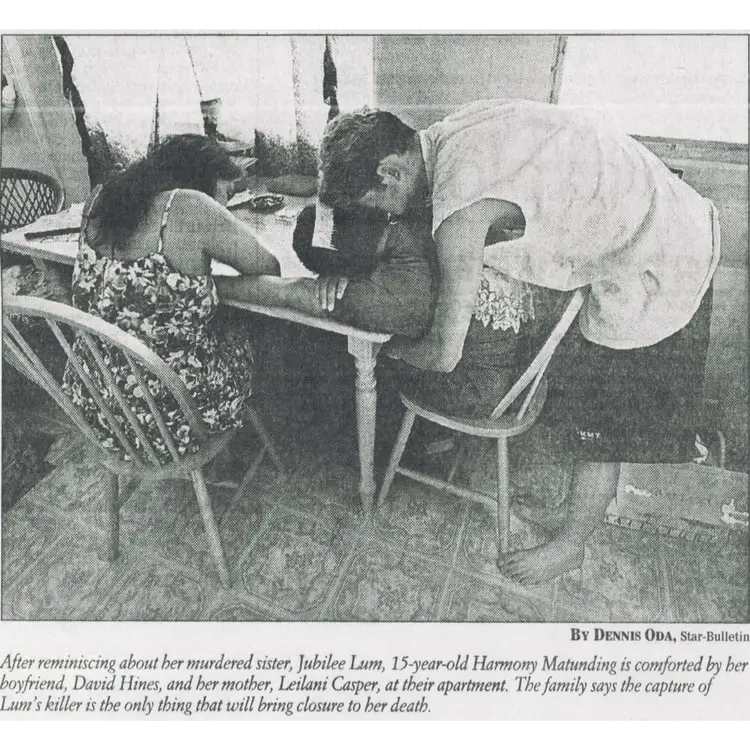 *The HawaiiNewsNow.com 2006 article reported a different first name for Jubilee's mother — Leimomi Matunding. The pic above states Leilani, and 1999 articles list her as Melva.
True Crime Diva's Thoughts
I decided to write about Jubilee because she did not receive national media coverage, presumably because she was a sex worker.
I'm curious to know if investigators ever questioned Lazaro at all. He was out of the hospital by the time Jubilee disappeared. Maybe he found out the baby wasn't his and snapped. Or he became tired of her rough lifestyle.
But I think a john or pimp likely murdered Jubilee and Bensinger. If King was telling the truth, the victims knew one other, which meant they also knew each other's clients. If they are connected, maybe Jubilee knew who killed Bensinger.
We know that someone picked Jubilee up in the Ford van the night before her body was found, leading me to believe it was a john and/or someone she knew.
I could not find any more info on Bensinger after 2000, and she is not listed on Honolulu's Cold Cases websites.
I feel the police could have handled the investigation into Jubilee and Bensinger's deaths better. It didn't appear to last very long before the case went cold. I'm sure their lifestyle played into that a bit.
I don't believe Jubilee and Bensinger's cases are connected to the serial attacks in 2000. The victims were older women who had been stabbed to death. There was no evidence of stabbing on Jubilee and Beninger's remains. Also, the other women were not involved in prostitution or drugs, as far as I can tell. 
Additionally, the three other attacks and Summer's disappearance occurred on Kauai, whereas Jubilee and Bensinger were killed on O'ahu.