This post may contain affiliate links. Please read our disclaimer for more information.
Three-year-old Jonathan Edward Hagans disappeared June 11, 1968 while at the beach with his family. He has never been found.
About the Case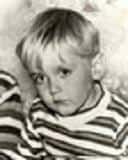 On June 11, 1968, the Hagans family, Joe and Marjean Hagans and their three children, including three-year-old Jonathan, decided to spend the warm summer day at the beach in Jacksonville Beach, Florida. At some point, Jonathan disappeared. Witnesses claimed they saw him following behind Joe as Joe walked towards a snack bar area.
Police were called but they assumed Jonathan drowned in the ocean. Joe and Marjean never believed their son was dead.
Despite interviews with those who knew the little boy and searches along the beach, Jonathan was never found.
In 1989, 21 years after Jonathan vanished, a man telephoned Marjean claiming to be her long-lost boy. She agreed to meet the man. The next day, David Bonnabel flew to Talahassaee to meet the Hagans. Marjean took one look at him and believed it was Jonathan. David also claimed to remember certain things about the family; for example, the green car the family owned around the time of Jonathan's disappearance.
However, as she spoke further with David, things just did not feel right, so Marjean asked had a DNA test performed. It proved he was not Jonathan Hagans.
David Bonnabel was actually from Mexico, born to Mexican parents. Once his identity was revealed, he changed his stories about his identity and Jonathan's fate. David Bonnabel was nothing but a con man.
Jonathan Edward Hagans has never been found. His family has always believed he was kidnapped and may still be alive. He would now be 51 years old.
True Crime Diva's Thoughts
There isn't a lot of info on this case. It's kind of hard to say what happened here. The main reason I wrote about it is because it's old, and I don't want this little boy forgotten.
This was a summer day on a beach. The mean temperature for that day was 82 degrees so there was probably several people at the beach that day. Witnesses say they saw Jonathan walking behind his father on his way to the snack bar area, but there doesn't appear to be any more sightings after that, which is strange.
It's easy to say Jonathan walked into the water and drowned. After all, he was only 3 years old. I'm just not sure that's what happened here.
If he was abducted,there were no sightings of an actual abduction taking place, which could mean Jonathan willingly went with whoever kidnapped him. People at the beach could have thought the person was a parent. It's just strange that this kid disappeared in broad daylight at a public place without more sightings of him.
I don't know what to say about Bonnabel. Yes, he was a con man, but I am curious how he knew the information about the Hagans.
Jonathan has a brother and sister, but I was unable to find any info on them or their parents. I did see that a Marjean Hagans passed away in 1992 but I'm not sure it's Jonathan's mother.
Similar Posts:
Copyright secured by Digiprove © 2016
(Visited 1,083 times, 1 visits today)