Evil on the Road is a 4-part series on people who vanished while hitchhiking. All articles will be published on Mondays until the series is complete.
A light rain descended on Kleinburg, Ontario, on the night of Wednesday, Aug. 16, 1972. But Ingrid Bauer, 14, desperately wanted to see her boyfriend, Larry Teeple, 14, after returning home from a two-week stay at her family's cottage in Thornbury.
According to Stories of the Unsolved, the rain had washed out their trip, so Ingrid and her father decided to return home, leaving her mother and brother Kevin Bauer at the cottage. Ingrid's other brother, Brent Bauer, was home because he did not go to the cabin with the rest of the family.
Later that evening, Ingrid's father, Oscar Bauer, gave her permission to hitchhike to Larry's Pine Grove home less than five miles away from the Bauer residence on Pennon Road. Ingrid had hitched rides to Larry's home before, but never at night. 
Around 9:40 p.m., dressed in a sweater with red apples and bell-bottom pants, Ingrid told her father, "I'll be back around 10:30," and walked out the door into the damp, warm night.  
Brent saw her shortly after she left home. He ran out to grab a pack of cigarettes and some milk for his cereal and saw Ingrid standing on Islington Avenue about 600 feet from their family home, waiting for a ride to drive her south. 
A witness, Terry Bell, then 18, later told the police he saw Ingrid walking south on the west side of Islington Avenue at 9:45 p.m. That was the last confirmed sighting of Ingrid.
One of Ingrid's friend's called the Bauer residence asking for Ingrid. Ingrid's father told the girl she was visiting Larry. The friend called Larry, but he said Ingrid never arrived. Larry then telephoned Ingrid's parents.
Oscar Bauer asked Larry to ride his bicycle towards the Bauer home to look for Ingrid. Larry never found her. Bauer then got into his vehicle and drove toward the Teeple residence, searching unsuccessfully for his daughter. 
He returned home and called the police. Friends and family members searched ditches on the route she usually traveled to Larry's house, thinking she might have been a hit and run victim and injured.
At 12:28 a.m. on Aug. 17, 1972, Ingrid was listed missing on the province-wide police Telex Network. York Regional Police broadcasted her description on the police radio every hour, 24 hours a day for three weeks. 
Per their website: "Several Kleinburg residents reported hearing the cries of a young person near Islington Avenue and Sevilla Drive around 10 p.m. that night. Residents also told police that they had seen a pickup truck in that area, but a search of the location left investigators empty-handed."
An extensive air, ground, and water search produced no clues to the teen's whereabouts. A $3,000 reward was offered, and police received about 500 inquiries shortly after, but nothing substantial. Investigators interviewed hundreds of witnesses and prison inmates, but that led nowhere.
---
Ingrid's parents never believed she ran away. She left all her personal belongings behind and planned to be gone only a short time. Furthermore, Ingrid's mother, Gisela Bauer, said that Ingrid's maternal grandmother had recently passed away, and Ingrid went out of her way not to upset her mother.
A few months later, in November 1972, Bauer, who worked as a purchasing agent for Canadian Kodak, contacted the Claude Neon Advertising Co. in Toronto to rent space for a poster offering a reward for information on his daughter.
McConnell Advertising of Toronto designed the posters at no cost, while a Toronto lithographing company printed them free of charge. The Claude Neon firm donated space on over 40 billboards across Canada.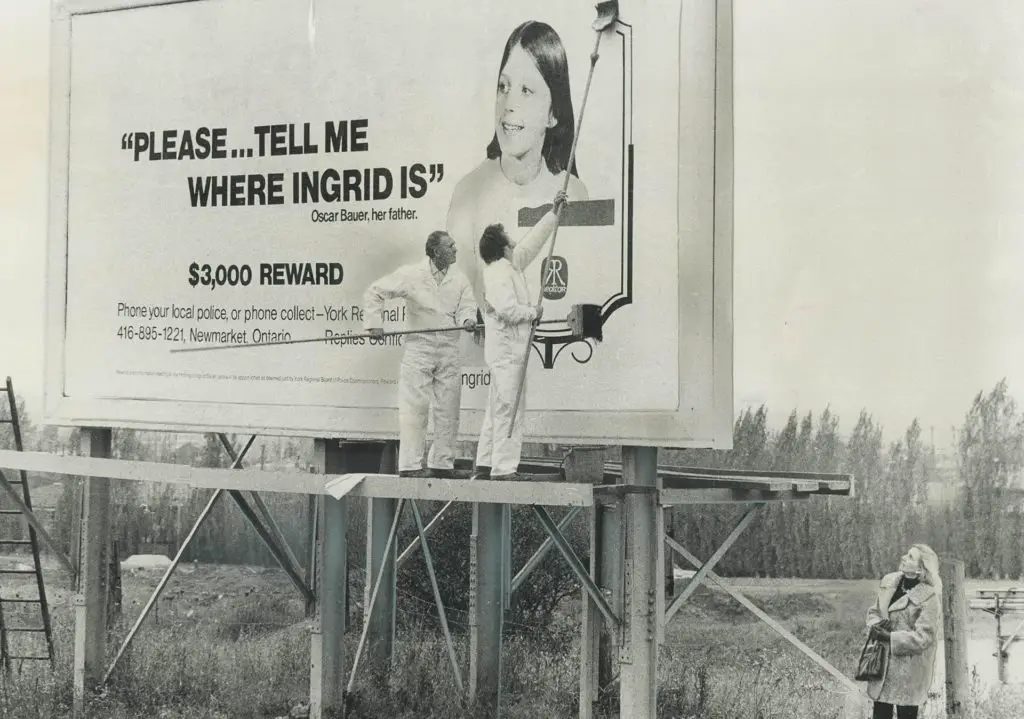 Ingrid's family plastered posters in the area, specifically in shopping malls where young people gathered. 
Around mid-December 1972, police investigated a possible sighting of Ingrid after she vanished. On Aug. 19, 1972, two women were seen in a St. John's, NL, shopping center speaking with a girl fitting Ingrid's description. Police urged the women to come forward in a public appeal, but the attempt was fruitless.
There were 44 reported sightings of Ingrid across Canada and the United States. Police investigated each one, but they never found Ingrid.
Ingrid's parents never gave up looking for their daughter. Bauer felt guilty until his 2016 death because he permitted Ingrid to go, and he did not drive her to Larry's house that night. A few months before his passing, he had her legally declared dead.
Two years after Ingrid vanished, seven-year-old Cheryl Ann Hanson disappeared under similar circumstances.
On May 31, 1974, Cheryl left her home in Aurora at 6:30 p.m. for a 10-minute walk to a cousin's house on Bloomington Side Road, the same road where the Hansons lived.
Cheryl packed an overnight bag and planned to stay the night. Her mother, Patricia Hanson, initially told Cheryl she could not go but ultimately gave her permission. 
Hanson had a bad feeling when her daughter left home and called the cousin's house to see if Cheryl had arrived; she had not. Hanson thought she was hurt and ran toward the relative's home, but she did not find Cheryl. The girl remains missing to this day. 
Police investigating Ingrid's disappearance noticed the similarities between the two cases, but it is unclear if they ever made a connection.
Anyone with information about Ingrid may contact the York Regional Police Cold Case Unit at 1-866-876-5423 ext. 7865 or email the investigators directly. You may also leave an anonymous tip by calling Crime Stoppers at 1-800-222-TIPS, online at www.1800222tips.com, or text TIPYORK and a message to CRIMES (274637).
True Crime Diva's Thoughts
I want to point out that all cases in the "Evil on the Road" series are not related to one another. I found several hitchhiking cases while researching and decided to lump them into a series.
You know, I get tired of hearing people say, "Hitchhiking was common back then" or "A lot of kids did it." Nowadays, travel bloggers and influencers promote hitchhiking as a SAFE means of transportation. It's always been a dumb and foolish thing to do. The odds of something happening may be low, but obviously, rape and murder do happen to hitchhikers. I don't know about you, but I never wanted to take even the slightest chance of someone harming me by hitchhiking.
I don't care if it was 1972. It was roughly FOUR miles to Larry's house from the Bauer home, and it was raining. A teenage girl alone at night is at risk of danger in any decade.
It doesn't make sense that Ingrid planned to hitchhike to Larry's yet only be gone a short period. There would have been no guarantee she'd get a ride at that time of night. And we know she had a bit of trouble getting a ride because she was seen walking south by Bell at 9:45, and neighbors heard cries a few blocks from her home around that time.
Ok, Bell saw her walking south at 9:45. There was no mention of whether she attempted to hitch a ride from him, which seems strange to me considering she wanted to hitchhike to Larry's. If she saw any car, I'm sure she would have stuck out her thumb. So, why didn't she when she saw Bell's car, or did Bell lie? Did police question him thoroughly?
For that matter, why didn't Brent Bauer stop and pick up Ingrid when he saw her and take her to Larry's house? If Ingrid had trouble catching a ride, why didn't she return home and ask her father to take her? What time did he return home?
Why didn't Larry call Ingrid's parents when she never arrived? Only after the friend called him did he become concerned that Ingrid had not shown up yet. Maybe he figured she had changed her mind and stayed home. I have no idea what time Larry called the Bauers, but I'm guessing it was between 10 p.m. and midnight.
I think she accepted a ride from the wrong person who lived in the area, whether Bell or another stranger. The residents who heard a young girl's cries near Islington Avenue and Sevilla Drive likely listened to the moment someone abducted her. Man, if she had only gone back home, she might be here today.
Larry Teeple said in 2017 that he believed her abduction was not random, but he did not elaborate. So, I wonder what he thinks happened to Ingrid.
The Hanson case is similar to Ingrid's. Cheryl was several years younger than Ingrid; however, both girls were walking alone when they vanished, and they resided about 20 miles from one another. It's not a crazy theory to think the two cases are related.