This post may contain affiliate links. Please read our disclaimer for more information.
19-year-old David Vernon Lovely disappeared in Wyoming while traveling cross-country with his family in 1985. He has never been found.
About the Case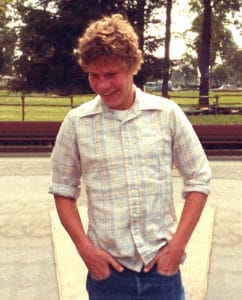 In August 1985, David Lovely, 19, was traveling from California to Massachusetts on a cross-county move with his mother, Jackie Aubut, and his 18-year-old sister, Alison Lovely. Alison and Jackie were driving the yellow Ryder truck, and David was riding his motorcycle. Jackie and Alison checked on David every 30 miles.
The motorcycle began having issues in Wyoming, so David told his family he would drive on to the next exit to find a gas station in the hope there would be a mechanic available. They agreed to meet at the next rest stop.
David never showed. Jackie and Allison spent the night in the Ryder truck hoping David would catch up to them.
Jackie phoned her sister who said she spoke with David on August 5th. He told his aunt his bike broke down in Fort Bridger, Wyoming. He had slept along the side of the highway and pushed his bike three miles up the road to the Bingo Truck Stop, now a TravelCenters of America truck stop.
David met a "rough-looking' man on a Harley-Davidson at the truck stop who fixed his bike and got it running again. Initially, David was scared of this man, but the guy was harmless, according to David.
David told his aunt he was going to ride on to Rock Springs to meet up with his mother and sister and that he would call when he got there. However, he never called his aunt or showed up in Rock Springs when his family arrived there.
Jackie and Allison drove on and stayed in Nebraska for a few nights, hoping they would find David there. They asked around to see if anyone had seen him, but no one had. The two decided to keep on driving, believing that David had gone on ahead of them and was on his way to Massachusetts.
David never arrived in Massachusetts. Jackie checked with his friends, but they had not heard from him.
Jackie phoned the police but they were of little help. After all, David was an adult and could go missing if he wanted to. Plus, he disappeared out of state, making it tougher to get one agency to cooperate.
On August 14, 1985, David's motorcycle was found on an isolated dirt road off South Baxter Road in Sweetwater County, Wyoming by a couple who was camping in the area. They called the police.
When police arrived, the bike still had a half tank of gas and the keys were in the ignition. David's books rested neatly against his bike and a blue knapsack was on the ground. The couple told police that a few days before they saw someone with long hair drive out of the area where David's bike was found. However, they could not make out if the person was male or female, but they were able to describe the motorcycle, saying it was large, turquoise and chrome, and had luggage or a bedroll on the back.
A large ground search began, but nothing came from it and David was never found.
Police never investigated the Bingo Truck Stop to find out who the man on the Harley-Davidson was who fixed David's motorcycle.
David was born with congenital defects and underwent extensive operations as a child that left him with a large scar across his abdomen, below his rib cage. He had excessive amounts of scar tissue and infections which caused him to be hospitalized for months. He was forbidden from playing sports because too strong of a blow to the stomach could cause serious complications.
His family believes that if he got into a fight before he disappeared and was hit in the stomach, the blow could have accidentally killed him.
After almost 32 years, Jackie and Alison continue the search for David.
Source: Casper Star Tribune; Doe Network
True Crime Diva's Thoughts
Well, I definitely think David was murdered.
David's bike was found on South Baxter Road in Sweetwater County, Wyoming, about 2 hours from the Bingo Truck Stop. This road is only about 25 miles southeast of Rock Springs where David was supposed to meet his mother and sister. A stranger to the area would not be familiar with this very remote location.
I'm wondering if David actually made it to Rock Springs, and something happened to him there, mostly because where his bike was found. I'm assuming David would have taken Exit 102, which is the first exit off Interstate 80 heading east. Did David stop somewhere in Rock Springs (before his family arrived) and met with foul play? Did the Harley biker follow David? Where in Rock Springs was he supposed to meet Jackie and Alison?
I did some research on this small town, and what I found wasn't good. In the 70s, it was a pretty corrupt town- shootings, prostitution, drugs, illegal gambling, bad cops, etc. 60 Minutes did an exposé on this town after policeman Michael Rosa  was killed by Ed Cantrell, the town's public safety director at the time. Cantrell was later acquitted of all charges, but this was some pretty big news at the time, and many locals believed he intentionally killed Rosa. A&E's show, City Confidential, did an episode on this during Season 3 in September 2000.
In 1981, two young women, close in age and similar in appearance went missing from Sweetwater County and have never been found. One of those girls disappeared from Rock Springs, the other from Green River, a short distance away.
Quite the action for a small town, so I have to wonder what this town was like in 1985. Population was around 19,000 back then. However, Rock Springs sits off a major interstate so many travelers and truck drivers are going in and out of Rock Springs on a daily basis. It would have been the same back then, so anyone could have murdered David. But I tend to think it was a local because of where David's bike was found.
I don't understand why the police never investigated the truck stop where David and this mystery Harley-Davidson guy had been. This doesn't make sense to me. It was the last known place David was at. Why on earth wouldn't you investigate? Someone had to see David with this guy. Truck stops are busy places. People are constantly coming and going. He was there during the daytime hours so people saw him.
The couple who found David's bike discovered it on August 14. David was last seen on the 5th. The couple saw a person come from that area around the 9th or 10th. So David's bike had been there for at least 4 or 5 days before they found it or it was recently dumped there. Either way, David was killed shortly after he disappeared.
There is no information on the identity of the couple.
This is not a case where the missing person wanted to disappear. David loved his family and had no reason to leave. Not to mention, he was an adult so if he wanted to leave he certainly didn't have to stage his own disappearance to do it. No, this was murder.
So, what was the motive? David had $150 cash on him, so maybe it was robbery. Seems petty to kill someone over a small amount like that. Maybe his family is right – a fight broke out between David and an unknown person and David was hit in the stomach. But who was the fight with? How did it start? Where did it take place? Witnesses?
There is, of course, the sexual assault motive. David was a young male alone in an unfamiliar remote area – perfect opportunity for a murderer.
I also looked to see if there were any similar cases like David's, but I didn't find any, so I think this was an isolated incident.
Sadly, I don't think this case will be solved unless someone comes forward with information.
What do you think happened to David Lovely?
Similar Posts:
Copyright secured by Digiprove © 2017
(Visited 1,530 times, 1 visits today)