Disclaimer: All images in this article are used with permission from Scott Elmquist, David's father. Some of the images I lightened because they were originally dark. A couple of the pictures might be disturbing to some readers. The information provided in this article can be found on the family's website and in a recorded video on Facebook by Scott Elmquist. Throughout the article, I refer to David's wife as "Ms. X" – the name the Elmquists also use instead of her real name. Let me clarify this: I am doing this out of respect for the Elmquist family, not to protect David's wife. Yes, you can easily find her name online, but you cannot mention her identity in the comments section of this post or on my social media accounts.
David Scott Elmquist was born on Feb. 24, 1993, to Scott and Nancy Elmquist. He grew up in rural Cokato, Minnesota, and graduated from Dassel-Cokato High School in 2011. David attended the Free Lutheran Bible College and Seminary in Plymouth and had worked at Ron's Service Station in Dassel. He subsequently traveled to North Dakota to work in the oil fields with his brother, Eric. He has another brother, Seth, and a sister, Amy.
David came from a solid Christian background and was a genuine, kind-hearted, God-fearing young man. But when David thought he had found the girl of his dreams, he soon realized there would be no happily ever after.
On March 11, 2017, David married Ms. X at the Landmark Center in St. Paul. She is the oldest of five children from Annandale and a former high school ice hockey player. Her father is an electrical engineer, and her mother works for a local school district.
David and his wife resided in apartment 352 of the Plymouth Commons apartment complex at 3301 US-169 in Plymouth. David worked for Bergerson-Caswell, Inc. in Maple Plain, treating and maintaining a water well digging rig.  
Wedding day pictures show the couple happy and in love. However, less than a year later, David wanted to end the marriage.
On Jan. 12, 2018, David began exhibiting unusual behavior at his parents' home in Cokato. David's behavior was so uncharacteristic that his parents conducted a drug test. 
But David was not on drugs; he was experiencing psychosis (delusions, extreme paranoia, and possibly hallucinations). According to his family, he had no prior history of mental illness. And according to the National Alliance on Mental Illness (NAMI), "Early psychosis or FEP rarely comes suddenly" and is "a symptom, not an illness." 
NAMI also reports that "approximately 100,000 young people experience psychosis each year, and as many as 3 in 100 people will have an episode at some point in their lives."
On Jan. 20, 2018, David was hospitalized and spent the next 10 days in the hospital. He was discharged on Jan. 30 with a treatment plan and a mood-stabilizing medication. His doctor created a plan for any possible future psychosis episodes.
"Therefore, based on all available evidence including the factors cited above, David Elmquist does not appear to be at imminent risk for self-harm, and is appropriate for outpatient level of care. The patient's symptoms of disorganization and Psychosis improved. At the time of discharge David Elmquist was determined to not be a danger to himself or others." – Discharging MD.
Per his medical records: "David had a history of smoking marijuana and had smoked a new strain (Indica) prior to his episode. He told his doctor that his employer required wearing a respirator because of potential exposure to chlorine and epoxy. David acknowledged that he had been lax with this requirement and questioned whether this environmental exposure led to symptoms he was experiencing prior to hospitalization."
The Elmquist family has no idea what caused David's psychosis and acknowledges they may never know. He was ultimately diagnosed with unspecified Schizophrenia, unspecified Psychosis not due to a substance or known physiological condition, and uncomplicated Cannabis dependence. 
It's important to note here that "unspecified schizophrenia" is used when "symptoms cause significant distress in the person's life, but do not meet the full criteria for any of the disorders in the schizophrenia spectrum and other psychotic disorders class," according to the National Center for Biotechnology Information (NCBI).
David's family says he was NOT diagnosed as a person with Schizophrenia. He had experienced similar symptoms, but doctors were unable to determine what had caused them.
Throughout his ordeal, his wife was of little help. During one of his episodes at home, David ended up on his hands and knees on his living room floor, and Ms. X slapped him in the face, shouting his name. When Nancy Elmquist screamed, "What are you doing?" Ms. X responded, "Well, it's worked before."
Later, to a lead investigator, she said:
During this time, the couple's marriage deteriorated. David had told his father that his marriage was "toxic." 
On Feb. 9, 2018, David made plans to move back home with his parents the following day. His mother asked him, "What would happen if you went home to talk to your wife about this?" He responded, "She'd go ballistic!"
"Eight hours after making that statement, my son, who had never been violent or suicidal, decided – if you believe the official reports – to take his life by fire." – Scott Elmquist.
Two 911 calls were placed – the first one by a neighbor and the second by Ms. X. 
[ngg src="galleries" ids="9″ display="basic_imagebrowser"]
A Plymouth Commons maintenance worker arrived first on the scene. He entered the apartment and put out the small fire in the kitchen. He saw David engulfed in flames and sprayed him with the fire extinguisher. The police arrived a few minutes later. 
The events that followed have led David's family to believe the police covered up several errors in the investigation.
Instead of rushing to David's aide upon arrival to his apartment, the police propped open the door by placing a bumper in the doorway. Two police officers positioned themselves on each side of the door. Then, authorities established a command center in the apartment directly across from David's and called for David to come out.
You might be wondering why they did not rush in to rescue David.
Well, Ms. X had told them that David had knives, leading them to believe he would attack them, and as a result, the police saw David as a threat. Meanwhile, David was still inside the apartment struggling to survive with horrific injuries. It's unclear what happened to the maintenance worker; he could have easily verified that David was on fire and needed immediate rescue.
Below are pictures of the apartment after the fire.
[ngg src="galleries" ids="2″ display="basic_imagebrowser"]
Thirty-eight minutes after the first 911 call, officers on the scene shot out the apartment windows to clear out the smoke. Thirty-nine minutes after the 911 call, David stumbled out of the apartment, collapsed, and was taken to the hospital. He died after being taken off a ventilator.
Ms. X told the police that David had woken her, and he was covered in "some kind of oil." (It was Bakken oil. David had the Bakken oil on hand from working in the oil fields.) He told her it was time to go and pushed her out of the apartment. She said she had about two to three seconds to react. Scott Elmquist asked her, "Did you try to get back in?" She said, "Yes, but he locked the door." David never locked the door. 
Even though she was allegedly rushed out of the apartment by David, Ms. X somehow managed to leave with David's truck keys, her cell phone, and the couple's dog. She reported that as she ran down the hall, she looked back and saw a "whiff of smoke coming from underneath the apartment door."
David suffered burns to over 90% of his body, but he was burned significantly more on his right side. His hands were partially degloved, and he had inhalation burns in and around his mouth. His eyelids were inverted, rendering him blind.
No alcohol or drugs were found in his system, although there were traces of marijuana.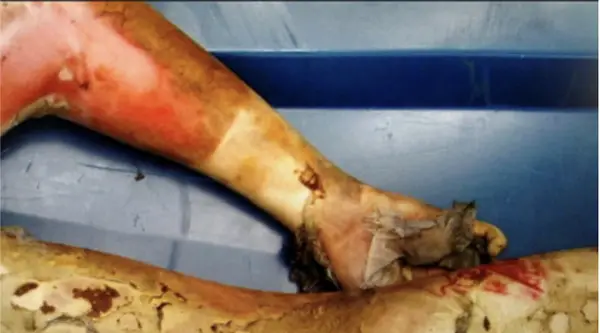 Are you ready for this? Medical Examiner Loren Jackson ruled David's death a suicide.
Suicide by self-immolation is rare. According to a 2007 NCBI study, "Suicide by burning is a rare condition in the developed countries (0.06-1% of all suicides) but is more frequent in the developing countries (accounting for as many as 40.3% of all suicides). 
The family points out four reasons why David's death needs further investigation.
The fire did not burn David's wrists.
Scott hired fully-credentialed independent fire investigator Steve Thorn to examine photographs of David and the apartment. Thorn said:


The autopsy report does not mention anything about the protected area. When Scott Elmquist asked Jackson about it, the medical examiner said, "Well he must have been wearing gloves." 
David was not wearing gloves. If he had been, and you follow Jackson's theory, then his hands also would not have burned. There was no follow-up on the protected area until David's parents hired their own investigator. The only logical explanation for the unburned spots on David's wrists is that he was resting them on the edge of the kitchen sink at the time of ignition, Scott said.
Police never found the lighter David allegedly used to set himself on fire.
Three Hennepin County law enforcement agencies investigated, and neither one found the lighter that David allegedly used to set himself on fire. When his father asked Hennepin County Attorney Tara Ferguson Lopez what could have happened to it, she replied, "Maybe David threw it out the window."  
When the fire marshall questioned Ms. X six months after the fire, he asked if she knew what happened to the lighter. She claimed she and her mother found it when they cleaned the apartment a week after the fire. However, earlier she said that she never returned to the apartment.
Scott asked Hennepin County Attorney Alan J. Harris to interview Ms. X's mother, who I will refer to as "J."
The police have never interviewed J.
(Click to enlarge the images below)
[ngg src="galleries" ids="6″ display="basic_thumbnail"]
Police might have planted evidence.
[ngg src="galleries" ids="3″ display="basic_thumbnail"]
Scott believes the police planted evidence at the fire scene to cover up the massive delay in David receiving aid. Instead of admitting they errored in delaying treatment for David, "the police created a false narrative to justify their actions," Scott said in his recorded video. According to Scott, they planted a knife near the chair where David was sitting while waiting for help to arrive.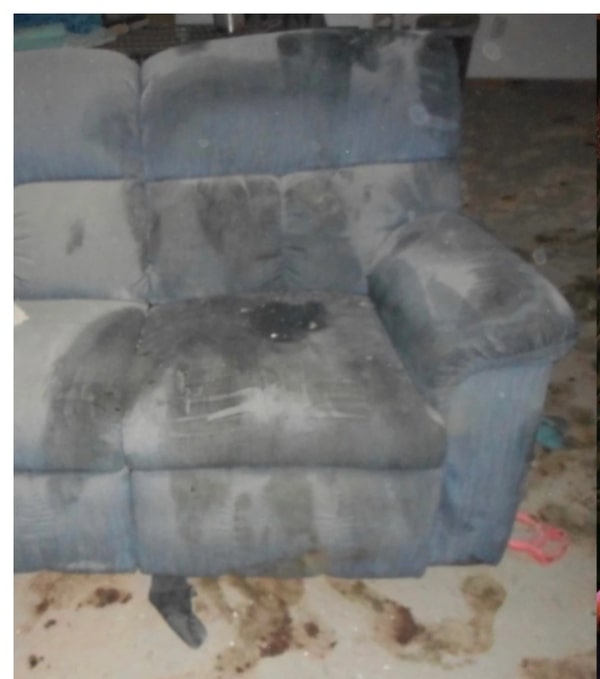 Plymouth Police Chief Mike Goldstein told the Associated Press that the firefighters immediately rescued David.

Scott was told the complete opposite. The reason they did not directly go in to get David is that they believed he was "lying in wait" and claimed there was "a brief stand-off with the individual." Mind you, an individual who was horrifically injured.
During an interview three weeks later with Lead Investigator Heath Bird at the Plymouth Police Department, Scott said Bird never mentioned anything about David "lying in wait" in his final report. Instead, he offered a completely different explanation for not allowing the rescue squad to go inside the apartment.

Would any person act rationally while on fire?
Bird has no evidence supporting David lit himself on fire. Not only that, we know that David was not on fire when help arrived because the maintenance worker used the fire extinguisher on David. Furthermore, officers said they could not see inside the apartment, did not know where David was located, and had no communication with David. So instead of admitting the error, the police planted the knife.
Scott reached out to forensic investigator JD Thomas, who, after examining the pictures, wrote the following:

Bird said this about the knives:

The clean knife should have concerned Bird enough to make a further inquiry, but he never did.
David never locked the apartment door.
As mentioned earlier, Ms. X told Scott that she did try to get back into the apartment after David allegedly pushed her out, but "he locked the door." Three days after the fire, Bird told Scott the same thing. Three months later, Ferguson-Lopez upheld their statements, citing "irrefutable evidence of suicide."
Hey Ferguson-Lopez, show us this evidence you speak of, please.
Ten months after the fire, Senior Hennepin County Attorney Alan J. Harris asked Scott's father in a recorded telephone conversation:

Scott responded that they did not, Harris simply said, "Oh."
Harris did not know that the fire marshall had since questioned the maintenance worker, who said the door was unlocked when he entered Apartment 352.
It took 32 months before the Elmquists saw the police report. Scott said, "No place in the report do any of the officers say anything about the door being locked." On the contrary, the police report states 11 times that the door was unlocked.
The Elmquist family started a petition to the Minnesota Attorney General to hire a special prosecutor to investigate David's death. Please sign so that David may get finally get the justice he deserves.
*Note: Since this writing, Scott Elmquist published another blog post. Please read. It's amazing how Ms. X and her family reacted shortly after David's death.
Primary sources: 
True Crime Diva's Thoughts
Here we go, hang on tight!
Y'all know where I'm going with this one, right? I mean, it's blatantly OBVIOUS. David did not commit suicide. He told his doctors that he was not suicidal or homicidal, AND his doctors did not feel he was a threat to himself or others.
And while I really WANT to name and destroy David's wife, I am not doing that out of respect for the Elmquist family. So, hopefully, I can control myself, but this one ticks me off.
I think Ms. X killed David because he told her he wanted a divorce. She couldn't handle it and flipped out. Maybe she never planned to kill him; it might have been out of high emotions when he likely told her he was moving in with his parents the following day. I also believe that her family is protecting her and helping her cover up David's murder. They should be charged as well.
She said that David woke her up and told her "it was time for her to go." Right there, we know she lied because David had planned to move in with HIS FAMILY on Feb. 10, 2018, one day after his death. So, there was no reason for him to kick her out of their apartment.
And I really want to know what caused David's psychosis. One cause of psychosis is abuse or trauma. I think Ms. X might have been an abuser. She obviously isn't of sound mind.
For me, the main reason this case points to murder is the missing lighter. We know he didn't throw it out the freaking window. If he had lit himself on fire with a lighter, there's no way that once he was burning he would have been able to walk over, open the window and toss out the lighter; it likely would have fallen to the floor immediately.
And let's not forget that Ms. X basically admitted to having the lighter, although she lied about how she obtained it. She and her mother cleaning up the apartment is a bunch of bullshit. After a fire, it is very likely that the apartment owner would bring in a cleaning crew to do it. He or she or they would not expect a tenant to do it. If Ms. X went back to the apartment after the fire, it was to look for any incriminating evidence that might have been left behind.
Ms. X lied about certain things, such as the lighter and locked door. If you are innocent, why did you lie? I also do not believe she was alone in this crime; she had help. Because I don't think she could have poured the oil on David without David reacting in some way, whether grabbing or shoving her, whatever.
When I first saw David's wrists, my immediate thought was that he had been bound. With what, I have no idea. But the top of the unprotected area on one of his wrists is nearly straight. However, this might have occurred by David leaning on the sink.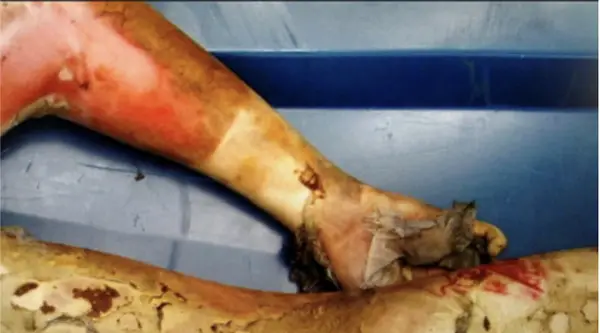 I love how much of Ms. X's 911 call was "inaudible" yet the dispatcher heard her just fine for the most part. When she tells the dispatcher that David "set this fire" she mentions "on the floor." Was she saying that David was on the floor when he allegedly set himself on fire? If the fire originated on the floor, I would think the fire marshall would have been able to say for certain. We know a fire investigator can pinpoint the place of origin of a fire.
She also tells the dispatcher she only saw smoke, not flames, yet tells the dispatcher he set himself on fire. So, if David had pushed her out of the apartment and she did not see any flames, then how did she know he set himself on fire when she made the call?
After this, the dispatcher asked if there is anybody in the apartment and SHE SAYS NO. When asked where she was she stumbled and says, "I'm IN, outside of the apartment building."
In the last image of the 2nd 911 call, the dispatcher says, "Okay you said …" And that's it! The rest of his question and her answer are missing. WTF?
Did she have any of the Bakken oil on her clothes or body that night?
In the 1st 911 call, the neighbor says that the "fire is really bad." But the maintenance worker put out a "small fire." Was that the maintenance worker? If not, why didn't the maintenance worker call 911 to report the fire AND that he put a fire out on a man?
Scott Elmquist said in his video that the maintenance worker was the first on the scene and used the fire extinguisher on David. What room did this occur in? Did he return to stay with David until help arrived? What happened to the maintenance worker???
And don't even get me started with the poor excuse of police departments, the Plymouth PD, and Hennepin County Sheriff's Office.
When officers arrived, they knew there was a fire because of the 1st 911 call. That should have been their priority and to make sure that no one was possibly inside and injured. Instead, they treated David as if he was some serial killer.
Where the hell were the firefighters? Don't they usually go in first to ensure nobody is inside and extinguish the fire before allowing anyone else, including officers, inside?
I don't believe for a second that David armed himself with knives. By the time the officers arrived, the maintenance worker had already put out the fire on David. Scott does not mention anything about the worker seeing knives in David's hands.
David's hands were severely burned; he likely could not have held anything. Also, I ask you this: would multiple police officers with GUNS/TASERS be worried about ONE man with KNIVES? And why would they set up a COMMAND CENTER for ONE man with KNIVES? 
Because of the lies of Ms. X, the police assumed he was armed with knives. Because didn't you know? That's how you handle the police when they arrive – you grab multiple knives and prepare for battle!
I agree with the Elmquists – the police are covering up their OBVIOUS mistakes in getting help for David quickly. But I also have to wonder of a possible affiliation between the police and the family of Ms. X.
Here are a few questions I have:
The maintenence worker put out "the small fire" when he arrived. Before he put out the fire on David? WHY? How did the worker know of the fire on the 3rd floor? Did he see Ms. X in the hallway?
If David poured the oil on himself and ignited it, how did he only receive burns mostly on his RIGHT side?  
How did his hands receive burns but not his wrists? The fire investigator said it was consistent with leaning on the sink, but how did his hands burn then?
If he was leaning over the sink, did Ms. X stand to his right and pour the oil on him, catching him off guard, and then quickly lit him on fire?
Why is one of the stove's burners on the floor? Why do two stove knobs appear to be turned in an "on" position?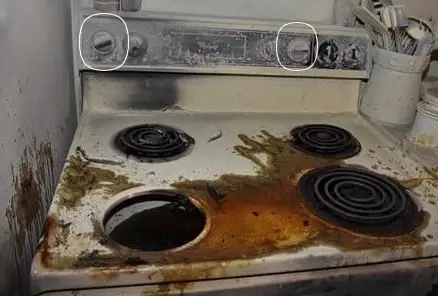 I'm trying to figure out how she managed to pour the oil on him and light him on fire WITHOUT David attempting to fight back or grab her first. She had to have blindsided him somehow.
Ms. X appears to have deleted her Fb. Why? If you have nothing to hide, why are you hiding? I found her entire family on there, but not her. I'm guessing she's going by another name. In one family photo, she is missing from the picture. It's like they're helping her hide. Shocker.
In a touching FB post, David's sister speaks of forgiving Ms. X. I honestly do not see how or why she would even want to forgive that woman. But I give credit to David's sister. She is a better person than I will ever be.
Here is the post. Amy made it public, so that is the only reason I am putting it here. It shows her incredible loss and deep belief in her faith. However, I will take it down if she asks me to do it.
She post it this year.
I'll never forget the Valentine's Day where I went to my childhood church to talk about my brothers funeral with his wife, my friend.
I'll never forget stopping by the local flower shop to bring Davids wife, my friend, flowers.
I'll never forget the look in her eyes when we first exchanged glances…. I was confused by the fear that I saw but embraced her and said "don't be like that"… as I smelled the Bakken oil in her hair.
I'll never forget standing by her side and supporting her though the funeral.
I'll never forget everything she said after the funeral, worried about our family being mad at her the day she has another boyfriend. I remember thinking that was super weird to say on the day of your husbands funeral, but I said "oh no, we'll be happy for you! David is going to hand pick your man from heaven."….
I'll never forget all of the loving and supportive texts I sent her for 2 months after Davids death…..
I'll never forget the confusion when my "friend" blocked and deleted me, out of the blue, just over 2 months after Davids death.
I'll never forget the disbelief I had when dad told me that on the day that David died, he specifically said "she has Amy manipulated too."
Many have asked why I haven't shared anything on my old friend in the last 4 years …….. truthfully, it's so painful and confusing I don't have the words. I don't know what to think.
Over the last 4 years, I have reached out and said "I'll patiently wait to hear from you, no matter what happened that night, I forgive you."
But as the years rolled by, and the alarming, troubling, and contradicting information has come in……. It hurts. And yet some things make sense- The fearful eyes. The after funeral statements. The blocking of me a couple months after David's death.
I'll never forget learning that my beloved brothers ashes were left in a funeral home vault for 14 months! Despite my parents asking for them. we were told "she didn't know what she wanted to do with them yet.."
I'll never forget making my 1st FB post saying how I wasn't going to be silent much longer on how our family has been treated after learning Davids ashes were left in the vault……. Because of that post, she ran and got David's ashes and gave 1/2 to the pastor, who gave them to my parents the NEXT morning.
Valentines Day…. A day of love. It's also a day that brings back raw, painful memories that I can finally share about.
I don't know what happened the night my brother died. But as God as my witness, I have no bitterness or anger in my heart. I chose forgiveness years ago. And I have peace, despite the extreme sadness that will forever be a shadow over my life.
And while I will boldly and proudly take a stand and fight for answers and truth surrounding my brother's death, whatever that may be……
To the woman who not one time said "help David"…….if you ever read this, I don't understand, but I still forgive you.
Love covers a multitude of wrong…. On this day, and everyday, I choose love, peace and forgiveness. – Amy Elmquist Hartsoch
May this beautiful family find justice for David. ❤️