WILLITS, Calif. — On Sunday, Jan. 7, 1973, 18-year-old Barbara Jean Stroud saw a movie at Noyo Theater in Willits with her boyfriend, Bob Burke. Afterward, she drove Burke to his home in Brooktrails, an unincorporated community that shares the 95490 zip code with Willits.
Stroud left Burke's home at approximately 11:30 p.m. in her 1965 blue Ford Mustang convertible and headed home. 
1973 newspaper articles state she left Burke's house at either 10 p.m. and 11 p.m. The Mendocino County Sheriff's Office website says 11:30.
About 30 minutes later, a sheriff's deputy en route to a service call in Laytonville found Stroud's car alongside Highway 101 on the east side of the road about three miles north of Willits. He did not know at the time that the vehicle belonged to a missing person because Stroud's parents did not report her missing until 2 a.m.
The search for Stroud started at 2:30 a.m. The police returned to the abandoned car and found Barbara's purse and jacket inside, the keys in the ignition, and the emergency brake on, but no sign of Stroud. The vehicle had damage to the driver's door and could not be opened from the outside. The passenger door was locked, and the car was missing a hubcap. Police found green paint on the left side of the vehicle.
Someone had sliced a hole in the fabric of the white convertible top with a knife. The cut had not been there when Stroud left Burke's house. 
There was no evidence of an accident at the scene. However, it had been raining, so the rain could have washed away any evidence, the police said.
Police believed the kidnapper rammed into her car to force her off the road. He then cut the convertible top, reached in to unlock the driver's door, and abducted Stroud. They did not believe the kidnapper pulled Stroud out of the car through the hole in the top.
On Wednesday, Jan. 10, 1973, James Holmes, a reserve officer working with the country road department, found Stroud's nude body at 8:30 a.m. in a field 300 yards north of U.S. 101 near railroad tracks and about a mile from where police found her car.
Police found no clothing or objects with the body.
Searchers from the sheriff's office and the Willits Fire Department recovered one of Stroud's shoes, denim pants, a shirt, and a hairbrush two miles from the body. Authorities never found Stroud's bra and underwear. Searchers also found the missing hubcap a little over a mile from the abandoned car.
An autopsy revealed Stroud had been raped and strangled. She had some bruises on her head and face and small abrasions on her body. She was already dead when "thrown over a fence" and "dumped in the field," said Sheriff Reno Bartolomie.
Two people reported seeing a man standing at Stroud's car leaning down, talking with her as she sat in the driver's seat around 11:40 p.m. A large square-looking vehicle, possibly a Travelall or panel truck, parked behind her car.  
Witnesses also saw a dark green 1969 or 1970 Corvette parked about 60 yards behind Stroud's vehicle and the truck.  
Authorities stopped about 150 green cars. Either the vehicles either had no damage to them, or the owners could verify their whereabouts at the time of the abduction.
In 1975, police reopened the investigation after receiving new information and ultimately arrested six men in connection with Stroud's death. All but one was indicted on murder charges.
Phillip Wood, 24, was granted immunity for testifying against the others at a grand jury hearing in June 1975.
The five other men were Dennis Lee Weeks, 25; Harold "Puff" Harrington, 28; Randy Russell Rowan, 25; and brothers Milton L. Phillips; 38, and Larry E. Phillips. All were residents of Willits.
The wife of Larry Phillips contacted investigators after he allegedly told her of his involvement in Stroud's murder. Officials reopened the case as a result.
Stroud had worked with at least two of the men at Little Lake Industries, a manufacturing plant in Willits. The plant is no longer there.
According to Wood, the six men drank at Andy's Bar, now Brown's Corner, on Main Street. After they left, he and the defendants saw Stroud's car at the side of U.S. 101. 
Wood told Mendocino County Sheriff's Deputy Barron Bankes that Larry Phillips slashed the top of Stroud's convertible. He removed her from the car, and put her in the truck "screaming and fighting." Wood heard Stroud's screams and saw her clothes tossed out of the truck but did not see Stroud raped or killed. Wood further stated that Larry Phillips decided to throw Stroud's body over a fence.
Interestingly, Wood never mentioned ramming Stroud's vehicle.
When it came time to testify, Wood told the grand jury he could not recall the events of the night Stroud was killed. With his permission, officials injected Wood with sodium amytal, a.k.a. truth serum.
Under the sodium amytal, police questioned Wood again, and he said Larry Phillips owned the green pick-up truck, which forced Stroud's car off the road.
When they asked him how Stroud died, "He indicated she probably died of a broken neck," said Sheriff's Deputy James Tusso, who testified before the grand jury. Wood said he saw Larry Phillips put his arm around Stroud's neck.
According to the testimony of Undersheriff Jack Wilson, authorities also injected Weeks with sodium amytal on May 16, 1975. During interrogation, he "mentioned something to the effect of re-raping the victim after she was dead."
Judge Richard E. Patton later called Wood's statement inadmissible and unreliable because of the sodium amytal and tossed it out. Patton also said that the testimony of Larry Phillip's wife was also inadmissible because of husband-wife privilege. Mendocino County prosecutor Duncan James dismissed all charges against the men shortly before the trials began late July 1975.
James criticized the justice system, saying it helped the accused and failed the victim. Decades later, he still called it a "gross miscarriage of justice." Public Defender Joseph Allen countered James, saying there was no evidence against his clients for a conviction, and they denied involvement in the killing.
In 2008, the Press Democrat reported that Mendocino County Detective Andy Whiteaker reopened the case. He studied the Stroud file and discovered that "Stroud's clothing, a rope believed to have been used to strangle her, and fingerprints lifted from her car had not yet been submitted for DNA testing and other modern crime-lab techniques not available in 1973."
It is unclear what came from the testing, but the case remains unsolved today.  
Two of the six men were still alive as of the 2008 article — Weeks, then 58, and one of Stroud's coworkers, and Rowan, then 59, and resided in Oklahoma.
Milton Phillips shot and killed his brother in 1989 in Montana. 
According to the Missoulian, the brothers had been "drinking at a bar earlier that evening, then left in Milton Phillip's truck with Larry Phillips driving." They argued, Larry Phillips pulled the truck into a driveway, and Milton Phillips shot him with a .22-caliber rifle.
Milton Phillips pleaded guilty to negligent homicide in January 1990. He received a 20-year prison sentence but was paroled nine months later. Milton Philips ultimately died of liver cancer.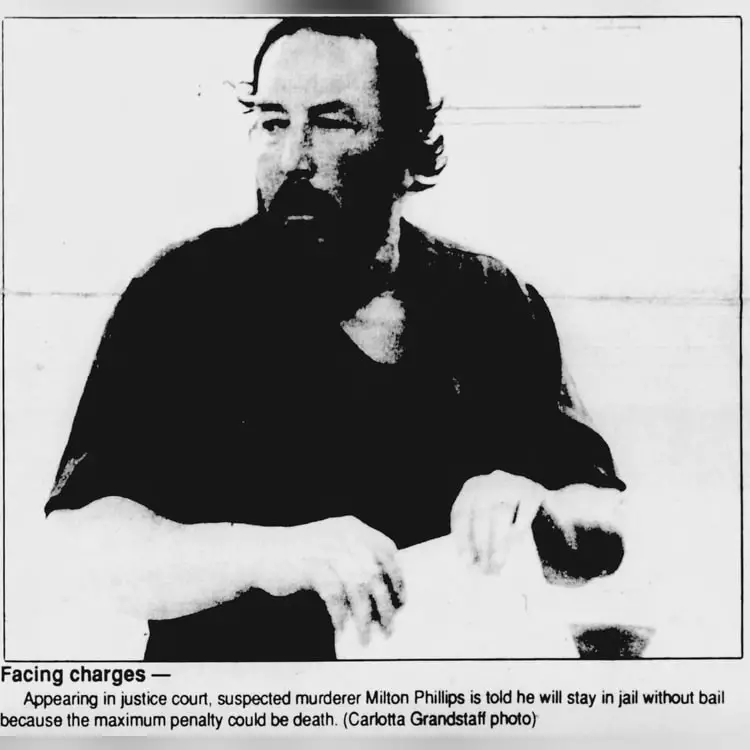 Wood and Harrington died from alcohol and drug use.
When Stroud was killed, police briefly thought her death was connected to a series of murders in nearby Sonoma County between 1972 and 1973. She was the fifth young girl found dead along roads in the Redwood Empire — an area stretching from San Francisco to Humbolt Bay and on to the Oregon border, according to this website. 
Two of the victims were nude, and Sonoma County sheriff's officials found no clothing at the Franz Valley site where two other women were found on Dec. 28, 1972. 
Mendocino County officials never discovered a link to the murders, later dubbed the "Santa Rosa Hitchhikers Murders." Those killings remain unsolved today. 
If you have any information regarding the abduction, rape, and murder of Barbara Stroud, please call Whiteaker's direct line at (707) 463-4103 or the Sheriff's Office Tip-Line (707) 234-2100.
True Crime Diva's Thoughts
Before I read about the six men arrested in 1975, I thought Burke might have killed her. There was never any mention of whether investigators ever questioned him or considered him a possible suspect.
The only one who knew where she was and when she left the Burke home was Burke. I thought maybe they had gotten into an argument. He followed her and then rammed into her car to force her off the road. Strangling someone is pretty personal, in my opinion, which can suggest the victim knew her killer. I know this is not always the case, though.
Then, I read about the six men and that Stroud knew a couple of them. But I'm leary of how investigators received the information about the men's involvement — Larry Phillips' wife. Maybe she was pissed off at him or they were going to divorce and she wanted revenge. I find it hard to believe the police would have reopened the investigation based solely on her account.
Witnesses reported seeing Stroud at 11:40 p.m. on U.S. 101 with the other two vehicles behind her car. But where exactly did this take place on 101? The same place where the cop found the car? Was the car on the east side of the road? The deputy found the Mustang sitting on the east side of the highway, which means the car was facing north, in the opposite direction of Willits, where Stroud was headed.
When Stroud disappeared, newspaper articles never mentioned if the officer who initially found her car had noticed its damage on the driver's side as he drove by on his way to Laytonville. He went by about 30 minutes after Stroud left Burke's home and 20 minutes after witnesses said they saw her car at 11:40 p.m. The papers also never mentioned whether the witnesses noticed damage to the Mustang. Yet, when the police returned to the car around 2:30 am. after Stroud's parents reported her missing, they saw the damage. Regardless, I do think this was when Stroud was abducted. But what happened to her between then and when her body was found is a mystery. I think it's possible her killer(s) kept her alive for a few hours or so after the abduction.
I want to know where the killer(s) rammed into Stroud's Mustang to force her off the road because it did not occur where police found it. They had not found evidence of an accident at the scene but said rain could've washed it away. Still, I'm skeptical it happened there.
I don't think it would have been too complicated for police to determine whether any of the six men had driven vehicles matching the witnesses' descriptions of the Corvette and truck parked behind Stroud's car.
I would also think that if 6 men kidnapped her and more than one raped her, Stroud's injuries would have been more severe. She had only slight abrasions on her body but several bruises on her head and face.
If you look at the case of Australian nurse Anita Cobby, brutally gang-raped and killed by five young men in 1989, her injuries were horrific, to say the least. Her entire body was brutalized. I'd expect Stroud's injuries to be somewhat similar to Cobby's because of the alleged number of attackers. I also know that the ME could determine if more than one man had raped Stroud.
To me, Stroud's murder feels more personal. It doesn't seem like a random crime, yet I'm not convinced the six men were involved. Wood's testimony was unreliable, and he likely accepted the deal to avoid prison time. You cannot convince me the "truth serum" would work anyway.
Burke was the last person to see her alive. What vehicle(s) did his parents drive? Why did Burke and Stroud take Stroud's car that night versus his or his parent's? I tried finding him today but his name is common. I did find a Robert Burke from Willits on Facebook, but I am not sure that is him.
I hope we learn something regarding DNA testing. I don't understand why there has been no other mention of it since 2008.