UPDATE MARCH 17, 2019:  On Saturday, March 16, 2019, police arrested 45-year-old Coley McCraney of Dothan and formerly of Ozark, AL in connection with the 1999 slaying of J.B. Beasley and Tracie Hawlett.  
Information gathered indicates DNA collected at the crime scene was uploaded to a database where anyone can share their data from consumer DNA testing companies such as 23andMe and Ancestry.com to search for relatives who have submitted their DNA. The DNA data revealed matches equivalent to relatives of the crime scene DNA. Other information allowed law enforcement to close in on a single person (Griffin, 2019).
Please see my thoughts on this further down. I will keep updating this post as more info is released. 
---
J.B. Beasley and Tracie Hawlett were found shot to death in the trunk of J.B.'s car in Ozark, Alabama in 1999. The case remains unsolved.
About the J.B. Beasley and Tracie Hawlett Case
On July 31, 1999, 17-year-old friends, J.B. Beasley and Tracie Hawlett left Dothan, Alabama at 10:05 p.m. in J.B.'s black 1993 Mazda 929 to attend a birthday party in her honor in Headland, just a few miles north.
They never arrived at the party.
Around 10:30 p.m., J.B. and Tracie stopped at a BP gas station in Headland near the intersection of Routes 173 and 431, where they used a pay phone to call friends, presumably to get better directions to the party.
After the call, the girls ended up in Ozark, Alabama, about 24 miles northwest of Headland. They still did not understand directions to the party. At 11:30 p.m., the girls stopped at Big/Little Store (now Inland Food Store) on Broad Street in Ozark. The store closed a half hour earlier. Tracie called her mother from a payphone there and told her they got lost and ended up in Ozark.
A woman, Marilyn Merritt and her daughter stopped at the gas station to buy a soda at the same time the girls were there.. The girls asked her for directions back to Dothan, which they seemed to understand. Marilyn then witnessed Tracie using the phone to call her mother. Marilyn said J.B.'s car was clean, the girls were nice and polite and that J.B. was outgoing. Nothing seemed amiss. When the girls pulled out of the parking lot, they turned right as directed. However, J.B. Beasley and Tracie Hawlett never made it home.
A Discovery
Around 8:00 a.m. the next morning – August 1, 1999 – and at the same time Tracie's mother reported her missing, police found J.B.'s car along Herring Avenue in Ozark. The car was muddy, the driver's side window was partially down, and the doors were locked. Despite filling the gas tank the day before, the tank was almost empty. There were no signs of a forced entry into the vehicle. J.B.'s driver's license was on the dash and both girls' purses were still inside the car, along with some money. Robbery was ruled out as motive. The only known missing item was J.B's key chain, which held her car and other keys. The key chain had white blocks with black letters the spelled out "HARD2GET." It has never been found.
A palm print was recovered from the trunk lid, but a match has never been made.
SIX HOURS later, police finally realized they could open the trunk of the car with an interior latch without needing the trunk key or a locksmith. When police opened the trunk, the bodies of the two girls were inside. Both had been shot to death – Tracie in the temple; J.B. in the right cheek. A 9mm shell casing laid precariously on Tracie's leg.
The girls were clothed. Tracie's jeans had briars on them and she had scratches on her arm. J.B. was noticeably dirty. The girls' pants were wet up to the knees, suggesting they had been shot executioner style before being placed in the trunk and their shoes were muddy.
An autopsy showed no signs of rape, but traces of semen were found on J.B.'s bra and panties. However, no DNA match was ever made. The girls had no alcohol or drugs in their bodies.
Some evidence in the trunk led police to believe the girls were shot in the trunk. However, they are still unsure exactly where the murders actually occurred – on Herring Avenue or somewhere else.
More than 50 state and county investigators worked the case in a city with just 45 officers on its force.
An FBI suspect profiler was brought in. But the profile revealed nothing dramatic – the killer most likely was a young male who could be described as a loner.
A Confession
On the night of July 31, 1999, at the same time Tracie Hawlett called her mother from the pay phone at Big/Little Store, Johnny William Barrentine, 28, told his wife he was going out to buy milk for their two-year-old son.
Barrentine did not return home until 1:00 a.m. His wife said that when he came home he was visibly upset. She asked him what happened and he said his car had been hit by a black truck with Dothan tags near Herring Avenue.
Days later, Barrentine confided to others that he had information about the murders of J.B. Beasley and Tracie Hawlett. A friend encouraged him to tell authorities and collect the reward.
On September 1, 1999, Barrentine walked into the Ozark Police Department where he was interviewed for four hours. In that time, he told six different stories to police, and at times even placed himself at the crime scene.
Initially, Barrentine said that on July 31, 1999, he saw a black truck speeding away from the area where the girls were found. Then he claimed he picked up a tattooed man he did not know and the two drove by the Big/Little Store. The man then got into a car with two girls and told Barrentine to follow.  Barrentine identified the girls as "the dead girls". The group ended up on Herring Avenue where the man and the girls got out of the car. One girl ran. Both girls were combative. Barrentine heard two gunshots before the man returned to the car and both men went home.
In another story, Barrentine told officers this man was his neighbor. Barrentine actually lived less than a mile from Herring Avenue at 110 South Young Avenue.
In all versions, Barrentine never mentioned anything about a sexual assault.
After his confession, police arrested Barrentine and charged him with two counts of capital murder. He then retracted his confession claiming he was innocent and that he made the whole thing up to get the reward money.
When Barrnetine's DNA was tested, it did not match the semen found on J.B.'s body and clothing. Therefore. the judge approved Barrentine's bond request. He was released from jail Friday, December 17, 1999. A grand jury declined to indict him in January 2000.
Other Suspects
There were three other suspects besides Barrentine.
One was a man from Michigan who was in the area at the time of the murders and could not account for a period of three to four hours that night. He later made suspicious statements to people about that night. Law enforcement officials traveled to Michigan to interview him and had his DNA tested. No match.
Big/Little Stores' surveillance video recorded a small white pickup at the time the girls were there. The video does not show the driver or anyone else getting out of the truck. It also never clearly shows the driver's face. Police released a photo of the truck to the media a month into the investigation, but no one came forward. The truck and the driver were never found.
The third suspect was a man from Mississippi who was visiting relatives in Ozark on the night of the murders and left town two days later. The man was extradited from Jones County where he had been arrested there on an outstanding warrant for possession of drug paraphernalia issued in Ozark. In March 2000, authorities compared his DNA samples to those found on J.B. They did not match.
Another Witness and Possible Murder Site
In March 2000, a woman called police and said she heard screams and two gunshots near Highway 123 South, just inside the city limits, on the night of July 31, 1999. She did not come forward earlier because she did not want to get involved.
The area was searched with metal detectors. A 9mm bullet, the same type used to kill the girls, was found but the brand name of the bullet did not match the brand of bullet shell casings found. Furthermore, the unspent bullet had no markings that would help with forensic comparison to other evidence in the case.
Another item was found at the possible crime scene on Highway 123 and was tested.
Soil samples were also taken from the possible murder site and compared to dirt taken from the clothing of J.B. Beasley and Tracie Hawlett.
It is unclear what the other item was or what came from the testing.
Possible Police Cover-up?
In 2015, Rena Crumb, a sworn Ozark auxiliary police officer, came forward and accused an Ozark police officer of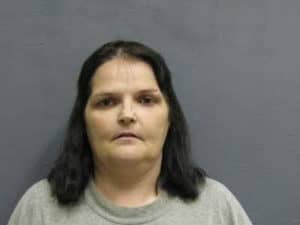 murdering J.B. Beasley and Tracie Hawlett. She also claimed that numerous law enforcement officials had knowledge of the murderer's identity and covered it up by getting rid of evidence and making threats.
She claimed one cop in particular, Butch Whittington, messaged her on Facebook and told her to "keep her fucking mouth shut." She also named two other cops  – Rex Tipton and Eddy Henderson. Rena went as far as to say that Police Chief Tony Spivey also knew the killer's identity and helped cover it up as well.
Rena alleged that on the night of July 31, 1999, this police officer pulled over J.B. Beasley and demanded to know the whereabouts of some cassette tapes that contained recorded conversations that could have incriminated top Ozark police officials and others in cocaine distribution and profits.
According to an article written by Jon B. Carroll, a journalist, the retired officer believes the two girls intended to use these tapes in a court case that was scheduled for the coming Monday, August 2, 1999, less than 48 hours after they were murdered. The tapes were to be entered as evidence.
Carroll also states in this article that Rena was severely beaten with a baseball bat after she came forward. Out of fear, she refuses to name who almost killed her.
Despite Rena's allegations and the fact that she named certain police officers about their involvement in the murders, she refused to name the officer who supposedly murdered the girls or how J.B. acquired these tapes. However, it is the understanding of this author that J.B. was present when the conversations took place and she secretly recorded them.
The law enforcement officials Rena has accused have denied any involvement in the murders of J.B. Beasley and Tracie Hawlett.
On January 29, 2016, Keith Cauthen, Rex Tipton, Tony Spivey, Eddy Henderson, and Gary "Butch" Whittington – all Ozark, Alabama police officials – filed a lawsuit against Rena Crumb, Jon B. Carroll, and Dean Matthews for libel, slander, and defamation of character. Jon B. Carroll owned HenryCountyReport.com at the time and wrote a few articles on Rena's allegations. Interestingly since 2016, the website is now a legal online magazine.
In May 2016, Rena Crumb was arrested for harassment communications.
Despite an investigation over the years into the murders, no one has ever been arrested, and the case remains unsolved.
Ozark Police Chief Tony Spivey worked the case until his retirement in 2015.
True Crime Diva's Thoughts
UPDATE MARCH 17, 2019 – My thoughts on the arrest of Coley McCraney:
First, I want to say how thankful I am that an arrest has been made in this case. It's been a long time coming for the girls' families. With that being said, I still have questions which I'm sure will be answered in time. But my main one is and always has been: how did the killer get J.B. to pull over?  Did he pretend to be a police officer? The driver's window was partially down and her driver's license was out.  If he did not pretend to be a cop, then why has no police officer come forward saying he or she pulled J.B. over? Because, it's obvious she was.
There is the possibility that the girls knew McCraney. Maybe he saw them leaving the gas station and flagged them down somehow, I don't know. I'll be glad to know more info from him, like why didn't he rape the girls? What was his motive for the killings? Did he drive a white truck in 1999?
McCraney's arrest does not change my mind about the investigation. It was ridiculous.
If this man did in fact kill the girls, then we now know Rena Crumb was lying.
---
This case has been written on numerous times over the years, but I recently came across it and wanted to give my thoughts on it. While this case seems familiar to me, I am not sure I heard about it until now.
I believe the girls were killed near Highway 123. It makes perfect sense.  Highway 123 is the road the girls would have taken to get to Highway 231 to go home. There is a creek nearby, and it's isolated. At night, it would have been really dark and quiet. I also believe that the witness who came forward in March 2000 heard the girls being murdered.
Rena Crumb
As I was researching this case and before I found the info on Rena Crumb, my first thought was that the killer could be a cop. The girls were heading back to Dothan, and there was no reason for them to go anywhere else other than home, which was their intention. There was zero reason for them to make a stop between the gas station and Dothan. So, were they pulled over by a cop?  I believe so. The car was not damaged, meaning the girls were not forced off the road by another vehicle. Additionally, J.B.'s drivers license was on the dash of the car which meant she took it out of her purse, probably at the request of the officer who pulled her over.
I'm not saying I completely believe Crumb, but it does make sense that a cop killed the girls. Maybe not for the reasons she gave, though. Because what I don't understand about the tapes is why J.B. was at the location where the alleged conversations took place – if this is true, that is. From what I read, she was not a troublemaker, but a good person. It makes no sense she would be involved in something like that.
The general consensus on Crumb is that she lied. However, the only reason I might believe her is because it takes major balls to accuse police officers of murder and corruption. Officers will protect one another and certain ones will do whatever it takes to stop the allegations. What was her reason for doing so? She had to know the huge risk she was taking, and she did it anyway.
I also do not understand why she named other cops but not the one who allegedly killed the girls. Makes no sense.
Honestly, I will not say that the men Crumb mentioned are guilty because I do not know this to be fact. However, it would not surprise me in the least if they are AND Ozark Police Department is covering up these murders.
But Spivey contacted America's Most Wanted in 2000 and the show later aired a segment on the murders. So, if he was involved or another cop, why would he do that?
Let's talk crime scene
You have to wonder why it took SIX HOURS for police to realize they could open the trunk without a key/locksmith. What were these officers doing during this long period of time? Twiddling their thumbs? Seriously. SIX HOURS.
There were no signs of rape on the girls. Semen was found on J.B.'s bra and panties. So what gives? We have a masturbating killer? That's different. If this was random, the motive had to be sexual, so why didn't the killer or killers rape the girls?  Why did only J.B.'s clothing have semen on it?  I do not believe masturbation is a reason to kill the girls.  So what was the damn motive?
Why were the girls' jeans wet up to the knees? Authorities said it was because they were shot execution-style. I took this to mean the girls were on their knees when shot, but that isn't necessarily the case.
Here's what I found in an online article from The Journal Gazette:
It (execution-style) doesn't necessarily involve making a victim kneel, or shooting them from the front or from the back, or tying them up or shooting them in the head.

Frank Farley, a professor at Temple University and president for the Society for the Study of Peace, Conflict and Violence, said execution-style killings go back to the days of mob hits. But they are fairly uncommon. Killings of this sort are meant to be deliberate, planned and to leave a message, he said.

These killings illustrate control and make a point, Farley said. "The message is larger."
So, what is the message? Who is the message for? What reason could someone have to shoot these two teenage girls?
Honestly, this case makes no sense to me.
If they were shot in the trunk, why were their jeans wet? Well the dew point temperature for that day was 77 degrees and the low was 77. This means relative humidity was at 100% at some point. Most likely, there was dew on the ground. However, it is possible they walked through knee-high grass in a wooded area near a body of water. This makes sense and explains why there was mud on both girls' shoes and Tracie had briars on her jeans.
I'm curious how the seat was positioned in J.B.'s car when it was found. Was it in her normal position or had it been pushed back? No mention of that that I could find.
Speaking of the car. Police made a comment at one point that they don't know why the girls pulled over and stopped on Herring Avenue. I feel this was just an idiotic statement because the girls didn't, not willingly anyway. I believe the girls were pulled over on Highway 123, taken to an isolated area, and then who knows what happened before they were shot to death and J.B.'s car was driven to Herring Avenue.
Time of Death
I'm not sure when time of death occurred. On YouTube, I briefly watched "Haunted Evidence's" segment on it. I couldn't tolerate watching the whole thing because it's too ridiculous. Anyway, the show said time of death occurred around 12:30 a.m. So that gave the killer less than an hour to commit the crime. The girls were at the gas station at 11:30. I do not know the exact time they left, but I'm not sure I believe this time of death to be accurate. There just wouldn't be enough time to commit this crime.
Barrentine
Barrentine told too many stories about his knowledge and involvement in the murders for him to be taken seriously as a suspect.  If he had been at the gas station at the same time the girls were there then Merritt and her daughter would have seen him. Additionally, the black truck would have been seen on surveillance video. So, why did they arrest him when he kept changing his story?  Luckily, his DNA did not match.
I do think it's possible that Barrentine witnessed something that night because he was visibly upset when he finally returned home at 1:00 a.m. It does make me wonder if there in fact is a black truck involved though. If he's telling the truth about the Dothan tags, then we may have a killer who actually knew the girls and was not a cop. We can't rule out that theory out either, of course. I wonder if police interviewed the girls' male friends and any current or ex-boyfriends they may have had. Did they test DNA from them?
The White Truck
The police said there was a white truck seen on surveillance video at the same time the girls were at the gas station. Why didn't Marilyn Merritt mention this white truck? I imagine if it was there, she would have seen it. No mention of her seeing a white truck.
Who do you think killed J.B. Beasley and Tracie Hawlett? A police officer, someone they knew, or a random killer?