Thora Afton Chamberlain was a sophomore at Campbell High School (CHS) in Campbell, California. 
Shortly before 3 p.m. on Friday, Nov. 2, 1945, Thora, 14, and a group of friends were walking on a sidewalk along Winchester Boulevard to the football field to watch a game between CHS and Washington High School of Centerville, later Fremont.
Showing her school spirit, Thora wore red and blue bobby socks, the school colors. She rolled one pair up and the other down.  
As the group was walking, a man driving a blue Plymouth pulled up to the curb.
According to The Mercury News, the man wore "slate-gray Navy trousers and a Navy-style white T-shirt with a Purple Heart and a blue insignia that said 'Londonderry, Ireland.'" The man lowered his window and spoke to Thora. 
Rita Beiler, one of Thora's friends, later told the police the man was looking to hire a babysitter for his sister's children for about 30 minutes. Thora asked Rita if she was interested, but Rita declined. 
Thora then got into the man's car and told her friends to save her a seat at the game. She was never seen again.
At 3:30 p.m., Ella Beaudoux of Saratoga was getting her mail when a speeding car almost ran her down. She saw a terrified girl frantically clawing at the back window. Police believed it was Thora. 
Students at CHS told the police they often saw a man in his 20s or 30s sitting in a 1932 Plymouth sedan near the school. 
A few days later, a San Jose newspaper received a telegram:
"Thora Chamberlain, daughter of San Jose contractor, who is missing from Cambell High School, was seen in Long Beach at about 10 a.m. Tell Frank Chamberlain for information I will call collect around 7 p.m."
The telegram was signed, "A Friend, Campbell High School class of 1944." Chamberlain told the police that if his daughter was in Long Beach, she was there against her will.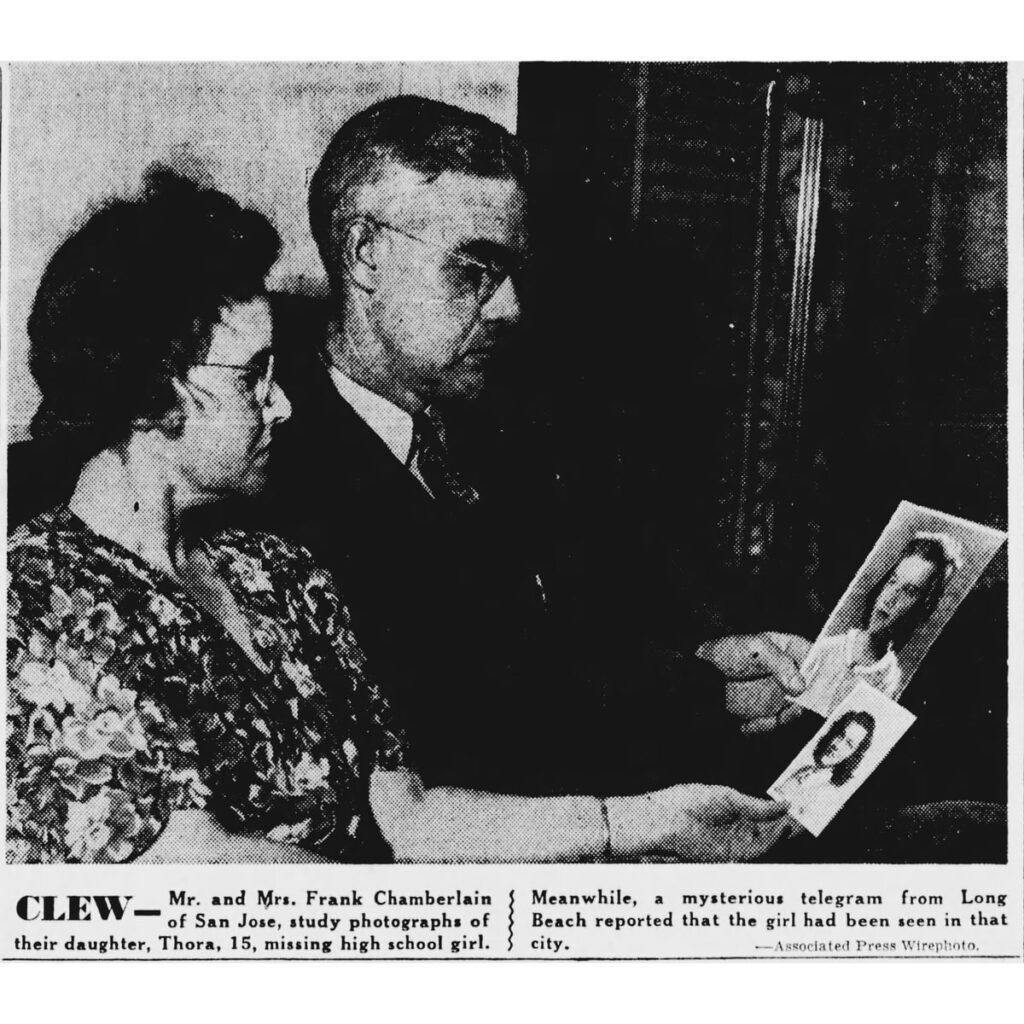 The FBI entered the case within two weeks of Thora's disappearance and dispatched E.J. Connelly to San Jose. Connelly was one of the best investigators to handle child kidnappings.
Connelly soon narrowed in on 31-year-old ex-convict Thomas Henry McMonigle as a suspect. McMonigle was from Madison County, Illinois. He had a criminal history dating back to his teen years, including assault with the intent to rape, and had served time in an Illinois prison. He was married twice and had an infant daughter with his second spouse, Ena, who had two daughters from a previous marriage. Ena filed for divorce following his arrest.
Several months before Thora's disappearance, police booked McMonigle into the San Mateo County jail for an alleged assault on a 14-year-old San Bruno girl. However, her family did not press charges because they wanted to protect her reputation.
After Thora's disappearance, McMonigle traveled to East Alton, Illinois, where he stayed with his father, Stephen McMonigle. 
On Dec. 6, 1945, he took a bus to San Francisco and attempted suicide on the bus by taking several sleeping pills. He recovered at a local hospital, and FBI agents arrested him after his discharge. 
Rita identified McMonigle as the man Thora spoke to on the day she went missing. Another classmate, Euoline Hall, saw Thora sitting in the car with the man but could not identify him.
McMonigle had never been in the Navy; he had stolen a foot locker from a serviceman that contained the clothes he wore on the day Thora vanished. Police later found the foot locker in McMonigle's San Mateo home.
Jo Ann Conkle, 11, of Redwood City, later testified in court that McMonigle was the man who attempted to lure her into his car with a babysitting offer two months before Thora's disappearance. He told Jo Ann that he would pay her $10 to watch his little girl because he had a sick sister in San Francisco. Jo Ann refused; he drove off, circled back, and asked again before driving in the direction of San Francisco.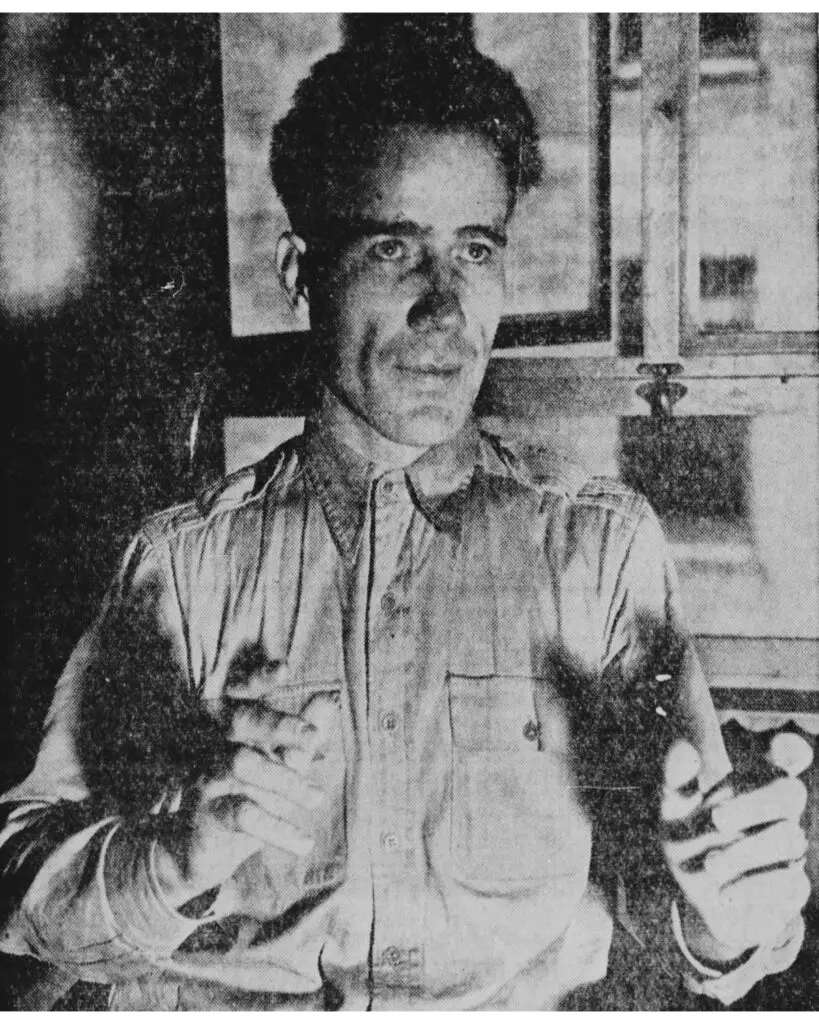 In his police statement, McMonigle said he took Thora to Santa Cruz, then drove along the coast up Highway 1 near the San Mateo county line. He shot Thora with a .32-caliber Colt revolver he kept in his car.
After killing Thora, he drove to Devil's Slide and tossed her body down the 350-foot cliff into the ocean. FBI agents later found Thora's red and blue socks lodged in a rock down the cliff. Her parents identified them as Thora's. 
McMonigle was a local truck driver. His boss permitted him to fill a nearby ditch with concrete blocks and dirt at his work site in Burlingame. FBI agents dug up the ditch and found Thora's brown shoes, cowbell, schoolbooks, and zippered binder. McMonigle told investigators that he buried Thora's clothes in his backyard, but an excavation produced no results. However, investigators did recover the .32-caliber gun and pieces of the car's upholstery stained with blood. 
In late December 1945, McMonigle was arraigned on a grand jury indictment charging he murdered Thora. After his arrest, his stories repeatedly changed, specifically how he killed her. McMonigle claimed to have shot, stabbed and strangled her. In a letter to Ena, he wrote that Thora "leaped from my car and was injured seriously. I tried to give her first aid, but she died and I buried her." He said he concealed her body in a drainage ditch near the construction site in Burlingame, but investigators did not find any remains. 
McMonigle was convicted of Thora's murder and sentenced to death. He was executed via the gas chamber at 10:15 a.m. on Feb. 20, 1948. Before his death, he wrote a statement denying involvement in Thora's murder. McMonigle confessed to the murder of a San Francisco woman, but the police decided not to charge him after he was sentenced to death for Thora's murder. He also claimed responsibility for 11 murders, but police could not verify his claims.
In a 2017 article on Thora's case, Scott Herhold of The Mercury News writes, "There [San Quentin], one of the strangest episodes of the case unfolded in 1947. A former child prodigy named Robert E. Cornish had become fascinated with the idea that he could revive victims of heart attacks by injecting adrenaline into their bodies and see-sawing them on a teeter board."
McMonigle offered his body after his execution, but San Quentin's warden and California law enforcement refused, according to Herhold. 
"Among the perplexing questions was double jeopardy. If someone was executed and revived, would they be considered to have served their sentence? If so, could they demand release?"
True Crime Diva's Thoughts
Thora's disappearance is technically a solved case, so I do not have much to say about it. If I think of anything more, I will add it later.
The story McMonigle told about tossing her body down Devil's Slide is interesting. There is an old WWII bunker at the top of Devil's Slide. I would assume he took Thora for sexual reasons. The bunker would be the perfect place to rape and kill her before tossing her body off the cliff. Yet, he never mentioned anything about the bunker.