This post may contain affiliate links. Please read our disclaimer for more information.
Lawyer and part-time judge, Susan Winters was found dead from a combination of ethylene glycol poisoning and oxycodone intoxication in 2015. Her death was initially ruled a suicide but later changed to undetermined. In 2017, her husband, psychologist Brent Dennis was arrested for murder.
About the Case
At 6:48 a.m. on January 3, 2015, psychologist Brent Dennis of Las Vegas called 911 after finding his wife, Susan Winters, 48, unresponsive in bed. Susan was still alive when paramedics arrived. She was rushed to the hospital. Susan died at 2:26 p.m. after Dennis instructed doctors to take his wife off life support.
Dennis told police he and Susan had been fighting. Susan was drinking while on antidepressant medication for depression, and threatened to kill herself. He claimed he found two bottles of antifreeze out of place in the garage, and speculated Susan drank the antifreeze at some point. Brent also said he had been asleep the entire night and woke up to find Susan unresponsive.
The coroner stated Susan died of a combination of ethylene glycol poisoning and oxycodone intoxication. Ethylene glycol is the main ingredient in antifreeze. Her death was ruled a suicide despite no evidence in the bedroom showing Susan harmed herself – no suicide note, no glass with antifreeze remnants of liquid in it, and no prescription bottles or antifreeze containers.
A Civil Case
In 2016, Susan's parents, Danny and Avis Winters hired retired FBI detective and attorney, Tony Srgo, who filed a civil lawsuit against Brent Dennis on their behalf. According to Las Vegas Review-Journal, the suit alleges Winters died under "suspicious circumstances," and it blames her demise on Dennis, who it contends had a financial motive.
Srgo compiled a nearly 50-page investigative report, citing potential evidence against Dennis, including an alleged substance abuse addiction and a connection to a man named Jeffrey Crosby, who in the past had been convicted of felony possession with intent to sell cocaine (Gutman et al. 2017).
During deposition, Dennis admitted buying drugs from Crosby.
Phone records showed six calls and texts from Susan's phone to Crosby's phone in the days before her death. Her father said she called Crosby to inform him she was going to the authorities. Susan wanted her husband to stop abusing drugs.
Avis and Danny insisted Susan did not kill herself. They told the court Susan purchased airline tickets to San Jose, California; Atlanta; and Hawaii to attend her youngest daughter's cheerleading competitions. They also said she was very excited that her youngest daughter was going to attend college.
Husband's Arrest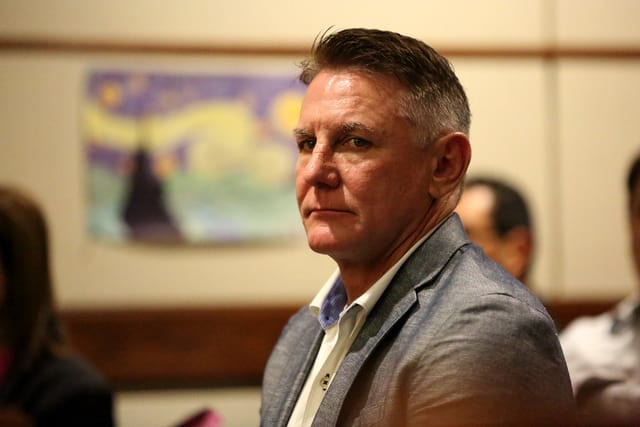 In February 2017, Brent Dennis was arrested and charged with murder in the death of his wife, Susan Winters.
Police obtained phone records showing Dennis used his phone at approximately 2:45 a.m. on January 3rd. Dennis sent Crosby about 20 text messages hours after his wife allegedly poisoned herself.
Cell tower records showed Dennis left home to meet with Crosby. Dennis arrived back home around 3:30 a.m. He then placed a final call to Crosby at 5:32 a.m.
Computer records showed someone was online after Dennis met with Crosby trying to access Susan's $200,000 bank account. Someone also searched online for the lethal effects of antifreeze.
After the Arrest
In April 2017, Clark County Coroner, John Fudenberg changed Susan's manner of death from suicide to undetermined following Dennis' arrest.
In July 2017, a court ruled that Dennis could reopen his practice, despite the fact he was charged with the murder of his wife.
Suspected of abusing drugs and obtaining prescription drugs from patients, Gregory "Brent" Dennis, who prosecutors say poisoned attorney Susan Winters inside their Henderson home, also must undergo up to seven years of drug treatment, the seven-member panel ruled as they signed a settlement agreement that made no mention of the murder charge (Ferrara 2017).
Sources:
Ferrara, David. 2017. "Henderson Psychologist Charged With Murder Can Reopen Practice". Las Vegas Review-Journal. https://www.reviewjournal.com/crime/henderson-psychologist-charged-with-murder-can-reopen-practice/.
German, Jeff, and David Ferrara. 2016. "Grand Jury Targets Husband In Lawyer'S 2015 Death". Las Vegas Review-Journal. https://www.reviewjournal.com/crime/grand-jury-targets-husband-in-lawyers-2015-death/.
Gutman, Matt, Marjorie McAfee, Jenner Smith, and Lauren Effron. 2017. "Family Of Vegas Attorney, Whose Death Was Originally Ruled Suicide, Believes Husband Killed Her". ABC News. http://abcnews.go.com/US/family-vegas-attorney-death-originally-ruled-suicide-believes/story?id=45542659.
Knapp, George. 2017. "I-Team: Details The Night Attorney Susan Winters Died". 2017. Las Vegas Now. http://www.lasvegasnow.com/news/i-team-details-the-night-attorney-susan-winters-died/654452687.
True Crime Diva's Thoughts
I wrote about this case because I was contacted by one of Susan Winters' family members. I think this was murder, not suicide.
Dennis lied to police (said he was sleeping all night when he wasn't), and told paramedics she drank antifreeze when there was zero evidence in her bedroom to support this. Hell, there was not any evidence supporting suicide at all. When a person commits suicide, evidence is usually near the victim.
Susan had depression, but that doesn't mean she killed herself. You can have suicidal thoughts without taking your own life. Her actions before her death tells me right there that she was not thinking of suicide. If you're going to kill yourself, you are not going to make big purchases, like airline tickets. In fact, it's very common for people to get rid of personal items before committing suicide.
I would love to know everything about the fight her and Dennis got into before her death, if this was even true. What was said, who initiated it, etc.
I think Susan's death was planned in advance.  The question is: how did Dennis get her to swallow a bunch of pills and drink the antifreeze?
Alcohol can enhance the sedative effects of opioid medications, leading to increased drowsiness, and it can eventually lead the person to fall asleep and be unable to wake up, according to AmericanAddictionsCenters.org.
If Susan truly wanted to kill herself, the oxycodone and alcohol would have done the trick; there would be no reason to drink antifreeze. The antifreeze is why I believe she was murdered.
Like police, I believe Dennis killed his own wife for personal and/or financial reasons. Dennis would have been furious at Susan for wanting to go to the authorities. Right there is motive. And he had a lot to lose (his his career, reputation) if she turned him in.
From what I understand, police took Dennis' word that this was a suicide, and therefore did not treat the bedroom and house as a crime scene.  I find this unusual because there was no evidence of suicide in the bedroom. At the very least, police should have treated this as a suspicious death and properly investigated the area.
Dennis and Susan had two children, 12 and 14 at the time of Susan's death.
Similar Posts:
Copyright secured by Digiprove © 2017
(Visited 997 times, 1 visits today)