16 miles southwest of Bloomington, Indiana, is Carmichael Cemetery, a quiet country cemetery just off I-69 in Center Township. The cemetery is named after Alexander Carmichael, who purchased the land from the government in 1829. At Carmichael Cemetery sits a headstone with only the deceased's death year, no month and day. Buried in that plot is Pamela Foddrill. You see, Pamela was murdered, and nobody knows precisely when.
Pamela Rae Foddrill was born on March 10, 1951, to Dale and Irene Foddrill. She was one of seven children, and the family resided in Green County, Indiana. Dale Foddrill passed away on November 26, 1980, at the age of 68.
Pamela was intellectually disabled. She had the mentality of a seven-year-old child and a teenager's appearance, standing only 5 feet tall and weighing 100 pounds.
In 1995, she resided with her mother, Irene, in Linton, Indiana. On August 18th, Pamela left home and walked two and a half blocks to the local IGA grocery store, where she purchased some instant breakfast mix. It was only her third time going there alone.
She walked out of the grocery store and disappeared into thin air.
The trip to the store should only have taken Pamela about 20 minutes. When she hadn't returned home after that time period, Irene began looking for her. When she couldn't find her, she called the police and soon after, the search and investigation began.
Investigators learned Pamela was last seen around 11:00 a.m. at a stoplight in Linton, where the search dogs last picked up her scent.
State police and a county rescue team searched all over Greene County for Pamela, but they never found her. Family members placed posters with her picture around the area and offered a $1,000 reward.
Tips started rolling in. In October, Irene and two of Pamela's sisters drove to Terre Haute after police received a possible sighting of her walking down Liberty Avenue. It wasn't her.
A woman reported seeing someone matching Pamela's description in Bedford, so they drove there. It wasn't her.
The same thing in Evansville occurred and likewise resulted.
The biggest lead at this point seemed promising. A man selling frozen meat door-to-door in nearby Bloomfield near the time of Pamela's disappearance was suspected of also being in Linton around the same time.
Six days later, police arrested the man in Ohio on rape charges and stabbing a woman there. However, he was not responsible for Pamela's disappearance.
On December 3, 1995, two hunters found skeletal remains in a sleeping bag in a wooded area along a county road about 12-15 miles northeast of Lawrenceville, Illinois and 45 miles southwest of Linton, Indiana, near the Wabash River.
The remains were later identified as belonging to Pamela Foddrill.
Police immediately treated the case as a homicide. They did not mention a cause of death but did tell the Foddrill family that Pamela died from trauma to the head and neck.
Months went by and still no answers on who killed Pamela Foddrill.
Pam never had boyfriends. She wasn't interested. The family was her life. She was mature in many ways. Although she had trouble with math and reading, she had good common sense."

Darla Mifflin, victim's sister.
More than two years after Pamela Foddrill's disappearance, police arrested 45-year-old Roger Leon Long in October 1997 for Pamela's murder after two inmates informed police that he confessed to killing Pamela. At that time, Long was in Lawrence County Jail on a parole violation.
Through the ongoing investigation, police eventually arrested John Redman, 41, Jerry E. Russell Sr., 36, and Wanda Sue Hubbell, also 36.
Hubbell told police the group saw Pamela walking and convinced her to get into their vehicle. They took her to Redman's house, which was not far from Pamela's home. There, all four of them sexually assaulted Pamela over several days, possibly a week.
When they finally had their fill, the foursome attacked and killed Pamela.
According to Indiana law, killing Pamela during a rape or criminal deviate conduct qualified the defendants for the death penalty (Ricketts, 1998). However, the prosecution did not seek the death penalty due to a lack of funds.
Long's trial occurred in the fall of 1998 and lasted until early 1999. Hubbell testified for the prosecution as a star witness. She pleaded guilty to criminal deviate conduct in exchange for her testimony and was sentenced to 20 years.
Testimony during Long's trial described how he, Hubbell, John Redman, Jerry Russell Sr. lured Pamela into a van as she walked home from the grocery store on August 18, 1995. For a week, they held her captive in Redman's home. The 100-pound woman, according to testimony, was sexually abused, at times, violated with a baseball bat. Then she was stabbed to death (Ricketts, 1999).
The group also "burned, mutilated, or tortured the victim while the victim was alive."
Witnesses also testified that Long stored Pamela's body in a storage shed for about a week before disposing of it near Lawrenceville, IL.
In April of that year, a jury found Long guilty of murder, conspiracy to commit murder, criminal deviate conduct, and criminal confinement in the murder of Pamela Rae Foddrill.
In May 1999, a judge sentenced Long to life in prison with no parole.
Shortly after, Redman and Russell's trials began and both were found guilty of the same charges as Long and also given life terms with no parole.
Both Long and Russell appealed their sentences in 2001 but they were denied. On September 20, 2019, local media reported that Russell may get a new sentence. His defense now claims (over 20 years later) he was wrongfully accused and wasn't present the day Pam was abducted. Anyone else rolling their eyes right about now?
One of Pam's brothers, Ronald Foddrill passed away on September 15, 1996, more than a year after his sister vanished. Pam's mother, Irene Foddrill left this earth on July 10, 2002. She was 85 years old. Her surviving family members will be at another hearing for Jerry Russell Sr. in January 2020 and are hoping he stays where he belongs.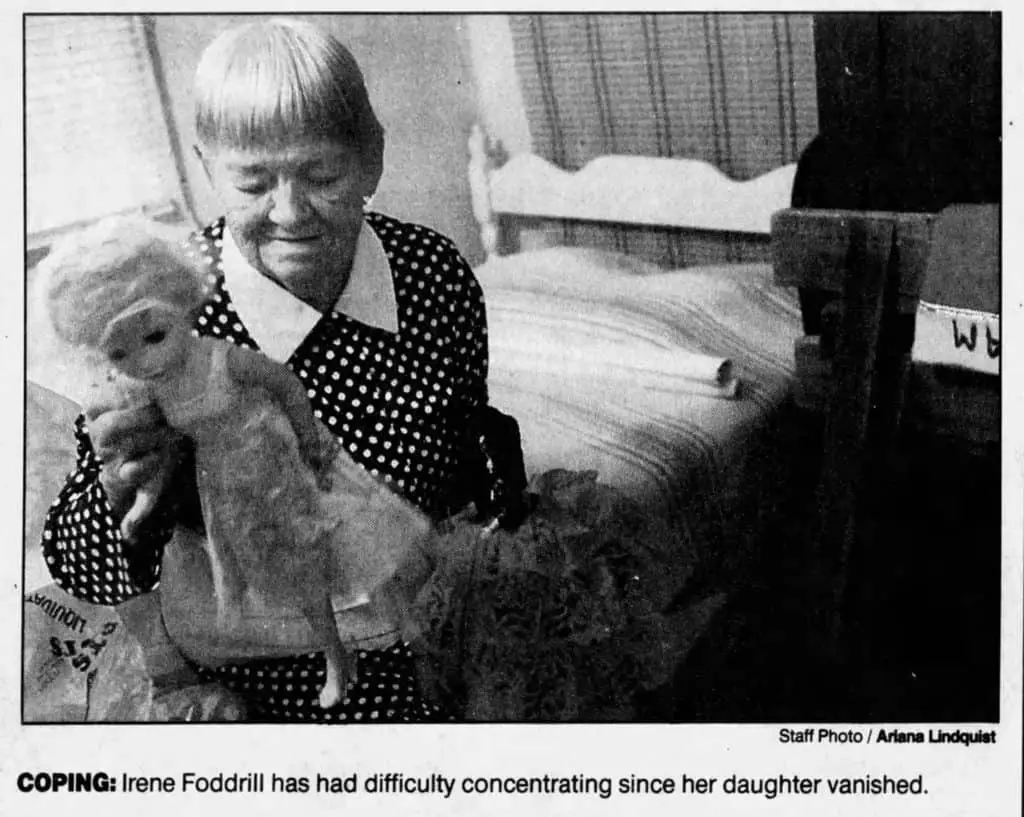 Sources
Johnson, Taylor. "Green Co. Man to Possibly Get New Trial." MyWabashValley.com. September 20, 2019. https://www.mywabashvalley.com/news/greene-co-man-to-possibly-get-new-sentence-after-being-convicted-for-1995-murder/
"Jury Finds Defendant Guilty of Murdering Foddrill". The Vincennes Sun-Commercial. April 16, 1999.
O'Neill, John R. "Police, Family Still Seek Missing Linton Woman". The Indianapolis Star. September 5, 1995.
Ricketts, Mike. "Family is Angry Cost May Sway Decision to Seek Death Penalty". The Indianapolis Star. November 23, 1998.
—. "1st of 3 Defendants in Torture Killing Gets Life Term, No Parole". The Indianapolis Star. May 13, 1999.
"Search Continues Today for Woman". The Tribune. October 27, 1995.
"Suspect Consents to Testify". The Vincennes Sun-Commercial. February 4, 1999.