A Murder and a Disappearance
On Wednesday, May 4, 1983, Melody Ann Jones, 19, went fishing with her parents and siblings at Shawnee Twin Lakes in Oklahoma. The family tight-knit family often went fishing together.
Afterward, Melody's younger brother, Randall Garton, drove her back to the home she shared with her husband, Paul Richard Jones, age 20, on Benson Park Road in Earlsboro. They arrived at Melody's house around 10:30 p.m.
Randall saw the light from inside the house pour onto the lawn as Melody walked into the home. The lights were on, and a man was standing in the doorway.  Randall assumed he was Paul.
Melody asked Randall to stay the night, but he decided to go home. He had previously stayed at his sister's house overnight, so that was not out of the ordinary.
The next morning, Melody did not show up for work at Dairy Queen in Seminole. An employee called Melody's mother, Carol Garton, to find out where Melody was.  Carol had not seen her, so she headed out to the Jones' residence.
After entering the Jones' home, Carol found Paul Jones lying dead in the couple's bedroom. He had been stabbed to death, police said. There was a .12 gauge shotgun at the foot of the bed. Normally, the couple kept it in the corner of the bedroom. Melody was not in the home, but her eyeglasses and purse were there. Someone had dumped the contents of the purse on the floor. Melody's family later said she wore the glasses regularly.
Paul and Melody's car was still in the driveway. Carol went looking for Melody outside but could not find her, so she called the Pottawatomie Sheriff's Office to report the murder of her son-in-law and the disappearance of her daughter.
Investigation
Soon the police arrived at the scene, but they did not find any signs of a robbery, forced entry, or a domestic dispute. Family members reported nothing was missing from the couple's home.
Police later allowed Paul's mother, Marge Jones, to enter the home, and she became convinced her son was not murdered in the house.
"There was a yellow and white shag carpet," said Mrs. Jones said in 2015.
"There was no blood [on the carpet]. I pulled it up and there was no blood. No blood on the curtains, on the walls, ceiling. Now when you stab someone there's going to be a lot of blood. He was a healthy boy. Once when his foot was sliced by an ax, blood spurted everywhere. Why wasn't there blood spatter?"
Undersheriff Travis Palmer of the Pottawatomie Sheriff's Office said the photos he has seen did not prove or disprove the murder took place somewhere else, but he added it "isn't something OSBI would miss."
Police conducted ground searches and kept thorough records on the case, according to Palmer.
"We really don't know whether she was involved [in the homicide] from the beginning… Or if she was kidnapped after the homicide and possibly been killed," Palmer told "Dateline."
"We're still trying to make sense of what happened," he said.
Strange Incidents
In the days that followed, Marge Jones asked Paul and Melody's nearby neighbors if they heard or saw anything on the night of May 4th. "They said they heard yelling and screaming and doors slamming. Car doors slamming and screeching to a halt," she said.
Unfortunately, the neighbors didn't want to get involved and claimed they were scared to talk to authorities.
Marge Jones soon wondered about the odd things Melody said to her while working together as housekeepers at a Shawnee hotel. "Melody was always watching soap operas and had to have them on in every room. She says to me, 'I could get away with murder.' I told her, 'What, you're taking these shows too serious.' She told me she could get a new social security card and driver's license for $50 on the street," she said.
Marge eventually stopped taking information to the police because of threatening phone calls. Apparently, she was asking too many questions. One call included a death threat. Marge never learned the identity of the caller but said it was a man's voice.
Murder Weapon
Law enforcement never recovered the murder weapon.  In June of 1983, the Jones family went through furnishings and other household items in Paul and Melody's home. The family found a pair of scissors in a drawer and immediately turned it over to the Oklahoma State Bureau of Investigation (OSBI) to be processed. The family believed the scissors matched the wound site found on Paul's body.
According to an OSBI document, an OSBI agent transported the scissors to the medical examiner's office to compare them to skin samples taken from Paul's body.
Conveniently,  the skin samples disappeared. The April 16, 1985 document reads: "On March 19, 1985, Special Agent Salmon transported the scissors to Nick Graham, Investigator's Office of the Chief Medical Examiner. On March 26, 1985, Graham contacted Special Agent Salmon regarding the tissues retained at the time of autopsy. The tissues have been misplaced, according to Graham."
It is unclear why it took investigators almost two years to transport the samples and how the samples were so easily displaced.
Motives
Through their investigation, authorities discovered at least one life insurance policy on Paul Jones, possibly two.
Marge said in 2015 that a life insurance policy went into effect less than a month before her son's murder. She had the policy. It is dated April 22, 1983, and Paul's signature is on the policy; however, Melody's name and signature are not on the document.
According to the policy, the surviving spouse was the primary beneficiary and would collect the payout.  However, if no surviving spouse existed, the funds would go into an estate.
According to the document, it is unknown if anyone ever collected on the policy, but no claim had been paid by April 1985, two years after it went into effect.
Court records show there may have been more than one policy. Paul's father, Jack Jones, petitioned the court to act as administrator of his son's estate, and Judge Glenn Dale Carter granted the petition. Jack submitted a receipt dated February 11, 1983, to the court,  noted as "Insurance of American General Life, $960.78," a different policy than the one Marge showed Red Dirt Report, according to an article on their website.
Paul and Melody had some financial trouble. One of them closed an overdrawn checking account in February 1983 and opened another account at a different bank. A credit card statement dated 5/9/83 showed an overdrawn account with a prior cash advance of over $400.
Another possible motive, although the Jones family disputes it, is drug use. Rumors abound that the couple smoked marijuana, but Marge Jones said her son did not. While the medical examiner report showed no signs of alcohol in Paul's system, it does not say whether the ME tested for drugs.
Sightings of Melody Ann Jones
Several witnesses reported sightings of Melody Ann Jones after her husband's murder.  Marge Jones claimed she had seen Melody driving on the same road where the couple lived.
"I saw her," said Mrs. Jones, who said she passed Melody. "It was her. A neighbor also told me they saw her on the property, and there was a bus with Mexico plates on it," said Mrs. Jones.
Someone reported a sighting of Melody in Port Lavaca, Texas, where Marge said the family had a cabin. "A woman said she gave her a ride to Cutler, Texas," she said.
There was also a reported sighting in Oklahoma City.
Possible Link, New Clue and Tips Sought
On April 9, 1983, 18-year-old Patricia Ann Hamilton disappeared while working a night shift at a Seminole convenience store. The cash register had a "no sale" transaction at 4:35 a.m., and $114 was taken from the register. Peggy remained missing for eight years until her remains were found in 1991 in nearby Konawa, OK. Her murder is unsolved.
While police believe it's possible Peggy's case is related to the Jones', no evidence supports a connection.
In 2015, someone found a ruby ring on the property of Paul and Melody Jones' former home. Melody Ann Jones had worn a ring with rubies in it before her disappearance. Investigators searched the property for more evidence but came up empty. The house the couple lived in burned to the ground in a 2014 grass fire.
In February 2019, the police announced they would print details of Paul's murder and Melody's disappearance on decks of playing cards provided to prison inmates. They hoped an inmate would be able to offer information after seeing the details on the cards. They also announced they had DNA from family members on file through NamUs (National Missing and Unidentified Persons System).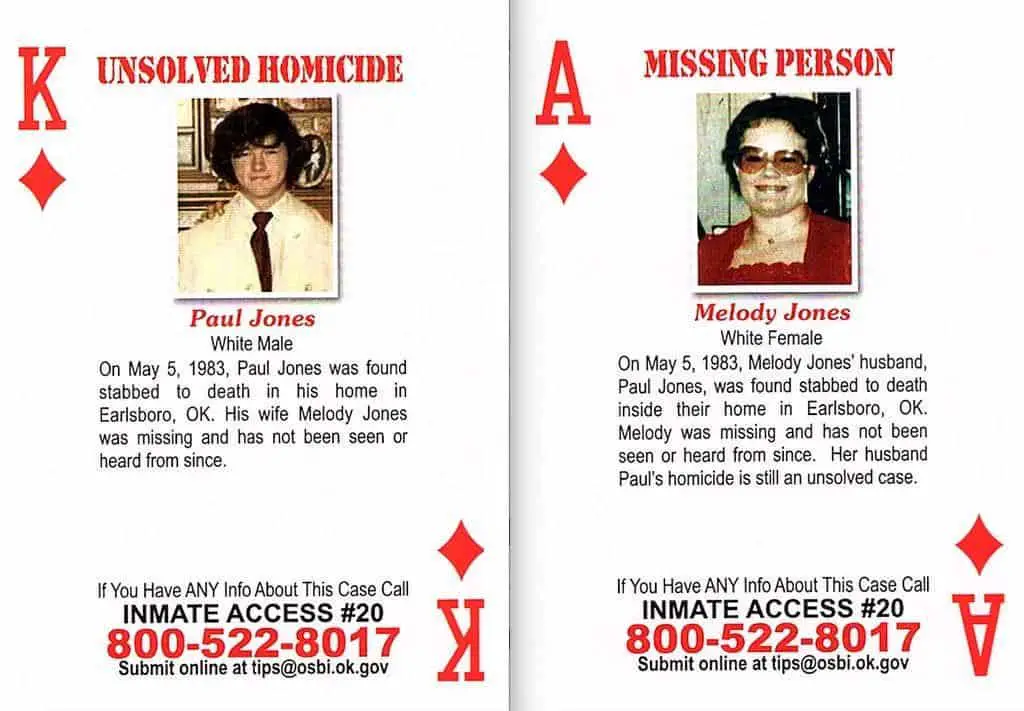 Melody Ann Jones would be in her 50s today. She is 4'11 with light brown hair and hazel eyes. If you have any information, please contact the Pottawatomie County Sheriff's Office at (405) 275-2526.
True Crime Diva's Thoughts
Did Melody Ann Jones kill her husband Paul and then flee the area? Yes, it's definitely possible.  I'm not sure of the motive, but insurance money is always a good one. Additionally, the weird I-could-get-away-with-murder comments to her mother-in-law are bizarre, to say the least. There is also the matter of the $400 cash advance before May 4.
I'd like to know what time the neighbors heard the commotion coming from the Jones' home on the night of the murder and disappearance. Did Randall get into an argument with Melody or Paul? Did someone show up after Randall dropped Melody off? Was the commotion a heated argument between the couple? What were they screaming about?
Is Patty Hamilton's case related to the Jones'? Patty and Melody both worked in Seminole, and the two were around the same age, so they probably knew one another. Whoever killed Patty is probably a local.
How on earth did OSBI lose skin samples? Seriously? Did they test for blood on the scissors as well? Compare the tip of the scissors to the wound on Paul's body?
Did the murderer kill Paul somewhere else? Where? Estimated time of death?
I agree with Marge Jones. This was a stabbing. Blood would have been on the carpet, bed, and walls. Where was all the blood? That alone should tell authorities the murderer killed Paul elsewhere. To not even look at that as a possibility shows a lack of experience or desire to solve this case.
Sources: The Charley Project, NBC News and Red Dirt Report