This post may contain affiliate links. Please read our disclaimer for more information.
I meant to have this post and another one up yesterday but that didn't happen. I did manage to get this one done, and will be working on the next one shortly.
This post is longer that I wanted it to be, but I kept thinking of different things as I was writing it lol.
---
19-year-old Mabel Crumback disappeared from her Toronto, Ontario home in the early hours of May 28, 1950. She has never been found.
About the Case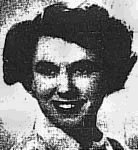 In 1950, Mabel Crumback resided with her parents and brothers at 661 Willard Avenue in Toronto, Ontario, Canada. Around 12:00 a.m. on May 28th, Mabel's boyfriend, Jim Bryan, dropped her off at home after the two went on a date.
Mabel walked into her home and disappeared, never to be seen again.
Mabel's parents, Sheldon and Helen, were at a wedding in Detroit, Michigan, and her younger brother, Bruce, was not home. Mabel's eight-year-old brother, Gary, was the only other person in the home when Mabel returned from her date.
In early reports, Gary said he awoke sometime during the night and heard thumping on the floor and then the cellar stairs. He went back to sleep without investigating the noises. In later reports, he said he heard males voices and what he described as a dogfight.
Neighbors reported hearing males voices and then a scream coming from the Crumback kitchen around 2:00 a.m. One neighbor reported seeing three strange men parked in a car in the neighborhood.
Mabel's parents came home later on the 28th and found both entrance doors unlocked and one open. This was unusual as Mabel would never have been so careless, according to her mother.
A search of Mabel's room revealed Mabel had taken a red and black plaid shirt, blue plaid skirt, and a pair of black suede shoes. Her pajama bottoms were folded neatly and placed under her pillow. Her pajama top was missing. Mabel's purse and pocketbook were still in her bedroom.
There were no signs of violence in the home.
There were several possible sightings of Mabel after her disappearance, but none have been confirmed. One involved a distressed young girl pleading for help to a tourist camp operator in Ancaster, Ontario on June 9. This young girl said she was being forced to go with the man she was with, but she did not want to go with him. The man was about 6 feet tall and had a noticeable hairlip (cleft lip). However, this young girl had bleached blonde hair; Mabel had black. Her clothing did not match what Mabel had taken with her when she vanished. The young girl also appeared to be drugged.
The tourist camp operator ignored the girl's pleas for help, only to learn afterwards of Mabel's disappearance. Ancaster is only about an hour's drive southwest of Toronto. It is possible this was Mabel and that her hair was dyed to conceal her identity.
Mabel's parents eventually moved out of their Willard Avenue home and settled in Guelph, Ontario, and then later Wellington, Ontario after their daughter disappeared. They are now deceased. It is unclear if her brothers are still alive. According to the Brantford Expositor in 2008, Mabel's brothers' families have spurned interview requests over the years, saying they just want to forget her.
True Crime Diva's Thoughts
Whoever took Mabel was known to her. There were no signs of violence in the home. This means there was not a struggle or traces of blood. This leads me to believe she might have willingly let someone into the home or they were already there. This person or persons also knew her parents would not be home until later on the 28th.
Maybe it was her boyfriend, which is too obvious, I know.  But he was the last known person to see her. He dropped her off at midnight. The neighbors heard male voices two hours later coming from inside the home. Mabel did not have many male friends, according to an early report. Is it just a coincidence that Mabel disappears soon after Jim drops her off? Maybe they got into a fight that night.
Mabel's abductor did not take or harm Gary. He either didn't know Gary was in the house, or he did know but did not want to harm or take him. I think it's the latter. I think the person knew Gary was there but had no interest in him, because Mabel was the target.
Early reports stated that a neighbor walked by and heard loud talking but thought Mabel was being reprimanded by her parents. If this is true, was it really her parents? Did they really go to a wedding in Detroit? Why did the neighbor assume it was Mabel who was the one being reprimanded?
Now, Gary's version of what happened is confusing because it appears he gave two different ones. In one version, he heard thumping on the floor and on the cellar stairs. In the second version, he said he heard a dogfight and male voices. Doe Network reports that he heard the dog barking (I'm assuming the Crumback's dog) and Mabel's voice mixed in with male voices. So is this a THIRD version? The first two are completely different stories, although I do realize he was only eight years old, so his account may not be very reliable due to his age. It is unclear if he recognized any of the voices. I also think different versions could mean he might have been lying to cover up for someone he knew, like his parents or the boyfriend.
Mabel's pajama top was missing, but her pajama pants were found neatly folded under her pillow. This is odd. Why would she leave the pants and take the top? Why would she have folded the pants? Either she did it before she vanished, which I think is unlikely, or someone else did, and if that's the case, then it has a female written all over it. A stranger, especially a male, isn't going to care about folding any clothes.
Her purse and pocketbook was in her room, and we all know that a girl never leaves them behind. I do find it odd that she or someone else took a set of her clothes with her. Again, if a stranger abducted her, he wouldn't care about that shit. He would have just grabbed her and left.
Now, let's talk about the alleged sighting of Mabel I mention above. I don't think this was her. This occurred almost two weeks after she went missing. If she were alive at that point, I think there would have been more sightings in between. What was the point of keeping her alive this long? Oh, and kudos to the tourist camp operator who ignored the young girl's please for help. What a POS. How anyone could do that is beyond me.
I just don't think this was a random abduction. If it was, the person would have taken a big chance that nobody else was in the home. I think Mabel knew the person who took her and most likely, killed her. Probably what bothers me the most are Gary's versions of what he heard that night.
The other thing that bothers me? Her brothers' families just want to forget her. WTF is that about? Why and how could you do that? You're either incredibly insensitive and an asshole, or this case was closer to home. I think it's the latter, whether it be her parents, another relative, or the boyfriend. Families of missing people NEVER want to forget them. Ever. That speaks volumes, in my opinion.
Similar Posts:
(Visited 1,175 times, 1 visits today)