This post may contain affiliate links. Please read our disclaimer for more information.
Well, I believe it is. I saw this on 48 Hours a few months ago and it just pissed me off. So, yep, it made it on my blog.
---
Shortly after 6 p.m. on March 16, 2008, Officer Scott McGowan arrived at the Santa Monica, California home of 21-year-old aspiring model and actress, Juliana Redding, for a welfare check after her mother in Arizona could not reach her after several attempts by phone.
McGowan's knocking and shouting went unanswered. He noticed a small amount of blood on the sidewalk and was overwhelmed by the smell of gas coming from inside. He quickly established there was no forced entry or any broken windows. Because of the smell of gas, he called the fire department and with the help of another officer trained in picking locks, they managed to get in the apartment.
Once inside, the cops noticed a candle burning on the coffee table. As they entered the kitchen, one of the burners on the stove was turned all the way up with the pilot light off. They quickly realized this was a bomb waiting to go off and a fast way to get rid of evidence.
From the kitchen, McGowan could clearly see Juliana lying dead on the bed in her bedroom.
Investigation
Police began investigating the crime scene right away and quickly established there was no forced entry or any broken windows, which meant Juliana knew her attacker and willingly let him or her into her apartment. The police believe the killer entered the apartment around 10 p.m. on March 15th.
A neighbor had reported hearing screams and furniture moved around 9:53 p.m.
Crime scene investigators were able to collect a large amount of DNA at the crime scene. Blood was found on Juliana's skin and clothes, cellphone, the stove knob and a drop of blood was on a plate.
Police later checked Juliana's cell phone and saw that she called 911 but the call was terminated before it could go through.
Overall, the crime scene looked like a hasty attempt by the killer to clean up the blood. A bottle of household cleaner and a scrub brush were found on the kitchen counter.
A forensic pathologist who performed the autopsy on Juliana recounted the contusions and cuts that covered her body. Burst capillaries in her eyes, he said, indicated that the killer had clenched Juliana's throat so tightly that the flow of blood was stopped. Bones in her neck had been crushed and scratches under her chin, he said, came from Juliana's own fingernails as she fought desperately to break her attacker's grip (Los Angeles Times).
Police began interviewing Juliana's friends and family to determine who might want to hurt her.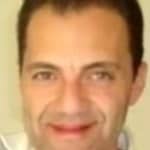 At one time, Juliana was romantically involved with her boss, Dr. Munir Uwaydah, a business partner of her father, Greg Redding. According to the Daily Mail, Greg Redding had agreed to go into business with Dr Uwaydah, managing a pharmacy and helping to develop products for a medical manufacturing company the Lebanese American businessman had founded.
In October 2007, Greg learned that Uwaydah was married and had children. He then advised his daughter to end her relationship with the physician. Five days before Juliana's murder, Greg pulled out of the business venture after growing suspicious of Uwaydah.
As the investigation continued, detectives learned that Uwaydha hired Kelly Soo Park, a 47-year-old real estate broker,  to intimidate people
who wronged him. Greg Redding once referred to her as Uwaydah's James Bond. Park was tall and ballsy and wasn't afraid to get in a person's face. She was his "muscle".
The DNA tested came back and  belonged to a female. Police followed Park and picked up one of her cigarette butts. Her DNA matched the DNA found at the crime scene.
Arrest and Trial
On March 17, 2010, Park was arrested for Juliana's murder. She pleaded not guilty and was given a $3.5 million bail. Two days after Park's arrest, Uwaydah fled the country. It is believed he went to Beirut and remains there today.
Prosecutors believed Park was hired by Uwaydah to intimidate and scare the daughter of Greg Redding as payback for Greg backing out of their business deal, but the intimidation process went terribly wrong and Park killed Juliana.
However, for some screwed up reason, the jury never hears this.
The case finally went to trial in May 2013. The prosecution opened with the DNA evidence, believing this was a slam-dunk conviction due to the overwhelming amount found at the crime scene and the fact that it matched Park's DNA. The defense never tried proving it wasn't Park's DNA. Instead, the defense argued that the DNA evidence found and tested did not prove Park killed Juliana because the DNA could have been transferred. According to 48 Hours,  the real killer could have cleaned up the crime scene, expunged it of all DNA, then inadvertently planted Kelly Soo Park's DNA by using a towel that Kelly may have used once five months earlier at Dr. Uwaydah's Beverly Hills house — a place Park had visited and Juliana had once lived.
And the jury bought it.
Despite overwhelming DNA evidence and matching that DNA to Park, Park was acquitted of the murder of Juliana Redding.
The two people who were responsible for Juliana's brutal murder walk free.
And that, my friends, is what injustice is.
Similar Posts:
(Visited 11,767 times, 1 visits today)