Haileigh Eichhorn was born on September 9, 1986 in Jacksonville, Illinois to Brian and Penni Brown Eichhorn and has a brother named Brian.
She grew up in Atlanta, Illinois and attended Olympia schools. At age 13, she started using drugs.
Haileigh loved spending time with her family and her dog, Lily. She enjoyed going to World of Outlaw Sprint Cup races, particularly watching Steve Kinser.
Haileigh had a hard life. She was caught shoplifting makeup and soap from Kroger. A week later, police found her huffing compressed air in a bathroom at Walmart, and nine days later, she was spotted huffing again outside a funeral home.
Haileigh Eichhorn told police she was homeless, had no money, and her life sucked.
Then one day, she vanished.
Haileigh Eichhorn, 26, was last seen in Bloomington, IL on Sunday, April 28, 2013 and reported missing May 1, 2013, although some reports say April 28th.
On May 7, 2013, police received a 911 call around 8pm from a farmer who said he found a body near a creek about a mile northwest of Stanford, Illinois and about 1/4 mile north of the intersection of McLean County Roads 150 East and 1100 North. The farmer was working in a field at the time.
Police believe Haileigh had been in the field for some time, but was killed at another location. No vehicle or items belonging to Haileigh were at the scene.
An autopsy report released by then -McLean County Coroner, Beth Zimmerman showed Haileigh died as a result of a fatal assault. No further information has ever been released to the public, although police told her mother, Penni that Haileigh was raped and strangled.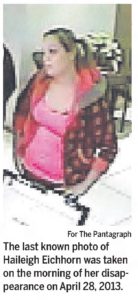 Several months after Haileigh's body was found, authorities released a still shot from a video security camera taken on the morning she disappeared. In the picture, Haileigh was wearing a pink shirt with a dark-colored, patterned and hooded jacket.
Authorities have never said where the picture was taken or the exact time, stating only that it was taken on the morning of April 28th.
In the years following Haileigh Eichhorn's murder, law enforcement officials have made public appeals for information leading to an arrest, but no one has ever come forward.
Some believe Haileigh's murder is related to the death of a man whose body was found on the same day Haileigh disappeared. Family members say Haileigh and the man knew one another, but police say there's no connection.
True Crime Diva's Thoughts
The murder of Haileigh Eichhorn happened about 2 hours from where I live. Not a lot of info on it considering it is a newer case, so I felt it needed exposure.
Why are police so hush-hush? I get it, they don't want to jeopardize the investigation and eventual arrest (hopefully). But it's been 6 years. You want the public's help, give us more info.
Here's what I don't understand. If Haileigh was raped and strangled, why did the coroner say she died from a fatal assault? When I hear that, I assume she was beaten to death. But Penni said police told her Haileigh was raped and strangled. Something doesn't feel right about her case.
She was last seen on April 28th, but WHERE and with WHO? By who?
I want to know where the surveillance pic was taken and the exact time. There appears to be someone standing next to her. Was she with someone? I can't make out where she is. It's not a convenience store or gas station.
What was Haileigh doing on the day of her murder? In the days preceding her murder? Who did she talk to? Did police interview friends, former and current boyfriends, coworkers, etc?
Was she seeing anyone at the time? Was she in the wrong place at the wrong time?
I really hope there is justice for Haileigh Eichhorn one day.
Sources
Barlow, Kevin. "Cops Look For Leads in Deaths." The Pantagraph. June 28, 2013.
Denham, Ryan. "Six Years Later, Families Seek Closure in B-N Deaths." WGLT. August 2, 2019. https://www.wglt.org/post/six-years-later-families-seek-closure-b-n-deaths#stream/0
"'Fatal Assault' Killed Woman." The Pantagraph. May 9, 2013.
"Info Sought in Death of Area Woman." The Pantagraph. May 11, 2013.
"Police Seek Clues, Release Last Photo of Woman Found Dead in Spring." The Pantagraph. December 5, 2013.