UPDATE; MAY 3, 2019: Police arrested Brian Scott Madding, 42, of Oroville for the murder of Greta Putnam. He was booked into Butte County Jail on murder charges and is being held on $1,000,000. 
---
In November 2018, someone brutally murdered Greta Putnam, 86,  in her home on the same day California's deadliest wildfire, Camp Fire started.
Oroville, California
Oroville is situated on the banks of the Feather River where it flows out of the Sierra Nevada onto the flat floor of the California Central Valley. It was established as the head of navigation on the Feather River to supply gold miners during the California Gold Rush.  Gold found at Bidwell Bar, one of the first gold mining sites in California, brought thousands of prospectors to the Oroville area seeking riches. Now under the enormous Lake Oroville, Bidwell Bar is memorialized by the Bidwell Bar Bridge, an original remnant from the area and the first suspension bridge in California (California Historical Landmark #314). (Cityoforoville.org, 2019).
The small town is about 68 miles north of Sacramento, houses approximately 20,000 residents, and is the county seat of Butte County. On November 8, 2018, two separate devastatingly tragic events took place here, one dominating the headlines and the other barely known to anyone outside Oroville.
Camp Fire Tragedy
On November 8, 2018, California's deadliest, most destructive wildfire in history started in Butte County. It lasted 27 days. The horrific fire burned through 153,000 acres, 14,000 residences, 528 businesses, and 4,293 other buildings along it's fiery path. The wildfire killed 86 people. Thousands of people were left without homes and placed in shelters and hotels. Some even camped out in frigid temperatures. By the time the fire was contained on November 25th, almost 300 people were unaccounted for.
Although the California Department of Forestry and Fire Protection has not yet determined the cause of the Camp Fire, officials have focused their investigation on electrical equipment operated by Pacific Gas & Electric Co. in a rural area near the tiny town of Pulga. If found liable, PG&E could face criminal charges according to state prosecutors, as it did in the 2010 rupture of a natural gas pipeline in San Bruno (San Francisco Chronicle, 2019).
The wildfire dominated headlines locally and nationally. So, when a vicious crime took place the same day the fire started, very few people knew about it. Local authorities had limited resources to investigate due to the massive fire.
The Murder of Greta Putnam
Around 9:00 a.m. on November 8, 2018,  Oroville police officers went to a home at the Cottonwood Estates mobile home park off Fifth Avenue for a report of an unresponsive person. Inside, they found the body of 86-year-old Greta Putnam. It was immediately clear to the responding officers that someone brutally murdered the elderly woman. Police have released very little information to the press.
Greta's relatives have said publicly that she was stabbed multiple times and her throat was slashed. There was no forced entry or items stolen.
Authorities sent DNA evidence to a lab for analysis. Police have not established a motive yet.
Two days before her murder, Greta's 21-year-old great-grandson, Dominic Potts vanished without a trace and has not been seen since.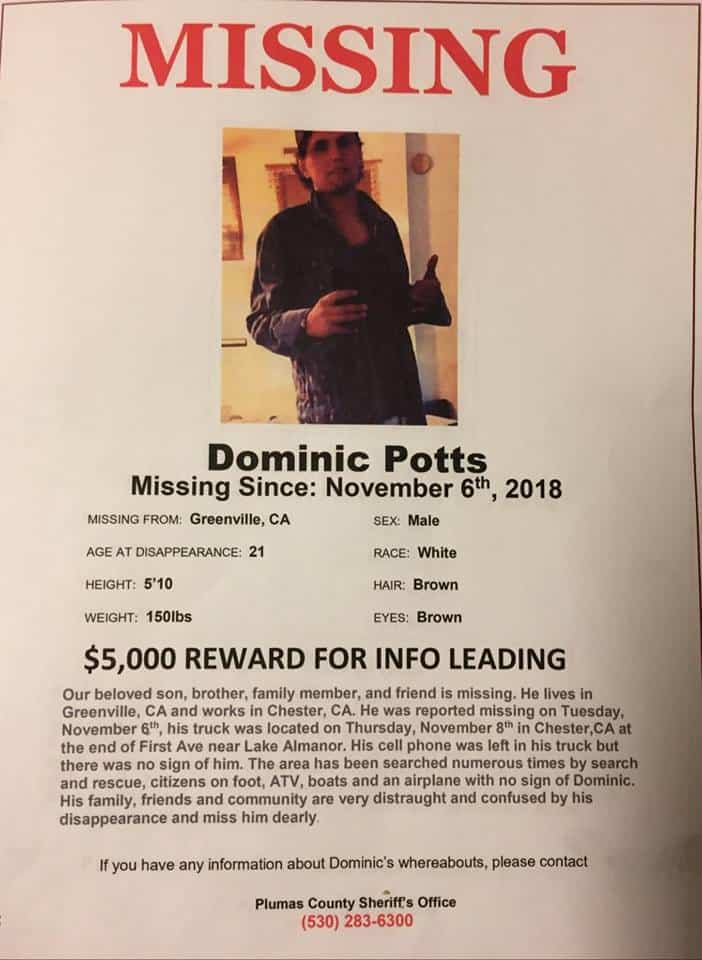 Like his grandmother's case, there is very little attention and information on Dominic's case. Family members do not believe the two cases are related.
The family held a memorial service for Greta on February 9, 2019. A Facebook page has been set up for Dominic. A GoFund Me fundraiser was set up by the family to raise reward money.
Anyone with information, please contact Oroville Police at (530) 538-2448.
True Crime Diva's Thoughts
Not much to say on this because of lack of information, but I wrote about it because someone suggested it on Twitter. If I had not seen it on Twitter, I would never have known about it, and that is just incredibly sad. This was a horrific crime that deserves all the attention we can give it, so please share.
********************************************
It's hard for me not to think the two cases are related.  Dominic disappeared without a trace, and two days later his great-grandmother is murdered.  It could be just one bizarre coincidence but is it?
Did Dominic kill Greta?
Well, I'm not 100% convinced either way.  I need to know more about Dominic's background. Was he into drugs? Did he owe people money? Was he trying to borrow money from Greta and she refused? Did he have any bank accounts, and if so, have they been accessed since November 6, 2018? Maybe whoever killed Greta did it as payback for something Dominic did or didn't do.
The longer Dominic remains missing, the less I believe of his guilt in Greta's murder. You'd think if he was just running from police, they would have found him by now. He could very well be a victim of foul play.
No money was stolen from Greta's home, so motive wasn't robbery. I found nothing about whether or not Greta was sexually assaulted, so I'm assuming she wasn't. Therefore, that probably wasn't motive. What was then? Who benefited the most from Greta's death? Did she have an insurance policy? There has to be a reason. Who would kill an elderly woman so brutally? I can't wrap my head around that. You have to be one cold SOB to do this.
Greta knew her killer because she let them into her home or maybe she was just that type of person – didn't know a stranger. But, I think she knew him or her. Was there anyone she knew who was acting odd after the murder?
When was time of death? Who last saw her alive? Who called police?  So many questions with few answers.
The brutality of the crime suggests a very pissed off killer, but what on earth could Greta have done to anger someone to the point of murder? This case both saddens and angers me. I want justice for this beautiful woman and her family.
Sources for this post:
 (2019). History | City of Oroville, CA. [online] Available at: http://www.cityoforoville.org/about-us/history.
A photograph of Greta Putnam with her grandson, Ron Rhodes, from Fox 40. (2019). [image] Available at: https://fox40.com/2019/01/28/investigators-still-searching-for-person-who-brutally-murdered-oroville-grandmother/ [Accessed 7 Mar. 2019].
CNN (2019). The Camp Fire burns November 10 in the hills near Big Bend. [image] Available at: https://www.cnn.com/2018/11/12/us/california-wildfires-woolsey-camp-hill-missing/index.html [Accessed 7 Mar. 2019].
Lin, S. (2019). Police Investigate Murder of 86-year-old Oroville Woman. [online] KHSL News. Available at: https://www.actionnewsnow.com/content/news/Police-Investigate-Murder-of-86-year-old-Oroville-Woman-502125322.html [Accessed 7 Mar. 2019].
Oroville photograph. By Podruznik at English Wikipedia – Transferred from en.wikipedia to Commons by Pauk using CommonsHelper., Public Domain, https://commons.wikimedia.org/w/index.php?curid=10945979
San Francisco Chronicle (2019). Still no cause released for Camp Fire, California's most destructive blaze. [online] Available at: https://www.sfchronicle.com/california-wildfires/article/Still-no-cause-released-for-Camp-Fire-13559295.php [Accessed 7 Mar. 2019].