LONDON — Gareth Williams, 31, was a brilliant man a few days shy of completing a one-year secondment to the Secret Intelligence Service, MI6, headquarters in Vauxhall, London. In August 2010, Williams died inside a red duffel bag, padlocked from the outside. After a questionable investigation, authorities revealed a shocking finding — his death was a "tragic accident."
Williams grew up in Wales with his parents, Ian and Ellen Williams, and sister, Ceri Williams. It was evident from a young age that he was gifted. He attended primary school at Ysgol Gynradd Morswyn. At age 10, Williams was enrolled in secondary school, generally reserved for ages 11 to 15. By 13, he had scored straight A-s in math and computer science courses.
School officials determined Williams needed more, likely to keep him from getting bored with academics. They contacted Bangor University, which accepted Williams on a part-time basis with a math degree course.
Williams loved cycling and ventured into competitive cycling at 17. He also had a passion for online gaming and became unbeatable. At 18, Williams began his Ph.D. at the University of Manchester in England, where his dissertation concentrated on computer games.  
Officials from the Government Communications Headquarters (GCHQ) observed Williams's extraordinary gaming abilities online. They approached him with a job offer he could not refuse – codebreaker. Soon after, Williams, then 21, left college.
As part of Williams's job, he worked on mathematical problems alone and sometimes in small teams. He also analyzed, intercepted, and monitored emails and telephone calls worldwide.
Williams's dedicated his life to his work and excelled at GCHQ, which further put him around dangerous groups.
Blockquote The Guardian (WHo was Gareth Williams?) or rewrite – part has been slightly rewritten by Grammarly.
His job exposed Williams to U.S. intelligence, Islamic radicals, and Middle Eastern and Russian agents. A foreign intelligence analyst in the U.K. described how the government deployed technology and software honed by GCHQ in tracking a Moscow-backed sleeper cell to which Britain had been alerted as early as 2003. The case blew up in June 2010 when ten people were arrested in the U.S. and accused of being part of an espionage ring. One of them, a glamorous 28-year-old Anna Chapman, had lived for five years in the U.K. According to the former GCHQ contractor, 'Williams had been obsessed by the case, its methodology, and characters.'

Cathy Scott-Clark and Adrian Levy, The Guardian
Williams then began his secondment to MI6 and became a spy. However, GCHQ summoned him for a new cybercrime project, which he was set to begin on Sept. 3, 2010.
In August 2010, Williams, 31, researched British vulnerability to foreign gangs, specifically Chinese, Russian, and Turkish groups. According to a former cyber crimes specialist who knew Williams, "he was already on top of it," The Guardian reported.
Williams had traveled to the U.S. for his job and returned home on Aug. 11, 2010. He lived in an apartment on the top floor of a Georgian townhome at 36 Alderney Street, Pimlico, London. It reportedly served as a safe house for MI6 near the agency's headquarters.
That day, Ceri Williams Subbe spoke to her brother upon his return from the U.S. Nothing seemed out of the ordinary. Williams said he would "tidy things up" before returning to GCHQ.
Subbe called her brother a week later, but he never answered. She called several times after, and he never picked up. Worried and knowing this was unlike her brother, she called the Metropolitan Police.
PC John Gallagher arrived at Williams's apartment at 5 p.m. (2010 reports say 6:30 p.m.) on Aug. 23, 2010. Gallagher was accompanied by a lettings (leasing) agent who let him into the building. The agent waited downstairs while Gallagher entered the apartment.
Gallagher noticed several things right away. There was no sign of a forced entry or struggle. The apartment was clean, and there were two iPhones, two sim cards, and an Apple laptop on a table.
He also saw makeup, an orange and yellow wig, and a newspaper clipping from the Observer on the top five regrets of dying.
Gallagher saw women's clothing, later valued at £20,000, in the apartment that appeared unworn and 26 pairs of designer shoes. Receipts showed Williams had collected the clothing since 2008.
But the worst discovery lay in the bathroom off the main bedroom. In the bathtub, Gallagher found a closed red North Face duffel bag with red liquid, presumably blood, seeping from it.
"I noticed a bulge," Gallagher later said, describing the bag as having the two zippers padlocked together. He raised the bag about six or seven inches and "noticed some red fluid. It was seeping out of the bag," he said.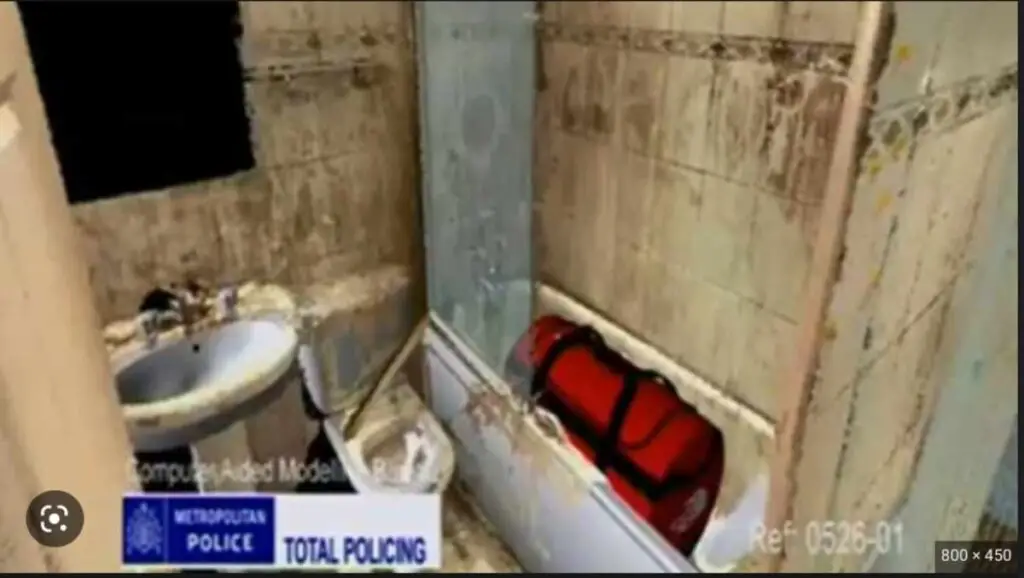 The bag's two zippers were locked together with a brass padlock from the outside. Gallagher called for backup. Some sources say he opened the bag, although it is unclear how he removed the closed padlock. Others say his superior opened it.
Inside was Williams's naked body. Gallagher initially thought Williams's "legs and arms had been cut off," but Williams was in a fetal position.
The media reported government agents, including MI5 and Scotland Yard, quickly flooded the apartment. Forensic scientists processed the horrific crime scene.
Even though it was August, the heat was turned on in the apartment, rapidly causing the body to be in an "advanced state of decay." There was no weapon, and it did not appear anything was missing from the residence. Police noticed someone had locked the front door from the outside.
Despite blood oozing from the bag, an autopsy failed to establish a cause of death. Williams was not shot, stabbed, or strangled. A detective said the blood could have been there when Williams went missing or could have been older. M'kay.
Toxicology test results show no traces of alcohol or drugs in Williams's system.
Immediately, investigators were hesitant to call Williams's death a homicide. You read that correctly, but wait; it gets better. Have a little patience; this case is a doozy. 
Instead, they focused on the 12 days from when Subbe last spoke with Williams to the discovery of his body. Investigators examined cell phone records and credit card transactions and viewed hours of CCTV footage.
Presumably, because of the women's clothing found, detectives investigated whether Williams was gay, despite his family saying he was not. Then quickly said his sexual orientation was "not central to the inquiry." 
They studied his internet and laptop activity and canvassed gay bars and clubs for witnesses. They found nothing suggesting Williams was gay. 
Williams's close childhood friend Sian Lloyd-Jones did not believe he was a transvestite. She said the female clothing was most likely gifts for her or Subbe. Lloyd-Jones also refuted reports that Williams was a loner, as the authorities portrayed him.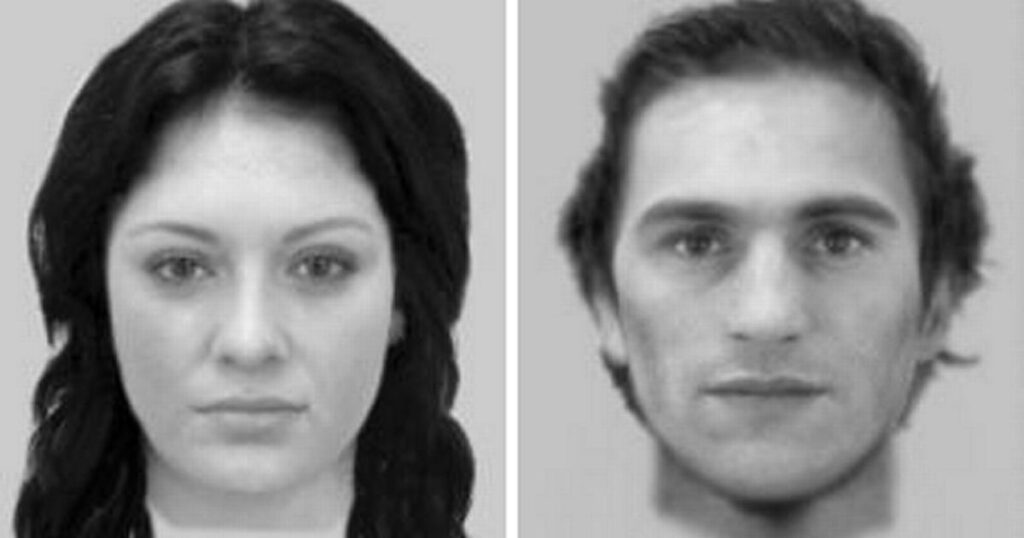 The investigation then led to a mystery couple seen visiting Williams's Alderney Street premises in the late evening sometime in June or July. They were buzzed in through the shared door to the house.
The couple was "of Mediterranean appearance" and in their 20s or 30s, but investigators never found them and nothing further was reported.
In September 2010, authorities released CCTV footage of Williams in London. 
On Aug. 14, 2010, CCTV cameras captured Williams, wearing a red T-shirt, beige trousers, and white athletic shoes, entering Holland Park underground Station at 3 p.m. The next day, he visited an ATM and Harrods department store on Brompton Road in Knightsbridge at 2 p.m. A half-hour later, he is seen outside Harrods walking via Hans Crescent towards Sloane Street, near the Dolce and Gabbana store, before vanishing into thin air. That was the last known sighting of Williams.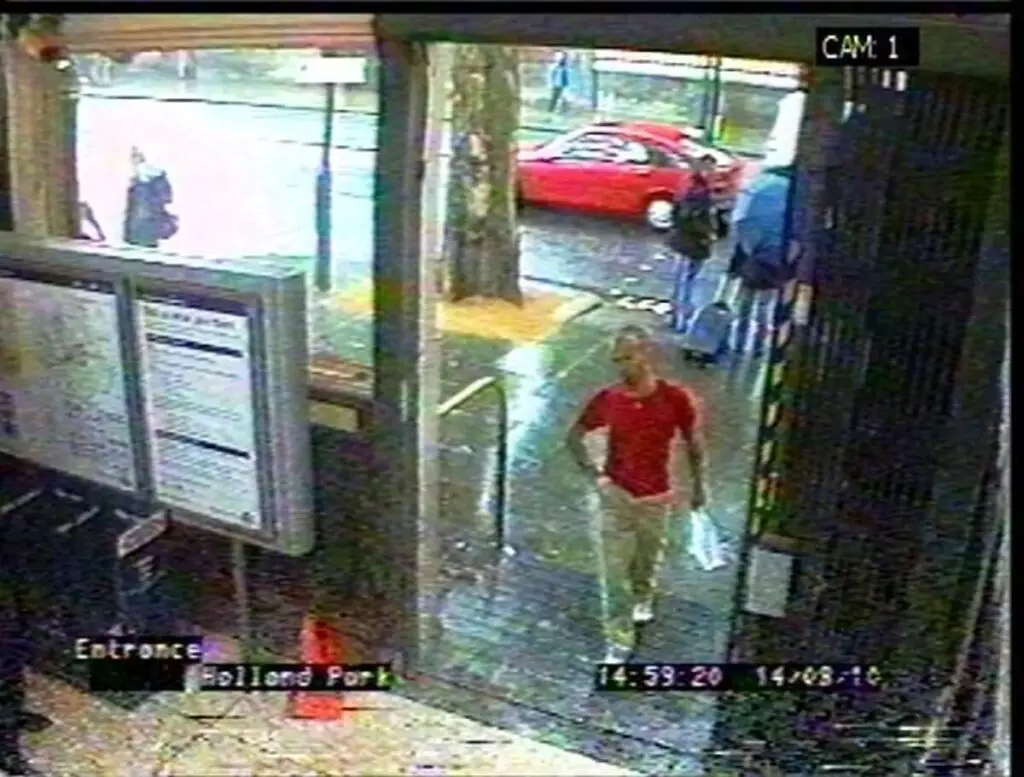 Staff at Valerie's Patisserie, a U.K. cafe chain, told investigators they had seen a man fitting Williams's description at their establishment. The man spent several hours in the cafe about a week before his disappearance on consecutive days. The man had visitors, and authorities believed he was "working" in west London, monitoring one of the foreign embassies in the area. He did the same thing on his trip to the U.S. before his last phone call to his sister.
A second round of toxicology tests proved inconclusive. Officials released Williams's body to his family, who buried him in North Wales.
At an inquest in April 2012, Westminster coroner Dr. Fiona Wilcox concluded that Williams was probably murdered. Williams was poisoned or suffocated before a third party locked his body in the duffel bag and locked it.
A lot of information was revealed at the inquest.
A female senior intelligence officer, known as "F," testified. She was Williams's boss, and her testimony caused the Williams family to leave the courtroom in disbelief and disgust, reports state. 
F hid behind a screen to protect her identity. She stated there was no evidence connecting Williams's death to his job. The agency had vetted him to work for GCHQ and MI6 and rated him "very low risk." No foreign intelligence agency knew Williams or the work he performed. There was no threat to Williams, and he was never a target. 
F said that Williams's work was based in the U.K. She dismissed reports that he had traveled to Afghanistan and Russia for his job.
The Williams family demanded further investigation into a cover-up by secret service officials. The agency did not seem concerned when Williams failed to show up at MI6, which did not sit well with the family.
F claimed "no knowledge" of a cover-up. She agreed that MI6 took "far too long" to raise the alarm and apologized on behalf of the agency.
She also dismissed claims that counter-terrorism police, secret service agents, or other agencies entered Williams's apartment before or after his body was found.
F also said Williams's job did not require him to wear women's clothing. Therefore, she could not explain why the clothing collection was in his apartment. She also said the secret service did not use the apartment as a safe house. 
Wow, talk about taking everything off MI6's shoulders. 
Detective Chief Inspector Jackie Sebire led the investigation and said Williams's face and body were "very calm." His arms were lying on his chest, and there were no injuries to his nails and fingers. Additionally, there were no "signs of stress or tearing" on the mesh inside the bag.
The inquest heard that two Yale keys to the padlock lay under Williams's right buttock, making it "incredibly difficult" to reach them amid the bag's restrictions.
Sebire testified that "at the heart of the investigation" was whether Williams could have locked himself inside the bag.
Sebire: "My thought or opinion was that a third party had been involved in the death, or getting the bag into the bath."
Josh Halliday writes, "At the coroner's inquest, two experts tried 400 times to lock themselves into the 32 in. x 19 in. bag without success, with one remarking that even Harry Houdini "would have struggled" to squeeze himself inside. A few days later, footage emerged of a retired army sergeant climbing into the bag and locking it from the inside." 
How convenient…note "army sergeant," aka a government dude. Ok, but the person who demonstrated could get himself out. I loudly call B.S. for the world to hear.
The Guardian reported that no fingerprints were found on the tiled bathroom wall indicating Williams had lowered himself into the bag or someone else had balanced to position the holdall. There was no evidence of bleach or other cleaners, which would have suggested someone had wiped everything clean.
Forensics found a small spot of Williams's dried blood on the carpet near the apartment stairs and two small shoeprints in the kitchen. However, the prints needed to be bigger to establish size.
"No stone has been unturned. I've tried to do everything I can to understand what happened," said Sebire. She admitted there was "limited scope" for further forensic findings.
Anthony O'Toole, the Williams family attorney, was at the inquest. He questioned why police thought it necessary to fit "a brand new front door and brand new alarm" to the apartment when there was no sign of forced entry. Sebire said forensics removed the original door for examination. Officials installed the new alarm due to concerns over the media and other people trying to "talk their way in."
Sebire also answered questions about the designer clothing found in Williams's apartment. She said they were "immaculate, folded, buttoned, with quite a few in tissue paper. They were very high value, so pristine, and obviously had been looked after well." When asked whether the clothing could fit Williams, she replied, "Possibly."
Police found other unworn wigs in a net packaging, concealer, eyeshadow, Jemma Kidd lipstick, Mac foundation, and nail polish.
There were clothes in Williams's bedroom — a pair of chinos and some T-shirts and underwear folded neatly on the bed. The bed quilt was crumpled and trailing on the floor, Sebire said. She felt that was odd, considering how clean the rest of the apartment appeared.
 "That was something that was not easily explainable," she said.
Forensics also found traces of Williams's semen near the bathroom sink and on the quilt.
The inquest saw more CCTV footage of Williams before his death.
CCTV footage showed him shopping at Selfridge's on Aug. 11, 2010, and at Harvey Nichols on Aug. 12th. He also stopped by his office on the 12th.
The next day, Williams visited a comedy club in Bethnal Green to watch The Johnny Woo Experience. On Aug. 14, 2010, CCTV showed him shopping at Fortnum & Mason.
The last CCTV footage of Williams is on Aug. 15, 2010, when he bought cakes at Harrods and peppered steaks at Waitrose. He then returned home shortly after 3 p.m.  
What else happened at the inquest? Something interesting.
The Guardian reported, "The inquest heard how an inputting error on taking forensic samples initially led police to believe that DNA from a third person had been found on Williams's body. It was only discovered in February that it was actually DNA from one of the forensic officers." 
Also convenient, eh? How? They wear all-white scrubs and gloves, plus cover their shoes, like medical staff in surgery. See my thoughts on this bullshit below.
Sebire said the mistake had been "both financially and emotionally costly." Officials had DNA-tested approximately 60 of Williams's colleagues and friends to see if they matched. Unfortunately, this gave the Williams family false hope authorities could identify a third party.
In November 2013, Detective Assistant Commissioner Martin Hewitt said Scotland Yard's three-year inquiry concluded Williams was "most probably" alone when he died and that his death was a tragic accident. 
Yes. Williams put himself inside the duffel bag and locked it with a padlock on the outside but could not free himself in a weird act of escapology.
I shit you not. They actually went there.
Detectives found no evidence of Williams's interest in escapology. The accident theory makes no sense after Scotland Yard's original inquiry did not find Williams's fingerprints on the bag's padlock or the bathtub rim. 
This case gives me a "tumah" (think Arnold Schwarzenegger, IYKYK). 
Of course, the rumor and theory mill overfloweth. 
Rumors suggest MI6 assassinated Williams or he died in a weird sex game involving suffocation, similar to David Carradine's death.
One theory suggests Russians killed Williams after failing to blackmail him into becoming a double agent, and another is straight out of "Mission Impossible." Yet, I am likelier to believe it or the Russian involvement because they would be far cooler.
One source claimed special footplates, which allow law enforcement officials and crime scene specialists to walk across the scene without contaminating evidence, appeared to have been moved on the first day of the investigation.
The Guardian reported, "Detectives suggested that someone had scaled the walls of the building and climbed in through the skylight to access evidence left behind." 
Nevertheless, the scaling-the-walls theory supports that he was murdered by secret service agents, which the Williams family backs.
Detectives renewed their investigation and performed a forensic sweep of Williams's apartment. Again.
As if they could have left anything behind from the first one. But wait.
This time, they discovered 10 to 15 unidentified traces of DNA, but none on the North Face bag or around the bathtub area. Police also did not find evidence that someone had wiped clean all DNA traces in Williams's apartment.  
So, why didn't they discover the traces of DNA the first time? Inquiring minds want to know.
In February 2021, per BBC, "The Sunday Times now reported a scientist believes DNA profiling advances meant it may now be possible to get fresh information from a single hair found at the flat where Williams was discovered dead, on August 23, 2010."
"There is an established review process for investigations whereby new information and/or forensic opportunities are considered. At this stage, no forensic review has been commissioned. However, the MPS is reviewing this new information and will assess whether there are any new investigative opportunities in this case."

Metropolitan Police spokesman.
A few months later, in June 2021, a police spokesman confirmed a re-examination of evidence was underway, and detectives were awaiting results.
Williams' family has supported Wilcox's conclusion that her verdict "accurately reflected the circumstances."
True Crime Diva's Thoughts
I became obsessed with this bizarre case and finally had to walk away from it to hit "publish." I've revised a million times so I apologize if nothing makes sense. 😀
The biggest bullshit with this case is the accident theory. I believe a person or group assassinated Gareth.
If Gareth had tried escapology, his fingerprints would have been all over the bag and the padlock. They were not. A drop of blood believed to belong to him was found on the bag, but that still doesn't prove he put himself inside it.
Police found the keys to the padlock under Gareth's body inside the bag. Why would he put the freaking keys underneath him if he attempted escapology? And if he had dropped them, they would not have landed under his right butt cheek.
As these brilliant experts claim, if he was alive going into the bag, how long did it take for him to die? No mention of this anywhere. However, we know Subbe spoke with him on the phone on Aug. 11. We have the alleged CCTV footage of him on the 12th through the 11th, and a week later, Subbe could not reach him.
So, say she called back on the 18th, but his body was not found until the 23rd. He might have been dead for at least 5 days.
If he had suffocated, why isn't that mentioned as a likely cause of death?
---
Speaking of the body. I even threw this at my husband. Do you notice anything strange in the picture below of officials carrying Williams's body out of his apartment on a gurney?
I do — two things.
First, Williams was in a fetal position inside the North Face bag. The body carried out is lying flat. Due to rigor mortis, wouldn't they have put the contorted body on the gurney as is and then straightened it out at their lab or wherever they examine bodies? Or have I watched too many episodes of "Silent Witness?" Is that even his body in the body bag?
Second, see the girl in the background. My husband and I think it looks like the female of the mystery couple. Who is this chick, and why are the authorities allowing her so close to a crime scene? It is also interesting that the press photographer did not crop her out. She's just standing there as if she doesn't have a care in the world. Why didn't they tell her to leave if she lived in the next-door flat?
Who was the mystery couple? Because I want this to play out like a kick-ass action movie, I NEED to believe they were spies or some shit like that. The couple was "of Mediterranean appearance." What does that even mean? Egyptian? Greek? Israeli? Italian? Lebanese?
---
Looking at the photo above of the outside of Gareth's apartment, you will see what appears to be some type of long camera. I'm guessing, I don't know if it is, but there are 4 devices on the outside wall of Gareth's apartment. One is located near the basement-type window. So, if they are cameras, MI6 wants us to believe it's NOT a safe house? No other homes have them! You can also see them on Google street view. They've been there since at least 2008 and are still on the premises as of August 2022.
---
So much info came out at the 2012 inquest, but I call B.S. on F's testimony. She would do anything to protect the organization; that's a given.
Williams might have uncovered something big that higher-ups or another organization wanted to keep hidden—something about MI6, for example. Or the Russian involvement theory might be the correct answer for 100, Alex.
I also call BS on the blood found at Gareth's apartment that belonged to a forensic scientist. First, as mentioned above, the forensic team, LE, etc., are covered from head to toe when they enter a crime scene. They wear basically a onesie with a hood to keep loose hair strands from escaping. They wear gloves and coverings over their shoes. There's no way in hell a drop of blood would escape. But the question remains: how did the person injure themselves?
---
Gallagher said "red liquid" was seeping from the North Face bag. Then in 2012, at the inquest, officials claimed they found only "two minor components of another contributor's DNA" on one cord toggle and a small blood stain in the fabric belonging to Williams."
THE BLOOD WAS OOZING FROM A BAG WITH A DEAD BODY.
I call this a cover-up murder because I genuinely believe it is. I'm not sure whether the secret services are responsible, but they want to cover up the murder of one of their own. Why?
It's possible the female clothing, shoes, and wig could have been planted by whoever killed him. Regarding the receipts, I don't know if they were cash or credit card receipts. Cash receipts prove anyone could have bought them. Investigators allegedly examined credit card transactions, so I think someone paid for the clothing with cash. I do not necessarily believe Gareth did.
Maybe he would dress as a woman for his work as a spy. Even though F denied this, she could have been lying. Sian Lloyd-Jones said that Williams told her he was working on his "new identity" for work. 
Interestingly, F also denied any secret service agents entering the apartment before and after the body was found. Yet, the media was at the scene and reported several.
---
I want to post this picture side-by-side that I found on BBC. Gareth looks thinner in the CCTV footage. I want to go as far as to say it's not him, but I don't want to venture into crazy. At least, not yet, anyway. 🤣 Who the hell am I fooling? I'm already there. 🥴 I asked my husband, of course, and he thought the picture on the right was of an older man, not Gareth. You can see the differences, but they could be from the camera and lighting. I don't know. 🤔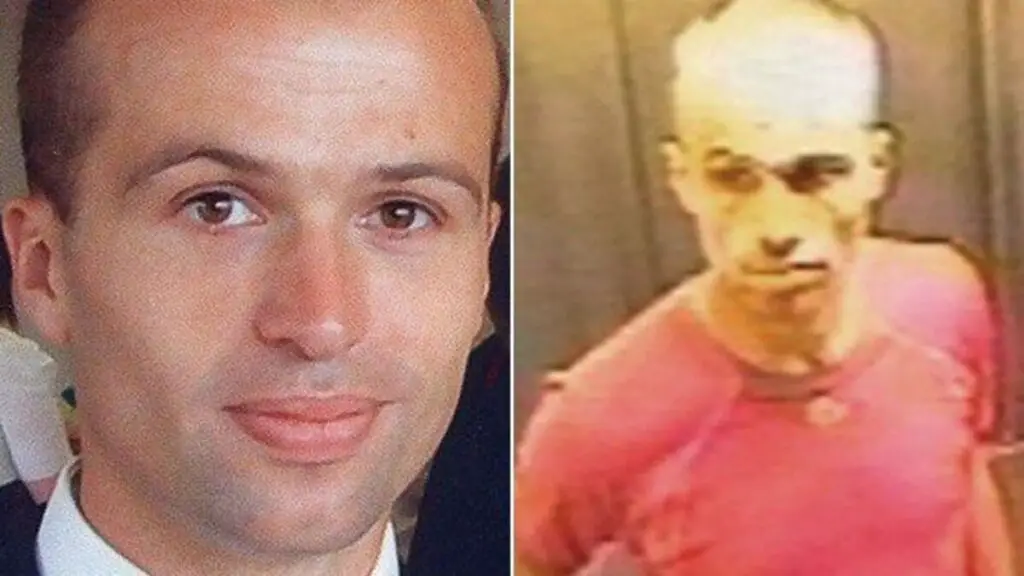 ---
What do you think happened to Gareth Williams?