LONDON — Emma Kelty, 43, loved traveling and craved adventure. Following her father's death in 2014, she sold her flat and resigned from her headmistress position at Knollmead Primary School in Surbiton to travel full-time.
Kelty was fearless and preferred journeys that challenged her and gave her an adrenaline rush.
She spent 54 days on a solo ski trip in Antarctica, finally arriving at the South Pole on Jan. 17, 2017, "the sixth woman to ski solo to the South Pole," Kelty wrote in a blog post.
Kelty had also hiked alone across the 2,650-mile Pacific Crest Trail in the U.S. The same trail Reese Witherspoon's character trekked in the 2014 film "Wild," based on the book "Wild: From Lost to Found on the Pacific Crest Trail" by Cheryl Strayed, who hiked more than 1,000 miles of the trail alone at the age of 26.
On Feb. 1, 2017, Kelty announced her next expedition — she would kayak the 4,000-mile-long Amazon River, starting her journey at Río Marañon in Peru, a more significant river tributary, and ending at the Atlantic Ocean. The Amazon River's length is the equivalent distance from New York City to Florence, Italy, or Galway, Ireland, to Moscow, Russia.
Kelty knew the risks she faced by kayaking the Amazon River solo and told BBC Surrey, "that's half the challenge."
"But it's about minimizing the risk," she continued. "I'm going to a self-defense course which is going to be tailored to de-arming people, so if I do come across that situation at least I'm prepared for it."
Kelty took the self-defense course at London's Russell Square in early March 2017 and began whitewater training. She spent a few weeks kayaking in Slovenia, preparing for her South America trip, and returning home to the U.K. a few days before leaving for Peru.
Kelty landed in Lima, Peru, on June 15, 2017, and detailed her trip on her blog, Instagram and Twitter. Within a few days of arrival, she began the 45-day trek to Río Marañon with her safety crew, including a guide and interpreter.
Kelty arrived at Sarameriza on July 29, 2017, and bid farewell to her crew. The following day, she began the next 3,000 miles of her journey alone.
Kelty ran into frightening situations that would have deterred most women from completing their journey. In two back-to-back tweets on Aug. 21, 2017, she told her Twitter followers how she had "paddled hard upstream" to reach "a wee beach on the opposite side of the river" to rest, "only to find a man waving a machete and ravens eating whatever he had killed. As I paddled hard away… I could hear his shouts."
In subsequent days, she became increasingly exhausted as strangers interrupted her sleep. "Getting more tired everyday," she tweeted on Aug. 23, 2017. "Let's hope I don't get 4 more guys 'returning to visit me after dark' tonight."
She stopped in São Paulo de Olivença overnight on Aug. 25, 2017, to rest. Kelty reported the following day, "2 guys in a boat parked up for 2 hours and I want to get out of wet clothes. And yes, I did try to engage .. but they were the silent type."
On Sept. 8, she had a run-in with a local lady "carrying a child and swinging a machete" as she approached Kelty as she set up her tent. Kelty waved at the woman. The gesture startled the stranger, and she ran off.
Kelty also battled high humidity, hot temperatures, and "tent-bending" storms." But there were times when things ran smoothly and peacefully.
Locals had warned Kelty of the dangers of kayaking alone near Coari, but she was determined to continue regardless. People who knew her later said nothing would have stopped her from going forward.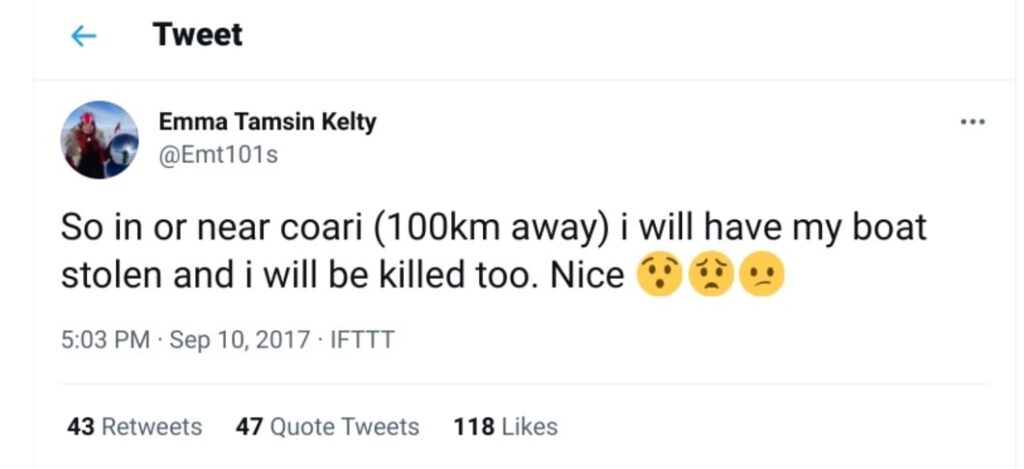 After she made it past Coari, she tweeted, "Am in the clear. All ok 😊 While Kelty safely passed the men, she was not out of danger's way.
Police believe Kelty pitched her tent on Boieiro Island in an area of the river often referred to as Solimoes River in Brazil's upper stretches of the Amazon. It is an area known for drug traffickers and river pirates, the same area the locals warned her against entering.
She posted her final tweets on Sept. 13 after setting up camp. Shortly after, Kelty disappeared.
Police and the Brazilian Navy searched for Kelty and discovered some of her belongings, including her kayak, but they never found her body.
Brazilian police ultimately arrested five young men (some reports say six men) connected with Kelty's disappearance in their teens and 20s, but they claimed three more were also involved.
They said the gunman, Evanilson Gomes da Costa, 24, shot Kelty twice. In a weird twist of fate or by karma's hand, he was killed by a rival gang on Sept. 20, 2017, before police could arrest him.
Evanilson Gomes da Costa and one of the arrested men, Artur Gomes da Silva, 28, were leaders of the "Water Pirates" or "Water Rats," a ruthless gang connected to drug trafficking, stolen merchandise, and murder.
Police records show that Evanilson and Artur approached Kelty's tent, and Evanilson shot her twice with a .20-gauge sawed-off shotgun.
Locals reported seeing Kelty still alive and conscious in the gang's boat.
Next, the gang sailed to the middle of the river and disposed of her body. The suspects told police they did not want her body to be found, so they cut her shoulder with a machete. Some reports state they also cut her throat. They wanted her blood to attract aquatic animals so the animals would feed on the remains.
Police never found Kelty's body.
The Telegraph and a few tabloids reported that Kelty was "tortured and raped as she died after being shot, villagers have claimed."
The gang said they had attempted to sell Kelty's two cell phones, a GoPro camera, and a tablet computer.
Daily Mail and The Sun reported last month that police arrested Gomes da Silva and that he had been "sentenced to 29 years and 11 months in prison for his role in the killing, convicted of corruption of minors, robbery-homicide, rape, and concealment of a corpse" before going on the run. He was on his way to take his daughter to the hospital when police arrested him, Daily Mail reported.
The tabloids also stated that only Gomes da Silva raped and killed Kelty.
I did not find this information on reputable sites and cannot guarantee the arrest and charges are accurate, but it is worth mentioning.
---
In 2010, British journalist Helen Skelton, then in her 20s, successfully kayaked more than 2,000 miles of the Amazon River. She completed her journey in about six weeks. However, she was not alone, and a support boat followed behind her for safety reasons.
Kelty has been criticized for traveling solo and not heeding the locals' warnings. Regardless, women often safely travel solo, even to dangerous locales.
According to a 2020 study by TheWanderingRV.com:
75% of women's trips in 2019 were for cultural, natural sightseeing, or adventure purposes.
86% of women would still travel alone, despite turbulent global events.
Googling "solo female travel" yields as many as 45 million results.
Women are more likely to travel solo than men, according to 73% of travel agents.
Compared to only five years ago, the rate of British females flying alone has increased by 54%.
The average age of a female traveler in the United Kingdom is 57.
15% of women traveled to adventurous destinations.
58% of solo female travelers feel safer using social media while traveling.
Among U.K. women who traveled, 3% frequently posted about their trip on social media.
Kate McCulley is an American solo travel blogger. She has created a full-time income documenting her traveling adventures on her blog and has built a massive following on social media. She has visited over 80 countries and seven continents.
Since 2010, McCully's primary goal has been to teach women how to travel solo safely. She believes a woman can travel to most destinations "by prioritizing her safety."
McCully wrote this in a blog post on safety tips: "You should research your destination thoroughly" and "well before your trip begins." She also mentions always being aware of your surroundings and staying in touch with family members. McCulley also writes, "the biggest part of traveling safely is using common sense."
Lonely Planet advises women traveling alone in Brazil that "the North and West, where there are lots of men but few local women, should be considered off-limits by lone female travelers."
Kelty was killed in the State of Amazonas in the northwest part of the country. She prepared well for her long trip by researching and consulting with professionals. But her strong desire to finish the journey far exceeded the dangers of the Amazon River.
I suggest "The Deadly Call of the Amazon" by Jeff Moag for a more detailed reading on Kelty.