This post may contain affiliate links. Please read our disclaimer for more information.
In 2012, Emma Fillipoff, 26, vanished from Victoria, British Columbia after behaving oddly in the downtown area. She has not been seen since.
About the Case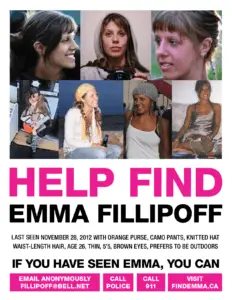 Emma Fillipoff moved to Victoria, BC from Perth, Ontario in the fall of 2011 and lived with a childhood friend and the friend's partner for a few months. Shortly after her arrival, Emma gained employment at Red Fish Blue Fish seasonal seafood restaurant in Victoria. She left the restaurant in October 2012 and assured coworkers she would return in the spring.
After moving out of her friend's home, Emma stayed at Hotel 760 and then later the Sandy Merriman House, a shelter for women, between February 2012 and November 2012.
By summer 2012, Emma was living a healthier lifestyle. She quit binge drinking and cut out coffee, sugar, and cigarettes. While known to smoke an occasional marijuana joint, she was never seen doing narcotics.
That summer, Emma also purchased a van to live and travel around the island in.
Everything seemed to be going well for Emma. Then on November 23rd, she called her mother, Shelley, in tears saying she wanted to go home. Shelley said she would make the travel arrangements for her.
For the next four days, Emma called her mother several times wanting to go home, and then would turn around and call her back, saying she was staying. At 4:30 a.m. on November 28, Emma once again called Shelley and told her not to come saying, "Don't come Mom, not today."
Concerned, Shelley flew out to Victoria later that day and arrived at Sandy Merriman Shelter at 11:00 p.m. When she got there, she learned Emma had not claimed her bed that night. Police were called and a missing persons report was filed.
Sightings/Odd Behavior
There were several sightings of Emma before, on, and after November 28th.
Before Disappearance
According to three friends in BC, Emma had been experiencing ongoing stress related to feeling harassed by someone she had a bad experience with years prior in Campbell River, BC, where she studied culinary arts in 2008/2009. She did not provide details nor did she reveal his identity to her friends and in her journal. A roommate recalls Emma expressing the need to avoid social situations where she had to interact with men: the main reason she chose not to stay in co-ed shelters. Those who knew her in Victoria say Emma seemed friendly, articulate, playful, clever and sociable; however, by early November of 2012, she had grown distant and friends noticed a dramatic change in her behaviour and personality. She refused invitations to go on adventures, cancelled a trip to Mexico with a friend at the last minute, and generally seemed frightened to go anywhere that wasn't the pier or the shelter (HelpFindEmmaFillipoff.com).
On November 20th, she was captured on surveillance camera at the YWCA. Emma is seen entering and exiting the building four times within a 14-minute period.
On Wednesday, November 21st, Emma arranged to have a tow truck driver pick up her van at Sandy Merriman and drive to Sooke, BC to tow her red Mazda MPV back to the 700 block of Burdett Ave in Victoria. She appeared to be in good spirits, according to the driver.
On November 25th, Emma's van was towed again due to parking enforcements on Burdette Avenue. Her van is taken to Chateau Victoria's parking lot.
Day of Disappearance
At 7:00 a.m. on the 28th, Emma arrived at Chateau Victoria where her van was parked. She became upset after seeing the notice on her vehicle and asked staff if she could keep the van there another night. They granted her request.
At 8:23 a.m., Emma was captured on video surveillance inside a nearby 7-Eleven convenience store at the corner of Douglas and Humboldt streets where she purchased a $200 prepaid credit card with her debit card. She is then seen peering out the store window as if she's looking or waiting for someone.
At 10:00 a.m., Julien Huard claimed he saw Emma while riding a city bus. She was standing on a sidewalk on Pandora Street. He disembarked the bus, ran an errand, and then went back to the area where he saw Emma from the bus. He said he approached her and asked if she needed help, to which she replied no.
At noon, Emma is seen near Our Place soup kitchen by a friend. She told the friend that she was not feeling well and could not talk.
An hour later, a witness saw Emma on Pandora Street, looking vacant-eyed. The witness reported the sighting after learning Emma was missing.
Emma was seen several more times in the afternoon.
At 5:45 p.m., Emma returned to the same 7-Eleven store she was at earlier in the day and purchased a prepaid cell phone using her debit card. And like before, she peered out the front doors as if waiting or looking for someone.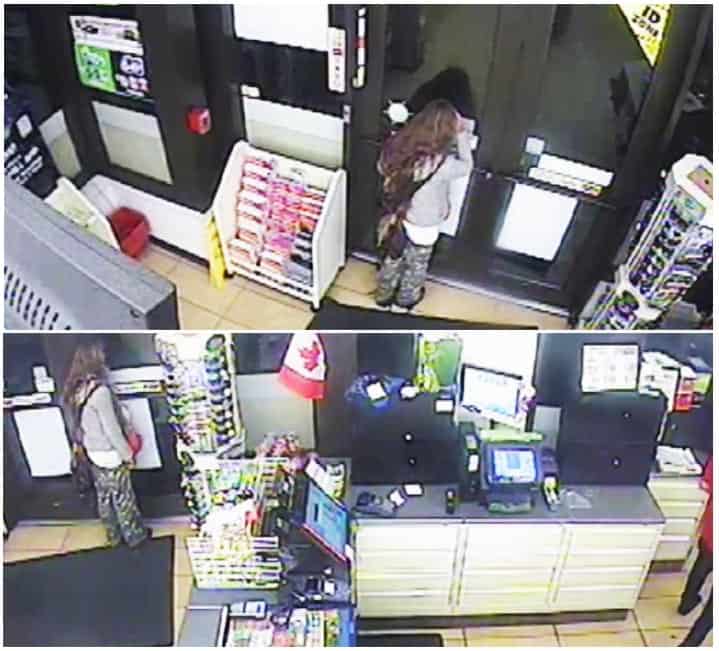 After leaving the store, Emma headed over to Sandy Merriman. A staff member told her that Shelley was on her way to Victoria, which made Emma nervous, according to the witnesses at the shelter. She ran off and a staff member ran after her, but lost her. It is unclear how staff knew Shelley was coming as she never informed the shelter of her arrival.
At 6:10 p.m. Emma called for a taxi to pick her up near Sandy Merriman. She told the driver to take her to the airport, but quickly changed her mind, claiming she did not have the $60 cab fare, even though she had over $2,000 in her bank account.
She then asks to be dropped off exactly where she was picked up. When they arrive, she asks if she can sit in his cab for a while. The driver observes her behaving strangely. She becomes anxious and paranoid when she hears the dispatch radio. She stares at it and asks, "Why is there noise coming out of that?" She pays the fare with her debit card and quickly exits the cab (HelpFindEmmaFillipoff.com).
At 6:15 p.m., an acquaintance of Emma's saw her standing barefoot on a corner. She looked disoriented, paranoid and appeared as if she could not cross the street. Dennis Quay approached Emma and asked her if she was looking for someone or if someone was following her. She did not say much, but kept looking all around her. Emma then asks Dennis to walk with her a bit, which he did. However, when he began asking her questions, Emma became uncomfortable and decided to walk by herself.
At 7:00 p.m. Dennis called the police, who located Emma at 7:17 p.m. They spoke with her for about 45 minutes before deciding that she was not a threat to herself or anyone else and let her walk away. This is the last confirmed sighting of Emma.
Interestingly, the identities of the two police officers who spoke with Emma have not been released. Shelley sent in a Freedom of Information (FOI) request in May 2015 but it was denied without reason.
After Disappearance
There were a few unconfirmed sightings after November 28th. One in particular occurred on December 2nd. The witness claimed he or she saw Emma at Inner Harbour in Victoria. She was acting strangely and told him or her to remember the name Emma Fillipoff, and told this person to repeat her name three times.
At 11:17 a.m. on December 5th, a man driving a white van attempted to use Emma's $200 prepaid credit card at a Petro-Canada station on Sooke Road. He told police he found the card along the roadside. After being questioned and polygraphed by police, he was cleared as a suspect.
Also on December 5th, Julian Huard became a person of interest in Emma's disappearance after sending odd Facebook messages to Shelley. One message said he would help Emma build a log cabin in the woods. He was cleared as a suspect after being questioned and polygraphed by police.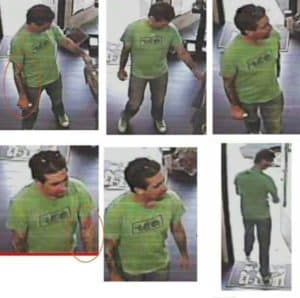 Fast forward to May 2014. A man walked into a clothing store in Gastown,B.C. with a crumpled missing persons flyer with Emma's information on it. He told an employee of the store that Emma was his girlfriend and was not missing. She just wanted to be left alone. The man was wearing a green T-shirt, jeans, had a tattoo sleeve on one arm, and walked with a limp, suggesting he may have a prosthetic leg. The surveillance video of this odd encounter was released to the public but no one came forward with this man's identity.
The Search for Emma Fillipoff
Volunteers, friends, and family of Emma searched Victoria and the communities of Vancouver Island for Emma. Several more unconfirmed sightings were discovered at this time, but nothing came from them.
The dive team from Victoria Police Department searched the waters near Inner Harbour, a place where Emma was seen, but found nothing.
Emma's family hired a private investigator to locate Emma. He worked on the case for year without any results.
Despite numerous media resources covering this case and all of the sightings of Emma, she remains missing.
Similar Case
On September 26 2001, eleven years before Emma vanished without a trace, 17-year-old Jesokah Adkens disappeared from Sooke, B.C. while waiting at a bus stop at the corner of Sooke and Idlemore Roads.
Jesokah and Emma are similar in appearance – slim, with long, blonde hair, and 5'5″ tall. Both disappeared in the fall at night. Even though Jesokah was only 17 and Emma 26, Emma looked younger than her age.
Not sure if these two are related, but it's worth mentioning.
True Crime Diva's Thoughts
This one intrigued me because of all the sightings of Emma and Emma's odd behavior prior to her disappearance.
I have to wonder if someone was following her the day she disappeared and the days before. She is caught on video at the YWCA and 7-Eleven looking out the doors several times, as if she's looking for someone. She entered and exited the YWCA four times in a 14-minute period.
What about any city CCTV footage of Emma walking around Victoria? I couldn't find anything about that. Surely, they have camera set up.
I find it odd that she bought a $200 prepaid credit card using her debit card. She had between $2,000 and $3,000 in her bank account. What did she need the prepaid card for?? She also bought a prepaid cell phone that was never activated. Why? Was she planning on leaving the area without telling anyone but then was abducted before she got the chance?
I really want to know who the guy is that she mentioned in her journal. I also would like to know about these friends Emma had.
I don't think Emma disappeared willingly. I think she was abducted and murdered. By who, I have no idea. The day of her disappearance she was walking all over the downtown Victoria area, so really, it could have been anyone. This case could be one of those in-the-wrong-place-at-the-wrong-time cases.
I'm a little suspicious of the guy who found her prepaid credit card and I want to know why he was cleared as a suspect. He went to use that at a gas station on Sooke Road, the same road Jesokah Adkens disappeared from in 2001. And if I'm correct, the gas station was just a few short miles from the bus stop Jesokah was at.  I'm not sure I buy his story about finding it along the roadside. He attempted to use the card exactly one week after Emma vanished.
Normally, I wouldn't question the officers letting Emma leave on her own. However, these two officers were the last known people to see Emma alive. Details of that conversation have not been released. Why is that?
Why are there NO OTHER sightings of Emma after 8:00 p.m. (after police let her go) on the 28th? The next sighting, which is unconfirmed, occurred the next day on the 29th. The only other unconfirmed sighting came on December 2nd, four days after Emma vanished.
And what the hell was up with that guy in the clothing store in 2014? He claimed she wasn't missing, that she was his girlfriend and she wanted to be left alone. If that were the case, surely we would have heard from Emma by now. I think he was just a delusional weirdo.
I do think it's possible that Emma's and Jesokah's cases are related. They disappeared within 40 miles from one another and they resembled each other. I don't think the long gap between matters because the person could have murdered women elsewhere during that time.
Similar Posts:
Copyright secured by Digiprove © 2017
(Visited 2,794 times, 1 visits today)