Between 12:00 a.m.. and 1:00 a.m. on September 20, 1999, 18-year-old Elaine Nix was chatting with her boyfriend, Billy Millwood, on a payphone outside Zack's Food Rack on Candler Highway in Gainesville, GA.  The young girl didn't have long distance service at home, so a couple times a week, she would use this payphone to chat with Billy.
Sometime after she hung up the phone, Elaine vanished.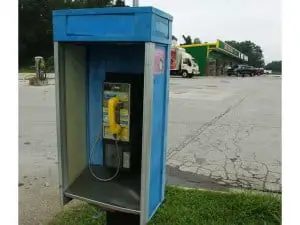 When Elaine failed to come home that night, her mother, Becky Nix, was worried, but didn't panic. Elaine sometimes stayed the night with friends.
An hour after the phone call with Elaine's boyfriend ended, a police officer observed Elaine's car parked near the payphone. The driver was nowhere to be found. The officer stated that the hood was still warm, the keys were in the ignition, and Elaine's purse and cigarettes were in the back seat. Instead of investigating further, the cop drove away.
The next day, Becky went to the gas station to look for her daughter. The Toyota was in the same place where the cop spotted it, and the keys, purse, and cigarettes were still inside the vehicle. Becky called police and a massive search began.
Surveillance video at Zack's showed only the front of the store. Sometime during Elaine's phone conversation with Billy, a dark-colored small pickup truck pulled into Zack's parking lot.
Nine days after she went missing, Elaine's body was found near an industrial park in Buford, GA, 17 miles from Gainesville. Someone cutting grass behind the park made the gruesome discovery. Elaine was naked, but still had on her jewelry. Her clothing has never been found. The medical examiner estimated her death to have occurred six to nine days after she vanished.
Because the body had been in the sun for so long, the medical examiner was unable to determine how she died. She was not shot or stabbed to death, nor were there any signs of strangulation. Her death was listed as undetermined, but manner of death was ruled homicide.
Zack's Food Rack and the body location sit near Interstate 985. Truckers would pull over and rest at Zack's and many employees of warehouses and factories in Buford lived in Gainesville. So the theory is either a trucker or factory worker abducted and killed Elaine. The identity of the killer remains unknown.
Some speculation was on the boyfriend, Billy. After all, he was the last known person to talk to Elaine. Phone records showed he was home during the conversation. Billy lived 30 miles away in Cleveland.
In 2005, David Nix, Elaine's father, spoke with Gainesville Times and said that a man told him he saw four unidentified men drag Elaine away from Zack's Food Rack. David refused to reveal this man's identity, but he did turn the information over to the authorities.
In 2010, according to the Gwinnett Daily Post, identical letters were sent to Gainesville women named Becky Nix and Jennifer Boyd. Eventually those women — unintentional recipients with popular names — got in contact with the correct people, the ones actually connected to the decade-old murder of an 18-year-old girl.
The letters were supposed to be a confession from a prominent local businessman.
The letters described what happened to Elaine that night. Three people had been at a trailer and later out drinking beer when they spotted a girl at a payphone. They approached her and offered the girl some money. She refused. The three individuals then grabbed her and drove around. It is unclear what happened after they grabbed her. The letter even stated where these people put some of the evidence.
Hall County Sheriff's Office claimed it was a hoax. What was written in the letter did not match with the facts of the case.
To this day, no arrest has been made in Elaine's murder.
Copyright secured by Digiprove © 2016
(Visited 6,887 times, 1 visits today)