PEORIA — Dalton Alexander Mesarchik was born on April 29, 1995, to George E. Scott and Michelle Lee Mesarchik.
In spring 2003, Dalton, 7, attended 1st grade at Centennial School in Streator, Illinois, a small town in LaSalle and Livingston. Dalton resided in LaSalle County.
Dalton loved Harley Davidson motorcycles and collecting Harley Davidson memorabilia, riding his bicycle, art, and school.
He dreamed one day of owning his own Harley.
On March 26, 2003, Dalton disappeared from his home in the 400 block of Morrel Street while waiting for the First Church of Nazarene van to pick him up to take him to a church youth program.
Dalton was not a regular at the church or the youth program. He had only been there two or three times since August 2002.
According to early reports, Dalton was waiting on his front porch around 7:15 p.m. for the van, but the van never showed.
His parents called the church only to find out someone had canceled the program, yet no one called the parents to inform them.
It was later revealed that the van driver could not make it due to visiting a sick relative out of state. The church usually called if the van could not pick kids up and informed parents to bring their kids to the church. That was not the case here.
Dalton's mother reported him missing to the police at 8:34 p.m.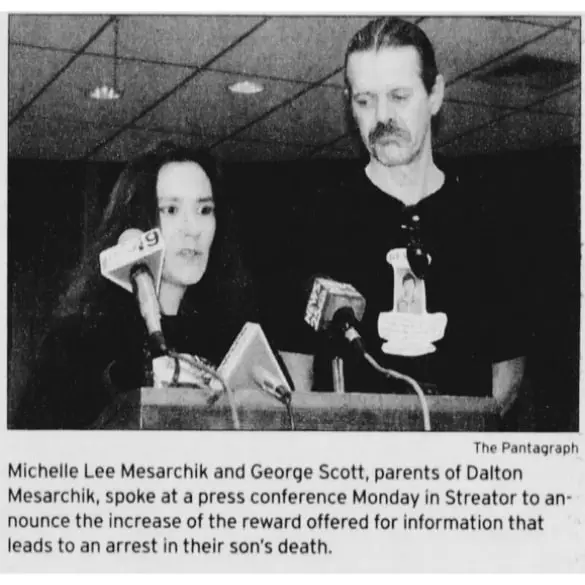 Streator police brought bloodhounds to the scene the following morning. The dogs tracked Dalton's scent from the porch to the middle of the street, which led investigators to believe he had gotten into — or someone forced him into — a vehicle. They speculated at the time that whoever abducted Dalton may have been driving a van similar to the church van.
Five hundred volunteers gathered at city hall to begin searching for Dalton. The search also involved the Illinois State Police, FBI, LaSalle and Livingston Counties Sheriff's Offices.
State police Sgt. Bill Heinrich organized the groups into 10-person teams to fan out across the Streator area. The Pantagraph reported that boats and horses were brought in as part of the search.
Around 11:33 a.m. on Thursday, March 27, 2003, authorities called off the search. A fisherman had found Dalton's fully-clothed body floating in the Vermillion River near the Vermilion Boat Club, two miles south of Streator in Livingston County.
Police later revealed that Dalton had been bludgeoned with a small, 3-pound Benchtop Pro hammer, sold only at Kmart. Blood on the handle matched Dalton's. Some reports said his hands and feet were bound, but police did not confirm this.
Investigators concentrated on tracking down nearly 70 leads.
Police interviewed friends and family, and sex offenders in the area. Dalton's parents were ruled out as suspects. A 2015 report said they passed polygraph tests.
Investigators canvassed the neighborhood and performed roadside checks.
According to the Pantagraph, "search and rescue teams from the Department of Natural Resources Police and the Pontiac Fire Department worked for several hours searching the river where Dalton's body was found." Police said they were searching the river for forensic evidence.
Despite the massive investigation, Dalton Mesarchik's killer was never found. Police had an unknown suspect shortly after the murder, but that was another dead end.
Dalton was laid to rest on Tuesday, April 1, 2003, in Hillcrest Memorial Park in Streator. The boy known as "Little Dude" by area motorcyclists was given a biker's funeral procession to honor his love for Harley Davidson motorcycles.
Since Dalton's murder, the rumor mill has been operating full blast. One big rumor was that Dalton's sister, Deana Mesarchik, murdered him. In 2015, Deana, then 25, went on a cable talk show and took/passed a lie detector test. Michelle Mesarchik said they wanted to squash the rumors that Deana was involved.
Anyone with information regarding Dalton's murder may contact: Illinois State Police – Dalton Mesarchik Task Force by telephone at (815) 844-1500 (ext.2321) or email at daltonm@isp.state.il.us.
True Crime Diva's Thoughts
I found this case strange for many reasons. Something isn't right.
Dalton started waiting for the church van around 6:15 or 6:30 p.m. At 7 p.m., Dalton poked his head into the house to tell his mom that he was still waiting for the van. The church started at 6:45 p.m. Why didn't his mom call the church to find out why the van had not picked up her son yet?
From 7:15 – 7:45 p.m., nobody saw Dalton. What happened in that 30-minute time frame?
If he did, in fact, willingly get in someone's car, he must have known his killer. No one reported hearing any screams. And even if he was forced into a vehicle, nobody saw the abduction.
There has been NO mention of sexual assault. Either LE is withholding that info, or Dalton was not raped. If he was, then that was the motive to lure him away from home, which would give us an idea of the type of person who committed the crime. If he wasn't, then what was the motive? Personal vendetta? Stressed parents?
The viciousness of the crime suggests to me that someone was pissed off, like a passion crime. Overkill, to say the least. This person was mad as hell at Dalton or someone close to him. No question. Payback for something the parents did?
I came across this info from a website. Interesting, to say the least.
<blockquote>The pastor for the First Church of the Nazarene, Ron Mckee, said that Dalton was not a regular attendee of the bible study and had only attended two or three times since the previous August. Dalton's twelve-year-old sister Danielle attended more frequently. The pastor also said that the pick-up service that night had been canceled since the regular driver was out of town on personal matters. McKee said had the service run that night, the van would have been at the Mesarchik home at approximately 6:15 P.M. because the bible study started at 6:45 P.M.</blockquote>
Halco found Dalton's body at approximately 11:30 a.m. at the Vermillion Boat Club in the Vermillion River, about 2 1/2 miles from the Morrell Street home. Halco was, at the time, living with a woman who had children by Dalton's father, George Scott.
Isn't it interesting that the person who found Dalton's body is connected to the family? In the news reports, he is not named, only mentioned as "a fisherman." Also interesting: Halco currently resides 2.2 miles from Dalton's address. The body was found 2.5 miles south of his home. Halco's backyard is the Vermillion River, pretty much. Not sure if Halco lived there in 2003, but if he did, well, all eyes should have been on him or his woman.
I also find it odd that the church did not have someone drive the van when the regular driver could not do it. If they didn't cancel the services for that night, why not have one member go around to pick up kids? Indeed someone could have done it. Is it possible that a church member DID pick up Dalton and only Dalton, took him somewhere, and killed him? Not sure what the motive would be, though, other than sexual.