NEWNAN, Ga. – Blake Chappell, 17, was an adventurous soul who loved riding his dirt bike and skateboarding. He had an infectious laugh and was a pro at playing Guitar Hero. By all accounts, he was a good, decent young man.
But some people had issues with the teenager.
Blake had previously lived at Hunter Ridge trailer park in Jonesboro. On May 28, 2011, his former girlfriend ran away from home. He hopped onto his bike to find her. When he did, he took her back to his trailer so she could call her parents.  
When the girl's stepfather, Earl Jones, arrived to pick her up, he punched Blake in the face, knocking him off his bike. Then, Jones repeatedly kicked him in the head and ribs before witnesses. 
A witness told the police Jones had lifted his shirt to show a handgun and said he was looking for Blake.
Even though Blake was the victim and helped return the girl home safely, Jonesboro police arrested him for custodial interference on June 2, 2011. 
Blake's bond was set at $2500, and it took him 16 days to come up with the money. Police released him on June 18, 2011, with a scheduled court date on Oct. 24, 2011. 
After the incident with Jones, Blake and his mother, Melissa Chappell*, moved to Senoia. She ordered him to stop communicating with his Jonesboro friends because she did not want Jones to discover their new location.
Blake suffered trauma from the vicious assault and developed selective mutism – when he was scared, he could not speak.
According to investigative journalist John A. Winters, who covered this case for The Newnan Times-Herald and posted it on his blog, Just Flip the Dog, Blake also experimented with drugs such as ecstasy. 
Blake attended East Coweta High School in nearby Sharpsburg. He met Rion Cameron of Newnan, and the two began dating shortly after the new school year started. It was only natural that Blake and Rion attended the fall homecoming dance together. On the evening of Oct. 15, 2011, Chappell dropped him off at Rion's house at 25 Avondale Circle. Blake had planned to spend the night at a friend's house later, so he took his backpack.
Rion's mother, Shannon Cameron, drove Blake and Rion to Tokyo Japanese Steakhouse on Newnan Crossing Bypass at 5:30 p.m. for dinner before the dance.
Cameron returned to the restaurant at 7 p.m. and drove Blake and Rion to the high school.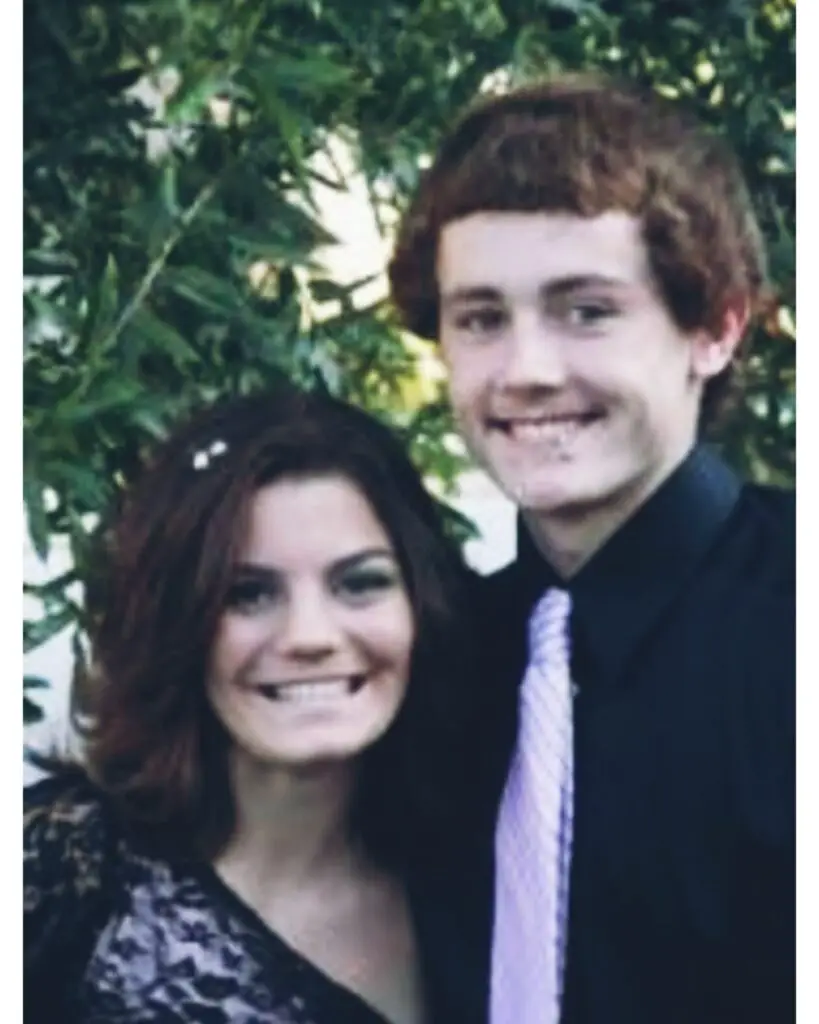 At 10:30 p.m., Cameron picked them up at East Coweta High School and drove to her home. According to Cameron, they watched a movie, and Blake took off his black dress shirt because he was still sweaty from dancing. Cameron later returned the shirt to Blake's mother.
Blake was allowed to stay at Rion's until 11:30 p.m. At that time, Cameron drove him to his friend's house on Highwoods Parkway, three miles away.  
Blake called his mother using his friend's landline because he only had a text messaging plan on his cell phone. Blake told Chappell about the dance and said it was the best night of his life.
Shortly after the phone call, Blake and his friend, Austin Harmon, walked to the BP gas station (now Exxon) at 67 Market Square Road, near Austin's home, around midnight to purchase cigarettes. However, the gas station was closed, and they returned to Austin's house.
Blake texted Rion at 2 a.m. on Oct. 16, 2011, saying he was coming to her house. The reason for the early-morning visit is unclear.
According to Austin, Blake left between 2 a.m. and 3 a.m. to walk to Rion's home. Austin later said he gave Blake a house key and a jacket so he would not be cold during the walk. The temperature was in the lower 50s. Austin also stated that Blake left his house wearing a white T-shirt, black pants, and Austin's jacket.
Although the walk should have only taken Austin about an hour, he arrived at Rion's house around 4:30 a.m. and had to sneak into the residence because he did not have permission from her parents to be there.
According to Rion, she and Blake chatted until her grandmother burst into her room, catching Blake there. Instead of the grandmother telling Blake to leave immediately, she informed Rion's mother, and Cameron entered the bedroom as Blake fled the residence at 5 a.m. to walk back to Austin's. 
Rion later said Blake wore black pants and a white hoodie with "Aeropostale" in brown letters on the front, not the jacket Austin had given him. 
Blake sent multiple texts to Rion apologizing for showing up uninvited and so late at night. Cameron sent him reassuring texts that everything was fine.
After he left, Blake sent more texts to his girlfriend. In the first one, he said that a police officer had stopped him near a bridge and asked for his ID and where he was going before letting him go.
Per Uncovered.com, the Deputy Chief of the Newnan Police Department said, "there was no record of any law enforcement official interacting with Blake that night."
Blake sent another text at 5:30 a.m. saying he was cold. That was the last text Rion received from him, and she never saw him alive again.
Cameron woke Rion at 6:30 a.m., asking if she had heard from Blake since his last text, and Rion said no. 
Three hours later, at 9:30 a.m. Cameron told Rion to call Austin to ensure Blake returned safely. Austin looked around his house and said Blake was not there. 
At 10 a.m., Cameron and Rion drove to Austin's home to search the area for Blake. It's unclear why they did not call Blake's home to see if he was there. Cameron called her husband, Matt Cameron, who had left home at 8 a.m. He and a friend were setting up deer stands on hunting property in Heard County. Cameron told her husband that Blake was missing.
Cameron and Rion visited the BP gas station where Austin and Blake had gone and showed the attendant Blake's picture, asking if he had seen him. The employee said he thought he had seen Blake around 7:30 a.m. A teen resembling Blake asked him when the station opened, and he told him 8 a.m. Blake left, but the man did not see in which direction Blake walked. 
Police do not believe this person was Blake.
Matt Cameron returned home around 11 a.m. and searched wooded areas and trails for Blake. At this point, no one has notified Chappell that her son is missing.
Earlier, Rion's mother dropped off Austin at their home. Matt Cameron and Austin allegedly continued the search. Austin called Chappell, but not to tell her Blake was missing; he wanted to know if Blake was home. What in the bloody hell?
Austin told her about Blake leaving his home to go to Rion's and never returning. Then, he reportedly flagged down a cop to say Blake was missing. At 11:30 a.m., the Newnan Police Department called Chappell informing her to file a missing person report, which she did at around noon.
The Newnan Times-Herald reported there were extensive searches in the subsequent weeks for Blake, but police found no trace of the missing teen. Authorities believe Blake took Lower Fayetteville Road or Summer Grove Parkway to and from Rion's home. Blake was unfamiliar with Austin's neighborhood, Summergrove, so he likely took Lower Fayetteville Road, police said.
Chappell and Rion have said in the media they initially believed Blake ran away to avoid the court date possibly. 
Blake was a no-show at his scheduled court appearance in Clayton County Superior Court on Oct. 24, 2011, for the May 2011 incident in Jonesboro, but the hearing proceeded regardless. The prosecution decided to drop the case after speaking to the ex-girlfriend, who confirmed she had run away, and Blake encouraged her to return home.
Winters reported Chappell received a call from Blake's attorney. Jones informed the judge he would drop the case on the condition that "he never saw Blake again."
About five weeks after Blake disappeared, Chappell received a bizarre phone call from a blocked number. According to Chappell, no one spoke on the other end, but she could hear the sound of a television playing in the background. The call lasted approximately five minutes. 
Rion told Winters in an interview that "around Thanksgiving time, she started getting over Blake's disappearance."
"I was mad. I was livid," Rion said. "I thought he had just left me."
For real?
On Dec. 19, 2011, bystanders found a body face down in White Oak Creek near a bridge on Summer Grove Parkway and Austin's home. 
When police arrived at the scene, they discovered the victim wore only a T-shirt and underwear. They found no identification or personal belongings in the area. Police said the victim had died from a gunshot wound.
Three days later, investigators identified the body as Blake, partially through his Playboy bunny tattoo and jewelry. A medical examiner concluded that Blake had been shot in the head with a handgun between .22 and .45 caliber. 
The death certificate stated the time of death as 6 a.m. on Oct. 16, 2011. Blake was pronounced dead at 4:57 p.m. on Dec. 19, 2011. Authorities have said they could not determine how long Blake had been deceased or if he had been killed in that location or dumped.
Blake's cell phone, clothes, and wallet have never been found.
It is unclear why searchers never found the body during their "extensive searches" for Blake.
According to Chappel, police have refused to tell her the condition of Blake's body. She studied the stages of decomposition and asked if his skin was black, and "they said it had started to turn black," she said. The fourth stage of decomposition – black putrefaction – begins 10 to 20 days following a death, according to the Australian Museum. Blake was found two months after he vanished.
Authorities never revealed whether he had been bound, sexually assaulted, etc.
Investigators had three persons of interest but never released their names. They cleared all three of Blake's murders. It is unclear if Jones was among the three. Regardless, investigators cleared him of Blake's killing.
A week after Blake's remains were found, the Newnan Police Department announced a $20,000 reward available for information regarding his death. It was the biggest reward the city had ever offered.
On Aug. 24, 2022, Season of Justice helped Chappell fund a billboard with Blake's picture and placed it on Highway 19/41 in Jonesboro. 
Chappell and her boyfriend of 11 years split up sometime after Blake's death. She was later diagnosed with breast cancer and diabetes. Chappell moved to Texas with a relative and underwent cancer treatment there. According to her Facebook page, she lives in Panama City, Florida.
Rion is now in her late 20s and has two children. She still resides in Newnan. I have no idea where Austin Harmon is today.
There is a Facebook group for Blake called "Justice for Blake Chappell." Anyone with information on Blake's murder can contact CrimeStoppers of Greater Atlanta at (404) 577-TIPS (8477) or the Newnan Police Department's Tip Line at (770) 254-2350. You may also send your tip via email to unsolvedhomicide@cityofnewnan.org.
*Melissa Chappell is also listed as Melissa Becker in media reports. However, her FB says Chappell.
TRUE CRIME DIVA'S THOUGHTS
I know there is more to this case than we publicly know and that I am on the outside looking inside. Everything from this point down is strictly my opinion. That said, I feel this is one of those cases where the actions of those involved need to be questioned.
This case is eerily similar to the disappearance of Jordan Alexander Holling.
---
I'm torn on this one and feel the case can go either way – Blake knew his killer, or a random stranger killed him. I think some believe Earl Jones killed him, which is probably why the billboard is in Jonesboro vs. Newnan. I get it, I really do, but I'm skeptical, and I'll tell you why.
All we have regarding Blake's whereabouts that night comes from Austin, Rion, and Rion's mother.
Austin and Rion gave different versions of what Blake wore when he left Austin's house. If neither one is lying, their stories should match. Blake did not have his backpack when he left Austin's, so he would have had no clothes other than what he wore. Austin said Blake left wearing a white T-shirt; Rion said a white sweatshirt. Austin said he gave Blake his jacket, but Blake showed up at Rion's without it, according to her.
Personally, I feel the actions and versions of events from Austin and the Cameron family following Blake departing their home at 5 a.m. on the 16th are strange. I'm not saying they killed Blake, but I would be suspicious if I were Melissa. But then again, I am suspicious of everyone. 🤔
Anybody could have been texting from Blake's phone, posing as Blake, after he went to Rion's. Just keep that in mind.
Why didn't Shannon Cameron drive Blake back to Austin's house instead of letting him walk three miles alone in the dark at 5 a.m.?  Or why didn't she call Blake's mother to tell her that Blake was not at Austin's and had snuck into her home? I would have done both if that were me, or I would have taken him straight to his mother and told her what he had done.
How the Camerons "searched" for Blake with Austin hours before Austin called Melissa is also strange. We have a missing kid, and they don't even give his mother a thought until late morning. Why didn't they call her as soon as they realized something was wrong? Why didn't they call Blake's home first to see if he was there before searching for him? I realize he lived 18 miles away in Senoia, but that would have been my first thought, regardless, just to make sure. It's like they did not want Melissa to know they were "looking" for him.
Rion and Shannon went to the BP gas station where Blake and Austin supposedly went to buy cigarettes. Why? Austin said the gas station was closed when he and Blake went there. The station remained closed until 8 a.m. But conveniently, the gas station attendant said he saw Blake around 7:30 a.m. Police do not believe it was Blake, and I do not either. Who was this employee? If the kid wasn't Blake, who was it, and why hasn't this person come forward to reveal his identity?
I found it strange what Shannon said to Winters when she discusses her husband going to Heard County on Oct. 16, 2011.
"He doesn't bow hunt so his season hadn't even opened yet. Had he been down there with a gun he could have lost his lease and his hunting license. He was home with us until he left."
She gave a reason why Matt did not have a gun with him that morning, and in the last sentence, she gave her husband an alibi. Why did she feel the need to do this? I found that strange; I didn't give Matt a thought about harming Blake until I read what she said.
---
---
Austin said Blake left between 2 a.m. and 3 a.m. to walk to Rion's. Blake texted Rion at 2 a.m., saying he was coming over. Why did Blake return to Rion's? It was three miles away and cold that night. What was so important that he had to go back? Did he leave something there? Someone will say that he just wanted to see his girlfriend. Maybe. But he had spent the entire evening with her, and I feel he had a bigger reason to walk THREE miles early in the morning in cold weather.
Rion awoke at 4:30 a.m. and read Blake's 2 a.m. text message that he was coming over. He must have arrived shortly after 4:30. Why did it take Blake 2 hours to walk three miles? Even if he left at 3 a.m., he should have arrived by 4 a.m. Even if he was a slow walker or became lost, it should not have taken him this long. Also, if he did get lost, I assume he would have texted Austin or Rion for help. We only have Austin's word on when Blake left his house. Maybe Blake actually left between 3 a.m. and 3:30 a.m.
I read that Blake was unfamiliar with the Summergrove area of Newnan and Newnan itself and likely took Lower Fayetteville Road, not Summer Grove Parkway. But if that were true, why would he walk to Rion's alone in the dark? Why wouldn't Austin go with him? Summer Grove Parkway leads to Lower Fayetteville Road, and I don't see how Blake did not know this. If nothing else, wouldn't Austin relay the quickest route?
Honestly, after I Googled Blake's walk from Austin's home to Rion's, I have no idea why he walked there alone. The roads are heavily tree-lined, and some areas have no sidewalks. It would be like walking in the country in some parts. Three miles is a long way to walk in the dark. And why did he even attempt it if he was unfamiliar with the area?
---
Austin had no idea what had happened to Blake's backpack. The one Blake left at his house. The one that never left his house. 
Austin told Winters: "We were in the middle of moving, and it got put somewhere, and we just can't find it," he said. "I just don't know where it is."
Yeah, buddy, that's not suspicious. 🫤
Why didn't he turn the bag over to the police when Blake went missing? When exactly did his family move out of the house? Did the police forensically examine Austin's or Rion's homes? If not, that would have been a huge mistake, in my opinion.
How do we know Blake never made it back to Austin's? Are there no CCTV cameras in Newnan? I saw nothing about this, but I may have overlooked it.  
Whoever killed Blake got rid of his cell phone, clothes, and wallet. Maybe they were in his backpack. 😉
---
I'm not sure I buy the "police officer stopping him" story. There is no record of a police officer stopping him. No one can say for sure that Blake was the texter.
That said, I highly doubt Earl or a stranger dressed as a cop was lying in wait dressed, hoping Blake or any teenage boy would be walking alone in the early morning hours.
For Earl to be the killer, we have to believe that somehow, some way, he knew precisely where Blake would be when Blake was walking alone after 5 a.m. That is reaching. And I doubt he followed Blake to every place Blake went to on the 15th and 16th, waiting for him to be alone.
Another thing that doesn't make sense if Earl killed Blake: what was the motive? The assault? Why would he wait several months after the assault to do it? He seemed to react in the heat of the moment, so I would have expected him to harm Blake soon after the police released Blake from jail, not months later. Also, police ruled him out in Blake's murder, although I'm not sure why.
---
There is still a chance the homicide was random. What if a real cop did pull Blake over and killed him for whatever reason, and Newnan police are covering it up by saying there is no record of an officer pulling Blake over? Why are investigators so hush-hush on the investigation and the condition of Blake's body? Had he been beaten? How many times was he shot? Did his killer sexually assault him? 
The only thing police have said about the gun used was that it was between .22 and .45 caliber and not a shotgun, according to Winters.
How long had Blake been dead? I read two things: he had been dead since Oct. 16th, and he had been deceased only about a week or two when he was found. Which is it? Because if the latter is true, that means someone held him for several weeks before killing him. It does not make sense that searchers would not have combed through the area where Blake was found while searching for him. This could mean that the body was not there at the time but was dumped later.
The phone call Melissa received five weeks after Blake vanished was bizarre. Who was the caller? What was the point of silence? Blake could not speak when he became afraid because of the assault by Earl. Could it have been Blake trying to get help but was too scared to talk? Or was his killer taunting his mother? Maybe it was a hoax.
Another theory would be that a random person abducted Blake and sent the text about the cop to Rion to throw the police off track. The motive likely would be sexual.
The crime is nearly 12 years old. It's time for the police to release more info.