The main reason I chose Ashley's case is that there is hardly any info on it. I mean, it's ridiculous. I find everything about it strange for several reasons. After reading this, you might feel the same.
Let me introduce you to Ashley Turniak. 
Ashley Turniak, 16, was a junior at Agawam High School in Agawam, Massachusetts, a few miles from Springfield across the Connecticut River and near the Connecticut border. 
She resided with her mother at the Pheasant Hill Village condominium complex in the Feeding Hills area. She was a nice girl and well-liked by those who had the pleasure of knowing her.
The beautiful teen wanted to be a nurse one day and took a part-time summer job at a local nursing home to bring her one step closer to achieving her dream. However, she quit when the new school year started.
Ashley became a bit of a rebel when classes began. School records show Ashley had been absent eight times and tardy six times since school began in September, the Hartford Courant reported. Regardless, she was never truant and had every intention of graduating high school. 
Ashley had recently experienced a couple of unfortunate events. The father of one of her friends had recently died, and she learned that friend was moving to Ohio. A boyfriend of Ashley's had also moved out of the area a few months before. 
On Monday, Nov. 9, 1998, Ashley went to school like she normally did. She stopped in to say hello to Assistant Principal Paul Cavallo and then headed back outside to wait for the friend moving to Ohio.
Ashley had made plans with the friend to skip classes that day, but the friend was late. When she finally arrived, Ashley was gone. 
This is where the story gets weird.
At 8 a.m., morning commuters traveling southbound on Interstate-91 witnessed Ashley go feet-first through the passenger side window of a speeding car. She landed on the southbound breakdown lane, less than a half-mile from the Connecticut border. She survived the initial impact but died on the scene shortly after.
A Massachusetts state trooper was working rush hour traffic duty about 30 feet from where Ashley landed. Witnesses said she tried to flag him down before she jumped or was pushed out of the vehicle. The trooper did not see her because he was facing the northbound lanes.
An autopsy confirmed she died from injuries sustained in the fall from the vehicle.
Witnesses said the vehicle was tan or dark blue, but police later determined the vehicle was a tan or light brown late-1980s midsize vehicle, possibly a Ford Tempo.
One woman at the scene said the driver was male and had olive skin; She refused to come forward out of fear for her safety. 
Later that day, a resident found Ashley's school backpack in front of his residence on Woodlawn Avenue in Enfield, a short dead-end street a few blocks from Exit 49.  Police said they had no idea how long it had been there, but they believe the vehicle continued into Connecticut and left I-91 at Exit 49; it was the closest exit to where Ashley landed. Then the driver drove south on Route 5, turned west on Woodlawn Avenue, and then turned back on Route 5.
Annette Turniak and a family friend watched the local news, and coverage of a young girl killed on I-91 came on. Police had released a couple of the girl's items to the media — a Mickey Mouse watch and a green and black beeper. Annette realized the victim was her daughter. 
After police identified the victim as Ashley Turniak, grief counselors were on hand at the high school for the shocked and grieving students.
A few students told the school principal they had seen Ashley standing outside the school before 7:25 a.m. when the first period started. Other students told him they believed she was waiting for the friend who was moving to Ohio. 
Despite students seeing Ashley standing outside, no one saw her leave. However, police believe the mystery driver had picked her up. 
Annette and her daughter's friends believed Ashley knew the driver who picked her up because she would not have entered a stranger's vehicle. The fact that this person picked her up from school tells me he knew Ashley.
Massachusetts State Police did not know whether Ashley fell, jumped, or was pushed out the car window.  They focused on a small time frame, from about 7:45 a.m. at the high school and surrounding area, although it's unclear why. 
Police had hoped to catch something on Agawam High School's security cams, which scanned the school's parking lot. School officials said they turned over the tapes to the police, but investigators refused to discuss the contents, and as far as I can tell, they never did.
Police also interviewed family and friends. On the night of Nov. 11, investigators questioned one of Ashley's friends, Alexi Maldonado of Springfield, but it is unclear why or what came from the interview.
A week after Ashley's strange death, a small group of Connecticut and Massachusetts state troopers handed out 1,000 fliers from 7:30 to 8:15 a.m. in three locations within proximity to where Ashley was killed. 
The fliers sought witnesses who might have seen the tan vehicle driving erratically or speeding on I-91, Route 5, or Woodlawn Avenue in Enfield on Nov. 9. Police said only about a handful of witnesses came forward with information but nothing helpful to the investigation.
Around this time, another bizarre death happened, similar to Ashley's.
At 9:30 p.m. on Wednesday, Nov. 18, 1998, Nancy Edwards, 39, parked her Ford Escort on the right shoulder of Interstate-84 in Hartford near Exit 58. Her boyfriend, Joseph B. Duva, 43, was inside the vehicle. Nancy exited the car and walked into two lanes of speeding traffic, waving her arms. Three vehicles ran her over, killing her.
Duva told the police that Nancy started fighting with him on the way home from dinner in nearby Glastonbury. At some point, she pulled over and told him to get out of the car, but he refused. That's when she exited the vehicle and walked into traffic.
The couple's relationship had always been rocky, her family said, and the police often had to break up the arguments.
Hartford is about 30 miles south of Agawam, but Massachusetts police said they found no connection to Ashley Turniak's death. 
Ashley was laid to rest on Friday, Nov. 14, 1998. Her memorial service took place at a funeral home located across the street from Agawam High School, with 300 mourners in attendance.
Ashley's English teacher, Dawn Fisher, spoke at the funeral and told how Ashley would wink at her in the school hallways. Shortly after Ashley's death, Dawn's young daughter winked at her the same way Ashley did. The child had spent weeks mastering the gesture. 
"Ashley sent me her wink, to let me know everything would be OK," Dawn said to the mourners.
Unfortunately, investigators never solved Ashley's case. And it is unclear what happened with the investigation after November 1998, but it appears absolutely nothing. There are no news articles between December 1998 and October 2020 that I could find. The first newspaper article was covered by Western Mass News in November 2020, on the 22nd anniversary of Ashley's death, and features an interview with Annette Turniak.
Western Mass News said it "reached out to Hampden County District Attorney multiple times, but they would not comment on the case."
WTF?
If you have any information concerning Ashley Turniak's death, please call the Massachusetts State Police Detective Unit at 413-505-5993.
True Crime Diva's Thoughts
This case is strange on so many levels. First, it seems like the police dropped it like nothing, and they never mentioned if they had seen anything on the school security cam tapes. 
Something happened in that vehicle that caused Ashley to hurtle out the window. She tried flagging the trooper for help. Who was the driver? How did Ashley know him?
Now, cops said they did not know if she FELL, jumped, or was pushed out the window. She did not fall out that window, c'mon. She almost had to jump because the female witness mentioned seeing the driver but nobody else in the car. Therefore, he could not drive and push her out of the vehicle alone. Also, she was trying to get the trooper's attention.
Why in the hell was the female witness so terrified to come forward? It wasn't like she witnessed an actual murder. We don't even know what happened to Ashley for sure.
Why did investigators interview Maldonado? They had to have a reason, or else local news would not have mentioned him or her. 
I'm wondering if Maldonado is the driver. I do not know if the person interviewed was male or female. The Hartford Courant printed the name "Alexi," which I put above, but I think it's Alexis. I tried finding Alexi Maldonado but kept getting Alexis, both male and female. Who is this person? Is it the friend moving to Ohio?
Why did Ashley get into the Ford Tempo WHEN SHE WANTED TO SKIP SCHOOL WITH HER FRIEND? It makes no sense. But it does make me wonder a bit about the friend. She arrived late that day, knowing Ashley was waiting on her to cut class. So why would Ashley have left without her? Or did she?
Why did Ashley and the friend decide to meet AT SCHOOL if they were going to skip classes that day? Why did she say hello to Cavallo if she planned to cut school? That is slightly dumb. I am a former high school class skipper, and there is no way I would have gone to school if I planned to skip the entire day because I would not want to be seen by a teacher or principal. There were times I left school at lunchtime and, ya know, failed to return. *Wink wink* So, did the girls plan only to skip part of the day? For that matter, why skip at all? Why not hang out after school? What the hell did this friend say about their plans?
But we also have to look at it another way. What if she did not intend to skip school with her Ohio friend but actually attend classes that day? Maybe she was waiting for the friend, but the mystery driver showed up, and she decided to go with him. OR she had plans with him and not the friend, and nobody knew of these plans.
I genuinely believe some of Ashley's classmates/friends knew who drove the vehicle but, for whatever reasons, have not come forward.
There's something off here. Everything about this case is suspicious to me, including the investigation. 
One whole sentence is posted about Ashley's death on the DA's website. ONE freaking sentence. I could not find her case listed anywhere else, and the DA's office refused to comment on the Western Mass News article.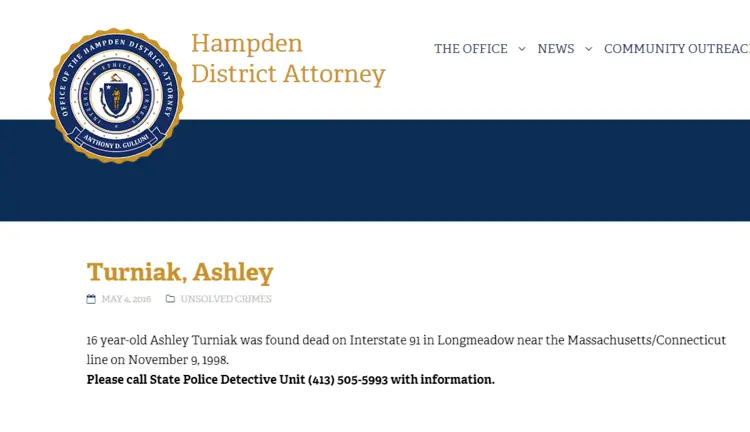 I feel like nobody except Annette gave a shit about what happened to her or why she was in that car that day. What about her friends? Don't they want answers?
One last thing I want to mention that I did not put up above regards a neighbor, Jamal Hankerson, who spoke with the Hartford Courant shortly after Ashley's death. He said he and Ashley had known each other since they were little. He also lived at the same condo complex as Ashley and Annette.
Hankerson said, "Ashley's not the type of person to jump into anybody's car. She must have known that guy."
I looked over 1998 news articles again and again. Nowhere did any of them mention the driver being male; only the 2020 article does. So, how did Hankerson know the driver was male? I suppose Annette could have told him if police had told her, that is.
Hankerson also created fliers seeking donations for funeral expenses for Annette and handed them out at the complex. We know that killers sometimes put themselves into the investigation somehow — like helping in the search, or in this case, passing out fliers, maybe. I realize nobody killed Ashley; she jumped to her death, but he might have been the male driver.
Hankerson was 19 in 1998. So, he was a bit older than Ashley.