This post may contain affiliate links. Please read our disclaimer for more information.
On May 26, 1988, seven-year-old Michelle Norris left home with her brothers and cousins to walk to a park located behind Capt. G. Harold Hunt Elementary School in Central Falls, Rhode Island, where she attended first grade. The group was going to play a game of hide and seek.
At some point during her time at the park, Michelle vanished.
Nobody saw a thing.
The children who were with her never heard her scream or saw anything out of the ordinary.
Search teams scoured the area but had little luck finding Michelle or any evidence of her disappearance. Then four days after she disappeared, police found Michelle's beaten and battered body in a desolate wooded area less than a mile from her school. Her clothes were lying next to her. She had been raped and strangled.
Police never released many details of Michelle's murder but did question several people. However, nobody has been charged in Michelle's murder and the case remains unsolved.
True Crime Diva's Thoughts
As I was reading about Michelle's case, it seemed very familiar to me. So much so that I scanned my posts to see if I had already written about her. I didn't. However, I did write about a VERY similar case from 1986 and that is why I thought I had already written about Michelle.
Kathleen Flynn from Norwalk, CT was murdered two years before Michelle in September 1986. Like Michelle, she was last seen near her school, walking into nearby woods to head home after classes dismissed at 2:40 p.m. for the day. She was later found dead. She had been raped and strangled as well. And like in Michelle's case, nobody saw a thing.
Both cases happened in broad daylight, near a public school with people around, and both girls had been raped and strangled; their bodies dumped in wooded areas. In addition, even though there is a four-year gap in age between the girls, they were similar in appearance – both had brown hair and brown eyes. Both cases remain unsolved.
The only real difference is the time of year – Kathleen had just started a full year of school (September) while Michelle had just completed one or was about to (May).
Norwalk is only about 140 miles southwest of Central Falls. I think these two cases could be related due to their many similarities.
Another Rhode Island child was found murdered in 1988. 10-year-old Christine Cole disappeared January 6th from Warwick. Her fully-clothed body (minus her boots) washed up on a local beach about two months later. At the time, police were not completely sure she had been murdered and I could not find anything that confirmed this. There was never a mention of Christine being raped either. Regardless, she is listed as "murdered" on internet sites. It is possible that Christine was a victim of drowning versus murder, so I'm not convinced her case is related to Michelle's despite the locality and age of victim.  Of course, it cannot be ruled out.
Michelle's mom told NBC's Dateline that Michelle would never go off with a stranger, therefore, Michelle must have known her killer. It is possible the killer knocked her out somehow right before taking her, not giving Michelle the chance to react and alert others.
I'm a little confused as to how Michelle's brothers and cousins didn't see or hear anything after looking at this satellite shot of Michelle's school and the playground she was playing at.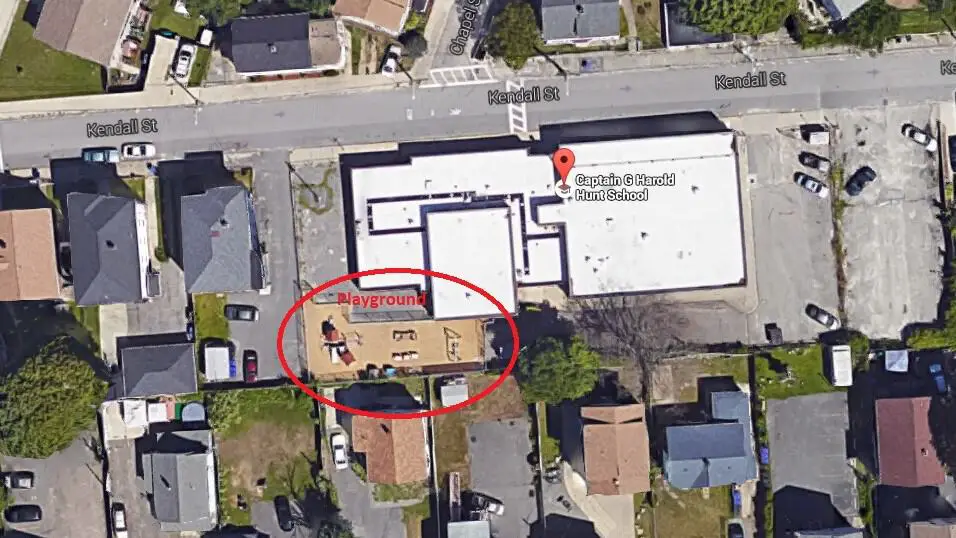 I realize it may have looked differently in 1988 and I don't even know if the playground is in the same exact spot now as it was back then. But we're going to say it was for discussion sake.
The playground seems pretty open. I'm not sure where the kids would be playing hide and seek here. And I'm also not sure how someone could have taken her without these kids seeing her or the killer at all. But when kids are playing, they really are not paying attention to anything else. It's just a shame they didn't see the killer so the police could have had a description of him.
The killer had to act pretty fast. He had to grab her without anyone seeing or hearing him do it in broad daylight. And I'm guessing he was on foot because the other kids didn't see a suspicious vehicle in the area. I'm wondering if maybe he lived in the neighborhood by the school or near Michelle's residence. From what I understand, Michelle only lived like 3 blocks from the school.
Of all the kids there that day, Michelle's brothers and cousins (maybe other children, too), why did the killer take Michelle? I think that's a little interesting. Was she the only female? Or was she the only brown-haired female? There was something about her the killer preferred, I think.
It's been almost 30 years since Michelle was murdered. It's time her killer was brought to justice so Michelle can rest in peace and her family can finally move on. Someone out there knows something. Grow a pair, do the right thing, and end this.
Sources: NBC News, UPI.com 
Similar Posts:
(Visited 3,086 times, 1 visits today)