This post may contain affiliate links. Please read our disclaimer for more information.
Michael Jefferson Adams of Abilene, Texas vanished outside his home in 1987 and has not been seen since.
About the Case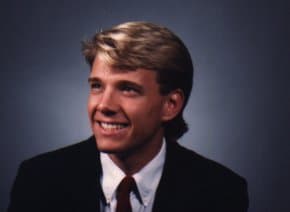 Michael, 18, graduated from high school in May 1987. He worked as a clerk at M-System Food Store, located at 12th and Mockingbird Street in Abilene. On June 8, 1987, Michael headed to his family's residence on Peach Street after finishing his shift at the store.
Around 11:30 p.m., Michael's stepsister, Beverly, saw him talking to someone in a dark-colored, two-door vehicle parked in front of their house. Michael was standing on the passenger side of the car. He did not appear in distress; he was casually talking to the driver.
The car was possibly a 1970s Chevy Monte Carlo or Cutlass. His stepsister did not recognize the car nor could she see who was in the vehicle. Thinking nothing of it, she went back to bed.
The next morning, Michael's mother noticed his car was blocking her vehicle in the driveway. When she went to wake him up to move the car, Michael was gone. His bed had not been slept in, and his wallet was on the floor, accidentally left there from when he went to work the day before.
Two people known to Michael drove a car similar to the one seen by his stepsister. One was a co-worker, the other a friend. Both took polygraph tests but only one passed. The other was inconclusive. All of Michael's other friends and coworkers passed a polygraph.
Michael was legally declared dead in 1994. He is believed to be a victim of homicide, although no body has ever been found and no arrests made in his case.
Michael's mother passed away on Friday, January 2, 2015, never knowing what happened to her son. Michael's stepbrother, Perry Adams passed away in 2011.
Watch the episode below of Missing Reward for more information about this case.
True Crime Diva's Thoughts
I think whoever he was talking to outside his home that night is the one responsible for Michael's murder. He did not appear to be afraid of this person, so I'm thinking he probably willingly got into the vehicle and left with him or her. What happened after that is the big mystery.
If I had been Beverly, I would have watched Michael talking the whole time he was out there. I was a nosy sister lol. It's too bad she went back to bed, because she probably would have at least seen Michael get into this car, or maybe more. Nobody heard any screams or anything, so Michael must have got in the car.
Michael was not involved in drugs and was not known to drink alcohol. But on the night he disappeared, he offered beer to his coworker, Chito Alardin. The beer was in a cooler in his trunk. However, police never found any beer, so Michael must have taken it with him or Chito was lying. He drove a car similar to the one Beverly saw outside. Police ruled him out, though. I have no idea why. Maybe he was the one who passed the polygraph.
Chito said that when Michael turned left down his street and Chito was driving straight, he looked left and saw no vehicles down Peach Street. So, whoever it was pulled along the curb after Michael pulled into the driveway. We also know this because Michael's car was there the next morning, although he was interrupted before he could move his mother's car behind his.
Whoever it was knew what time Michael got off work, and this person was probably following Michael and Chito. They just didn't realize it.
There must have been some sort of falling out or argument that night which turned deadly. I can't think of any other reason someone would harm him.
Unless…
If you watched the video, the show explained that one day Michael went to the back room of the store and witnessed an unknown male stealing something. When Michael went to tell his boss the next morning, his boss angrily told him he shouldn't have been back there; it wasn't part of his job. Michael was always singled out by his boss for doing something wrong. So, I think it could have something to do with all of this, and that maybe his boss was involved in his abduction/murder.  I could not find the name of Michael's boss.
Or could it have something to do with the drug bust mentioned in the video? If certain fellow students thought Michael was a narc, maybe they confronted him that night, played nice to get him into the car, and then took him somewhere and killed him.
The only way this case will be solved is if someone talks. Hopefully, anybody who knows anything about Michael's disappearance will grow a pair and talk to police. You know someone out there knows something.
Similar Posts:
Copyright secured by Digiprove © 2017
(Visited 1,326 times, 1 visits today)