This post may contain affiliate links. Please read our disclaimer for more information.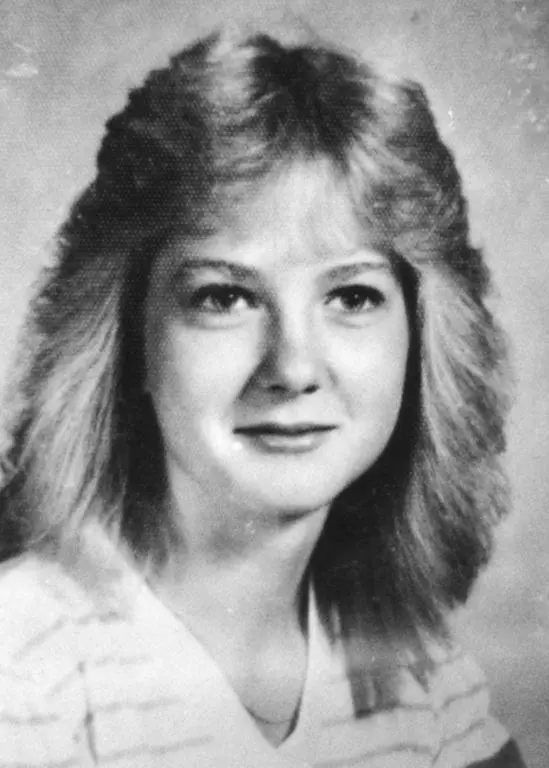 In September 1985, the nearly naked body of 16-year-old Kimberly Simon was found by police along Mohawk River in Whitesboro, New York
. The teen had been beaten, raped, and strangled to death. Police arrested 19-year-old Steven Barnes who spent nearly 20 years in prison for her murder until DNA proved his innocence. He was released from prison in 2008 and exonerated of all charges in early 2009. The real killer (or killers) remains free.
About the Case
On September 18, 1985, 16-year-old Kimberly Simon was last seen leaving her residence at 9197 River Road in Mercy, New York shortly before 6:00 p.m. She was walking to Whitesboro Junior High School on Route 69 to meet friends.
Kimberly never showed and was reported missing at 11:30 p.m.
The next day, law enforcement officials found Kimberly's body in the woods near Mohawk River. She had been raped and strangled to death. A bruise on her face suggested she had been struck at least once.
Shredded papers and some personal belongings from Kimberly's purse were found scattered near Carolyn Court Apartments along Clinton Street in New York Mills.
On September 23, 1986, an anonymous caller reported finding Kimberly's white shoe in the Sauquoit Creek under the bridge near Clinton Street and Burrstone Road in New York Mills.
investigation and trial
Witnesses recalled seeing a young man in a truck speaking with Kimberly on Mohawk Street as she was walking towards the junior high school. He was described as being between 18 to 23 years old, with sandy brown to brown shoulder length hair. He drove a late 1970s Chevy or GMC pickup truck, either maroon or brown in color.
A sketch of the male was released.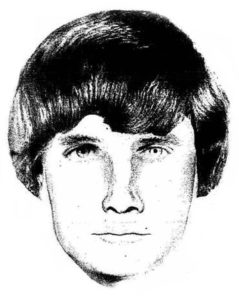 Police believed someone picked Kimberly up as she was walking to the junior high school, and then took her to a popular local hangout known as "Three Bears", a stone structure resembling the characters of the classic children's story, where a party was being held.
A witness said she saw four males, who were known for satanic rituals and a dark obsession with death, with Kimberly at Three Bears. The witness was hiding behind a tree and saw one of the males having sex with Kimberly, who appeared to be drugged.
About two miles from where Kimberly's body was found, three Whitesboro residents reported hearing horrific screams between 1:00 and 2:00 a.m. coming from another popular hangout spot known as the "Water Tower", behind the Hart's Hill Elementary School on Clinton Street.
Investigators soon focused their attention on 19-year-old Steven Barnes after a man in police custody testified he was riding in a police car when he saw Kimberly walking and noticed a truck similar to Barnes parked nearby. In addition, a Utica police officer claimed he saw a man similar to Barnes in appearance parked alongside the street that night, too. However, Barnes' brother-in-law testified that he saw a young woman getting into a truck along the road, but it was not Barnes' truck. Others said they saw Barnes at a local bowling alley through the evening of the murder.
On September 21, 1985, police questioned Barnes for 12 straight hours by police, but he denied having anything to do with Kimberly's murder.  He was in the area where she last seen only because he was heading to a nearby bowling alley. He arrived at the bowling alley around 6:00 p.m. that night.
Police released Barnes without charges that night.
Law enforcement officials received tips that Kimberly was with a certain group of people at a hotel party on Friday, September 13th, just days before her murder. These people were also at the party at Three Bears the night Kimberly was killed. That led investigators to three men. One of the men admitted he knew Simon. She had been to his house at least once, and they had partied together.
Even though these three individuals seemed likely suspects, police went after Barnes.
Two years later, investigators still working on the case asked Barnes to submit blood, saliva and hair samples. In March 1988, they arrested Barnes and charged him with rape and sodomy in the first degree and murder in the second degree.
In 1989, based on inconclusive DNA
results and weak eyewitness testimony, a jury found Barnes guilty of murder. He was sentenced to 25 years to life in prison.
The Innocence Project
In 1996, the Innocence Project funded a series of DNA tests to prove Barnes' innocence. However, these tests came back inconclusive because DNA technology at the time did not yield a profile.
11 years later, the Innocence Project reopened the case, and Oneida County District Attorney Scott McNamara agreed to conduct advanced DNA testing. The results did not match Barnes.
In 2008, 19 years after he was convicted, Steven Barnes was released from prison and exonerated of all charges in early 2009. In 2011, Barnes won a $3.5 million settlement from the state for his wrongful conviction.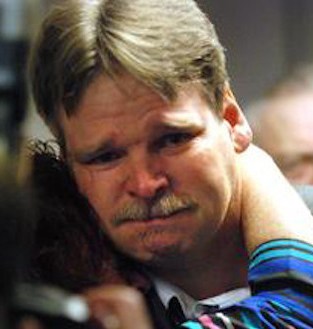 The Three Males
After Barnes' exoneration,  a multi-agency task force was set up to re-examine the case. This resulted in hundreds of interviews of people who might have been involved or had information in Kimberly's murder.
Current investigators also focused their attention on the three males originally questioned by police in 1985 and 1986. The men remain current persons of interest in Kimberly's murder.
Allison Scranton was with one of the suspects on September 18, 1985. She died in 1997, but investigators said they would like to speak with anyone who knew her who might have information about what Scranton witnessed that night.
Another female, 19-year-old Michele Mikalajunas of Whitesboro committed suicide less than a month later in October 1985. Police believe she knew what happened to Kimberly Simon.

Allison and Michele were students in the Whitesboro Central School District.
Three decades after Kimberly Simon's murder
Today, 32 years after Kimberly's life was brutally taken away, Lynda Fiorini seeks justice for the best friend she lost on that dark September night in 1985.
RememberKimSimon.com was created to keep Kimberly's memory alive and help bring awareness to the case.
America's Most Wanted aired a segment on Kimberly's murder in 2010.
What exactly happened to Kimberly Simon between Three Bears and when her body was found remains a mystery.
To date, no arrest has been made in Kimberly Simon's murder. Her parents no longer live in New York.
True Crime Diva's Thoughts
When I first came across this case, I immediately knew I would write about it. Kimberly and I are a year apart in age and we both lived in houses very similar to one another in small towns. I just felt a connection to her. That is always my sign to write about that particular victim.
I want to first start by saying that even though the males with Kimberly that night were known for satanic rituals, police never believed her murder was part of a ritual, and I agree.
I do believe those males are the ones responsible for her rape and murder. I could not find the names of the three suspects. I did find a Richard W. Miller, Jr and possibly a Mike Mandia. Miller has since passed away. I believe he might have been at the 2nd party that night.
I did see that there were positive DNA results for the suspects. I think AMW mentioned it in their segment but I could not find that segment. Additionally, no arrests have been made to date, so not sure what's going on there unless Miller was the suspect whose DNA matched.
The fact that horrific screams were heard between 1 and 2 a.m. leads me to believe those screams were Kimberly's, obviously. So, what was being done to her to cause those screams? Because according to reports, she had bruising on her face, but there is no mention of other wounds on Kimberly's body. With screams like that, I'd expect a high amount of torture, wouldn't you?
I do question the police efforts at the time only because when they questioned the 3 males, they never documented what they concluded. And to this day, they cannot explain why they didn't pursue the suspects back then. It's messed up.
These males were placed at the party with Kimberly right before her murder. A witness saw at least FOUR males with Kimberly and one having sex with her.  It doesn't make sense that more did not come from this information.
Here's what I think may have happened to Kimberly (only a theory, people):
I think these males saw her walking and offered to take her to a party. She agreed and went. Once there, they drugged her drink rendering her unconscious, and then raped her. At some point she came to, maybe threatened to go to the police. She was then beaten (might explain the screams) and strangled to death so she wouldn't talk. Afterwards, the killers dumped her body near Mohawk Street where they picked her up earlier in the evening. Afterwards, they discarded the contents of her purse.
I think it's possible one of the killers made the anonymous call about the white shoe and placed it there before police arrived, maybe to try and throw them off, I don't know.
I found Lynda on Facebook and was going to see if I could interview her for this post. I bookmarked her page with the intention of going back and contacting her later on. However, when I went back to her page, it mysteriously vanished. I tried looking her up again but did not find that profile. It was her because she had Kimberly's picture and the AMW segment on her profile.
Similar Posts:
Copyright secured by Digiprove © 2017
(Visited 2,259 times, 1 visits today)